RECOGNITION BY EAST LIVERPOOL HIGH SCHOOL
Inducted into the East Liverpool High School Athletic Hall Of Fame
SEE: ELHS Potters Athletic HOF Members Bios 4
ELHS Basketball Exclusive 1000 point Club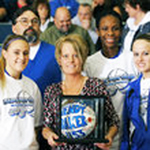 Ball ceremony...with 3 current seniors and head coach.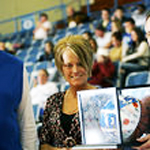 almost 20 years later...I'm a little shocked they remembered, lol
---
The following is from a supplemental email:
FAMILY INFORMATION
I spoke of my 13-year-old daughter, Lindsay. I also have a son, Michael, who is 20 and a sophomore at Kent State East Liverpool; a daughter, Samantha, who is 18 years old and a freshman at Cleveland State University; and finally a daughter, Addison, who will be 3 years old on Dec 17. I'm married to Rich Hoppel, a local attorney. It didn't feel right only speaking of my 13 year old. lol. I'm sure the older kids will enjoy reading this interview also.
---
Some Additional Information about Some of Wendy's Relatives.
This will be a foundation for additional high school and non-high school sports articles for the web site.
My parents' names are Richard and Patricia Baker. My father passed away a couple years ago. Both were highly instrumental in my developing the skill I did and were my biggest fans.
I spoke to my mother; she was able to talk to a couple of my uncles. I will add this info, you can decide what of it, if any, you'd like to use.
Sometime around 1942-43, my maternal grandfather, Robert Campbell was part of the New York Yankees AAA squad. He was a short stop . . . playing in right field was YOGI BERRA! My two older uncles recall going to a picnic at Yogi's house even. My grandfather was doing great, but then was drafted into the Marines. He was then sent to Camp Pendleton in San Diego with my grandmother, Thelma, and their two sons, Bob, Jr. and Bruce. Prior to departing from San Diego to be sent to Japan, he was pulled from his troop to play baseball for the Marines!
My oldest uncle, Bob Campbell, Jr., was drafted by the San Francisco Giants to play baseball in their farm league. During his first practice, he slid into third and ruined his left knee-end of story.
My uncle, Rex Campbell, was Beaver Local's all-time leading scorer for years. He was drafted out of high school to play with Detroit Tigers as catcher. He turned down their offer and went to college instead (my grandparents insisting). He's currently in BL hall of fame.
My cousin, Ryan Campbell (Rex's son), received a full athletic scholarship to Winthrop College in Rock Hill, SC to play baseball. He is also in Beaver Local's hall of fame.
All this coupled with my paternal grandmother Katherine Baker may be partly the reason why dribbling came so easily. Sports played a big role in my family over the years.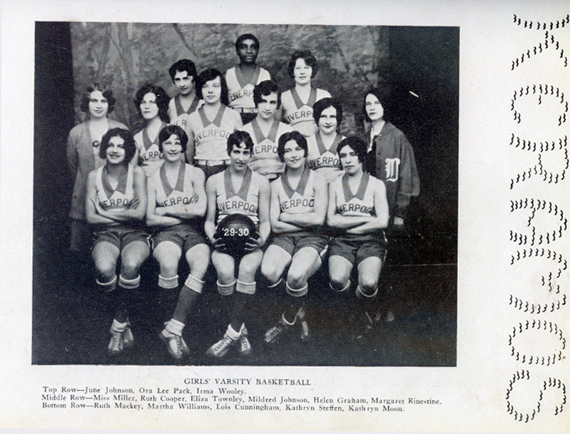 I was so excited to see this! Bottom far right is my Grandma Baker(Katharine Moon). I remember her coming to my little league baseball games. She passed away when I was approx 8 years old-so she never got to see how close the apple fell from the tree! Thanks to Jimmy Joe Savage for having this picture on his site! Ive wanted to see them for years! I know Grandma Baker cheered me on from heaven, and is now doing the same with Lindsay
My maternal grandparents-Bob and Thelma Campbell, were also huge to me during my high school/college years. My grandfather video'd and did stats for me during all of my high school years-and continued even into college...My parents and grandparents NEVER missed a game-even in college, sometimes driving 4 and 5 hours one way to see me play. My grandfather is responsible for any stat sheets you found in my collection..He kept a wonderful piece of history for me.
---
H.S.: History is what it is all about. Thank you Wendy.
W.B. You're Welcome.
---
PASSING THE TORCH
We had some fun yesterday afternoon [May 1, 2013] at the High School Softball field. Wendy Baker Hoppel, her 14 year old daughter Lindsay and someone with a camera took a few pictures. The passing of the torch remark fits because Wendy Baker played softball and basketball at ELHS from for 4 years ending in 1989. She played those two sports so well that she is a member of the ELHS Athletic Hall of Fame, the OVAC Athletic Hall of Fame, the only female member of the very exclusive ELHS 1000 point club in basketball. She holds a number of records in softball and basketball. As far as we know at this point in time she is the winiest pitcher in ELHS softball history as well as having the most strikeouts.
Her daughter Lindsay is currently in 8th grade. She will be a freshman next year at ELHS and is planning on playing Volleyball, Basketball, Softball and hoping to be on the track team as well. (Yes there has been a Lady Potter who participated in both softball and track at the same time a few years ago). Thus symbolically we had a passing of the torch "ceremony" yesterday with Wendy pitching to her daughter, Lindsay.
Wendy put most of her pitches into the strike zone, not bad for someone who hadnt pitched softball in over 20 years probably. Lindsay fouled one pitch behind first base then connected with two pitches sending them into the outfield destroying Wendy's "no-hitter". :O)
A PS to this story. Wendy Baker Hoppel's grandmother played varsity basketball at ELHS in 1930. Unfortunately there was no passing of the torch in that case since her grandmother died when Wendy was only about 8 years old.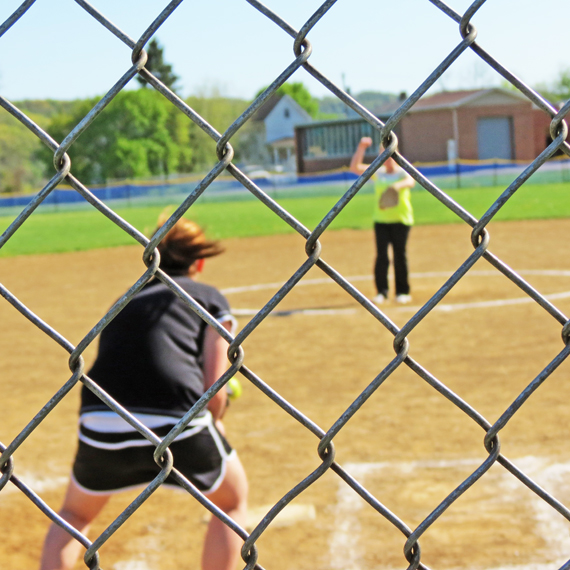 A little warming up first.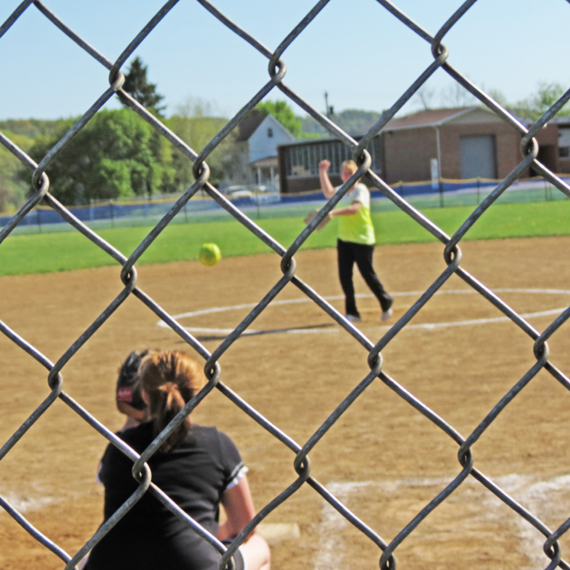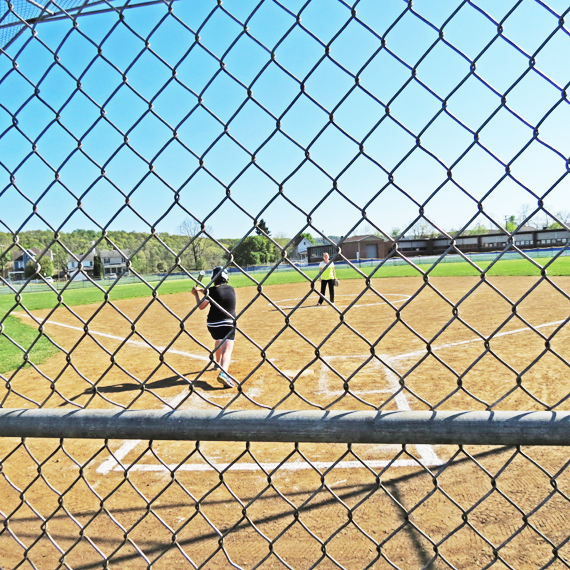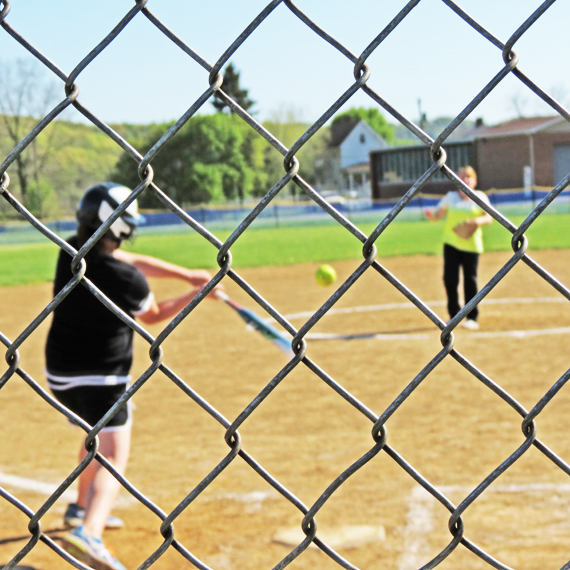 Say good bye to the "no-hitter", that ball is going to be hit into the outfield.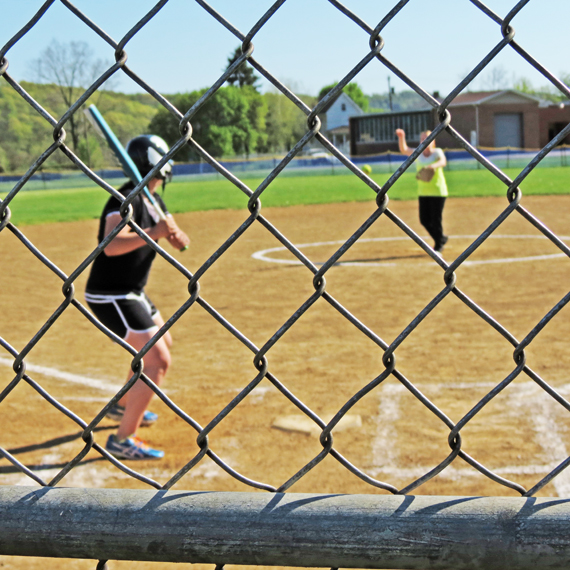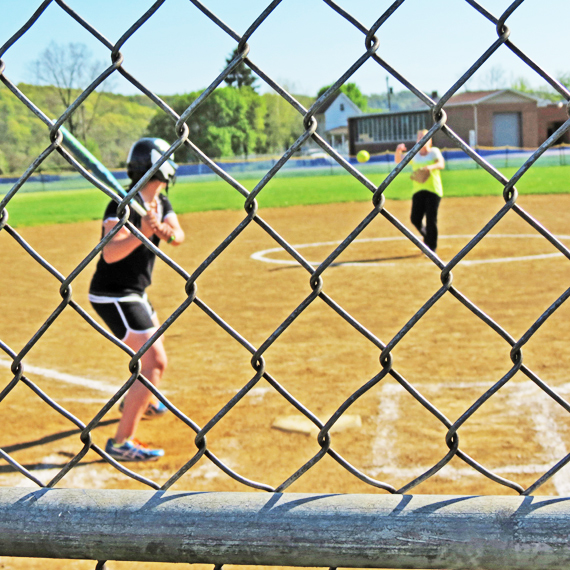 ---
WENDY BAKER
ELHS Athletic Hall of Fame
http://www.pottersportsonline.com/HOF/index.html
A unique distinction is, she has been the only Potter athlete, male or female, to have been inducted into a second High School Athletic Hall of Fame having been inducted in the OVAC Hall of Fame in 2006.
http://www.jjhuddle.com/news/print////?article=166
http://www.ovac.org/HallOfFame/Details/55
ELHS Basketball Exclusive 1000 point Club
Additional Info about Wendy Baker
Lady Potters Basketball Records
---