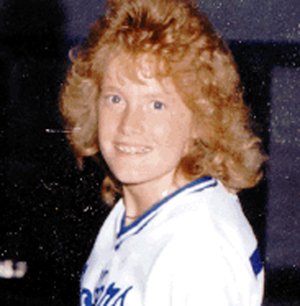 Wendy Baker
We are not going to get into a discussion of who was the best female athlete in ELHS history or athlete in general. We here at the Historical Society aren't qualifed for that task.
One female, Marci Reed '99, with 13 monograms, may have received the most varsity letters of any athlete ever to participate in interscholastic sports for the Potters, male or female.
However, there is one Lady Potter who excelled in two sports and as a result of that Wendy Baker holds one distinction that no other Lady Potter has achieved to date. She is among approximately a dozen Lady Potters who were inducted into The ELHS Athletic Hall of Fame having been inducted in 1996.
http://www.pottersportsonline.com/HOF/index.html
The unique distinction is, she has been the only Potter athlete, male or female, to have been inducted into a second High School Athletic Hall of Fame having been inducted in the OVAC Hall of Fame in 2006.
http://www.jjhuddle.com/news/print////?article=166
WENDY BAKER
http://www.ovac.org/HallOfFame/Details/55
"To this date she is the only ELHS athlete inducted into the OVAC Hall of Fame. Her records still stand in girls Basketball and softball. . . her ball remains in the glass case as well as her photo hanging in the hallway at the high school gym." Ruby A, Weymouth ELHS class of '86.
ELHS Basketball Exclusive 1000 point Club
An interview we did with Wendy Baker: Wendy Baker: Determined not going to be denied
Additional Info about Wendy Baker
Lady Potters Basketball Records
---