We could use a lot more Korean War pictures, stories etc.
KOREAN WAR
Korean War (June 25, 1950 - July 27, 1953)
Korean-War-Tribute
http://theveteranssite.greatergood.com/clickToGive/vet/article/Korean-War-Tribute291
The Story of the Korean War in Colour (2001)
https://www.youtube.com/watch?v=mKVgBP-j0a4
Music About the Korean War: 1950-1954
http://www.authentichistory.com/1946-1960/2-korea/3-music/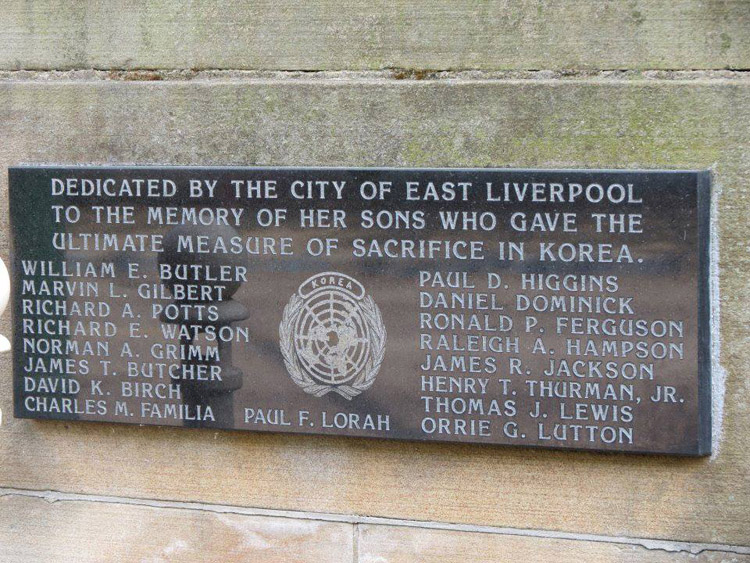 Powers to share war story, March 24, 2014, By STEPHEN HUBA - Hancock County Reporter (shuba@reviewonline.com) , The Review
EXCERPT: NEWELL - Coming down out of the Chosin Reservoir region in December 1950, Marine Corps Pfc. Tom Powers and his cohorts in George Company were set upon by thousands of Chinese soldiers who were using North Korean civilians as human shields. END EXCERPT. Read entire story below:
http://www.reviewonline.com/page/content.detail/id/572807/Powers-to-share-war-story.html?nav=5008
James (Jimmy) Dallas WWII, Korean War. Served aboard the USS ESSEX CV-9 and USS YORKTOWN, CV-10. and possibly the USS SHANGRI-LA CV-38. Was a aviation Machinist Mate. Also was stationed here http://www.flickr.com/photos/benft/4097991533/ for awhile in the 1950's. Bronchial Pneumonia caused his death in 1959 while he was still on active duty.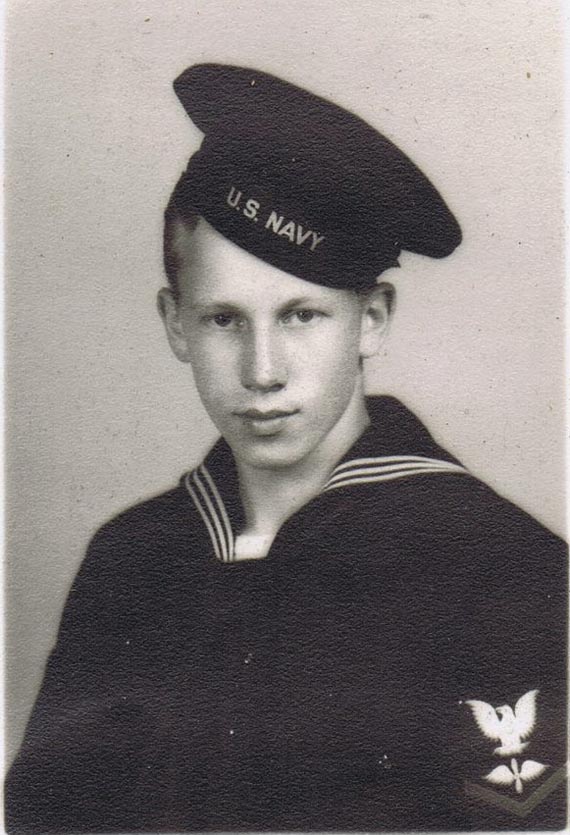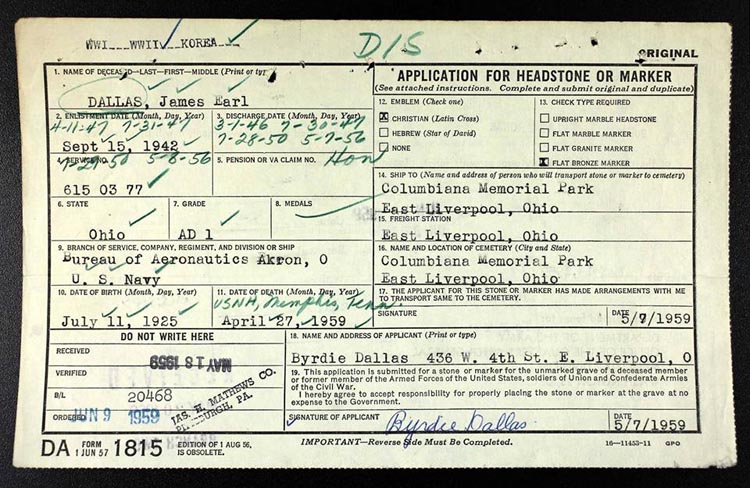 In explaining the above:
This sailor joined the Navy on September 15, 1942 and served until Mar 1, 1946. In WWII days once you joined you were in for the duration, barring some totally unusual and unique circumstances, a serious injury or death. Duration lasted until a certain number of months after the end of the war. He re enlisted in the Navy on April 11, 1947 and was discharged on July 30, 1947. That was a odd enlistment. Re enlisted again July 31, 1947 and was discharged July 28, 1950. Re enlisted on July 28, 1950 and was discharged June 7, 1956. Reenlisted again June 8, 1956 and served until his death on April 27, 1959. He was in the Pacific aboard Aircraft Carriers in WWII and in the Korean War Zone on Carriers during the Korean War and the Quemoy and Matsu crisis.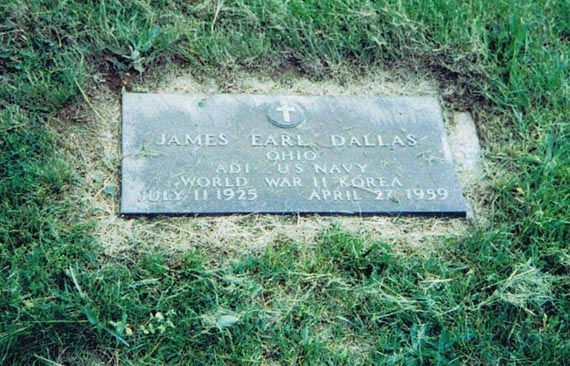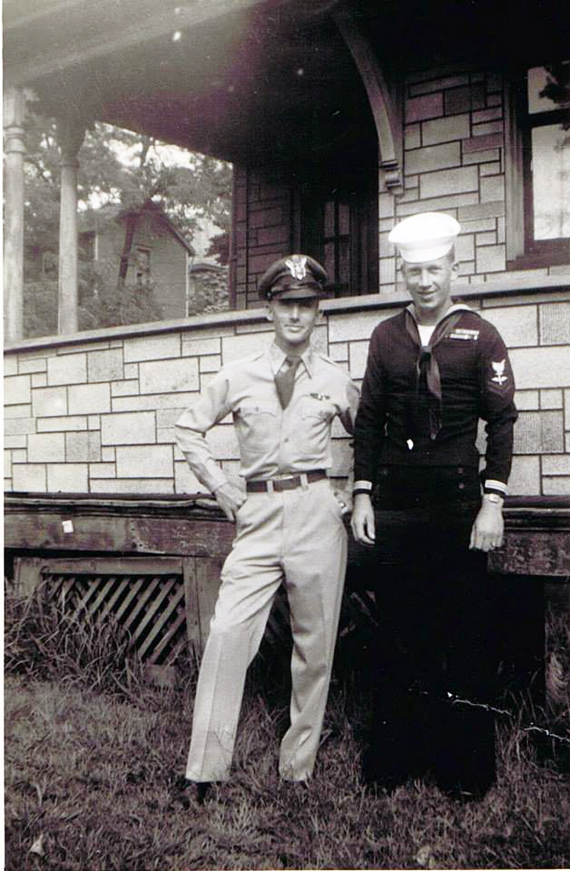 Leonard and Jimmy Dallas. Brothers, both were Veterans of WWII, Jimmy in the Navy Leonard in the Army Air Corp. Leonad saw action in the Pacific as a bombardier in B-29's bombing Japan and Jimmy as a Aviation Machinist Mate on Essex Class Carriers. Both Joined the military in 1942 and were discharged in early 1947. Both re enlisted in 1947 and decided to make a career of the military. Jimmy was a Veteran of the Korean War, Leonard was a pilot in the US Air Force stationed in Scotland during at least part of the Korean War. Leonard retired from the US Air Force in the 1960's as a Lt Col. This picture was taken in ELO in the early 50's.
I came across photos of my Uncle Robert Wm. Freed who was the son of my Grand Father Robert J Freed who owned the Manhattan on 2nd Street. " Bobby" was a Corporal in the army and was a Korean War Veteran (OH,CPL, Ordinance Corp. in Korea) . Don't know alot more about him except that when he came home from the war he graduated from Geneva College and became an engineer. He worked at US Steel in Cleveland and died in an automobile accident when he was 30 yrs old. Courtesy of Eddie Hedrick.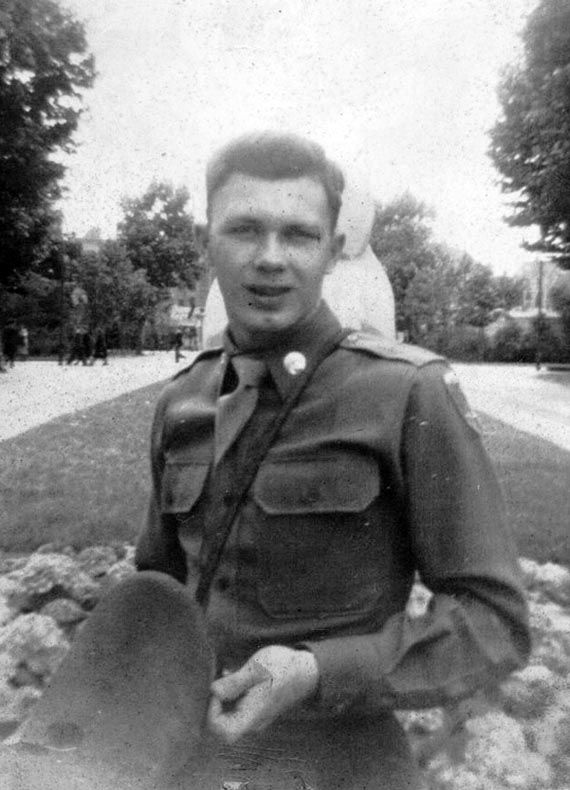 ---
COLD WAR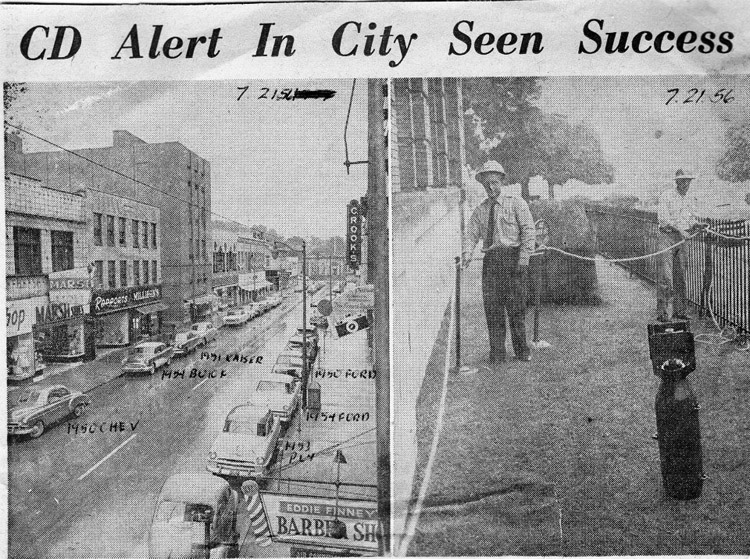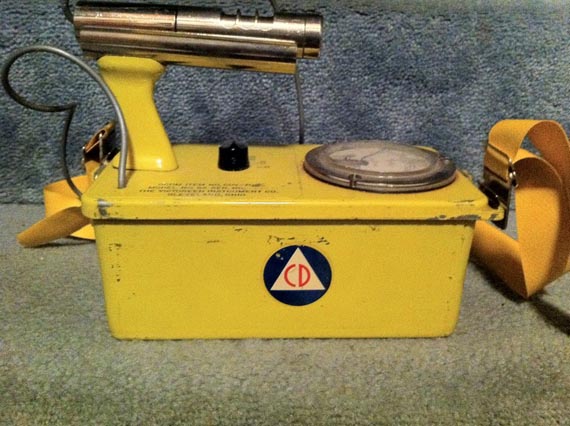 Courtesy of Eddie Hedrick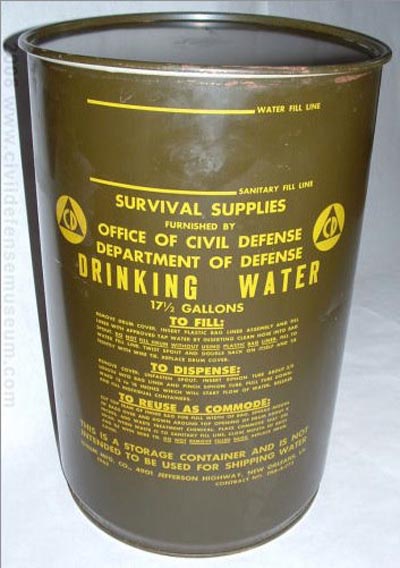 Courtesy of Eddie Hedrick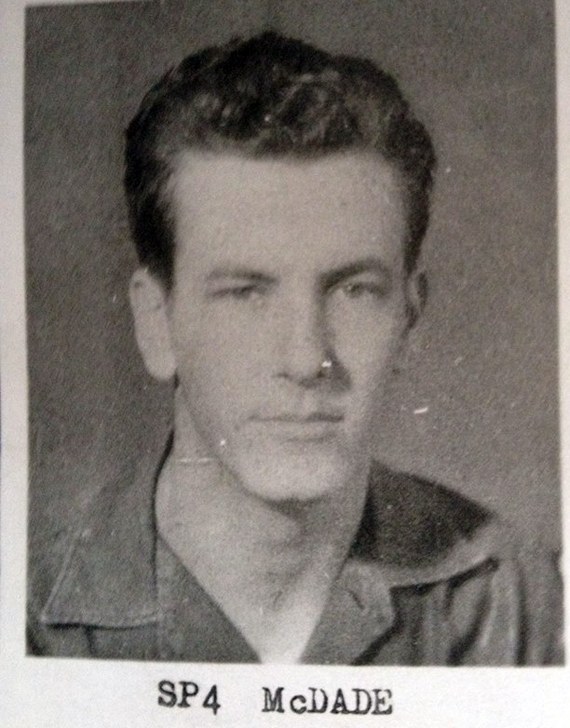 170 pound me. Courtesy of Jesse McDade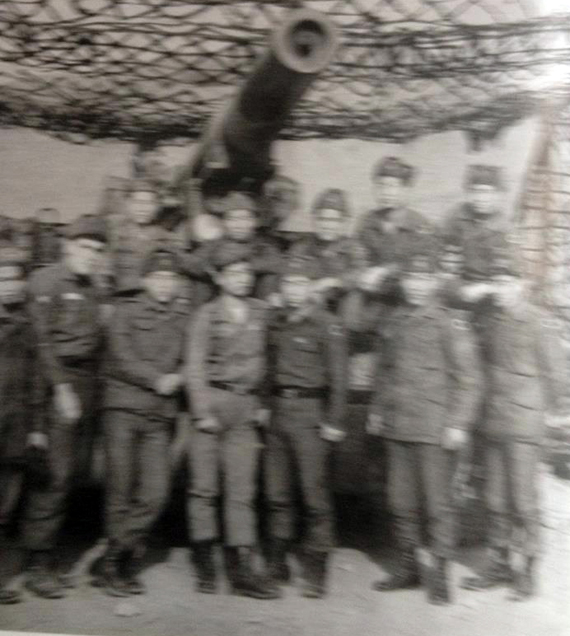 Jesse McDade Katusa (Korean Augmentation to United States Army) gun crew. Courtesy of Jesse McDade.
Jesse McDade These Katusa soldiers made up 75% of our Artillery battery, they were actually ROK (Republic of Korea) Army soldiers that volunteered to serve most of their military enlistment with US forces. They received much better food, better equipment, better health care, and much less harsh discipline. The ROK Marines and Army troops served with distinction in Vietnam , and I got to know a lot of them personally. Courtesy of Jesse McDade.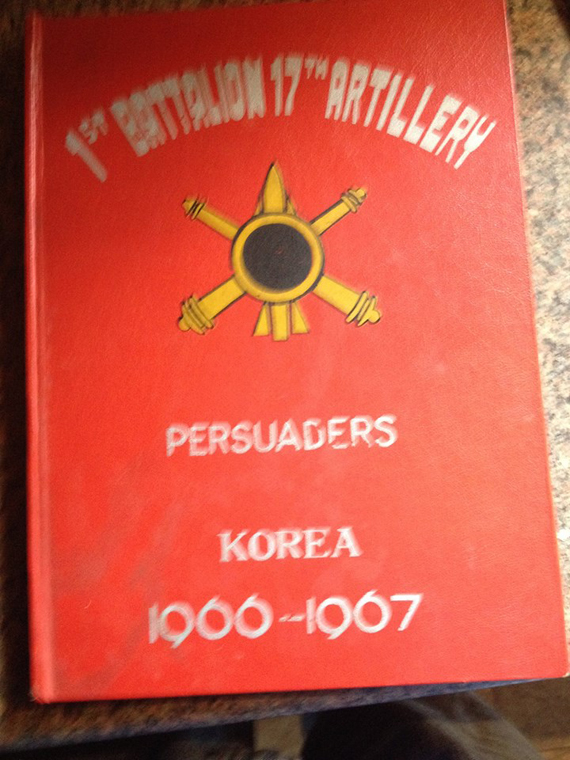 Yearbook from Korea 1966-67. Courtesy of Jesse McDade.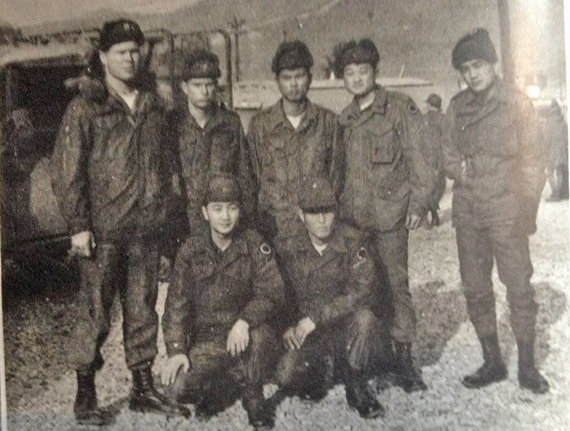 Sp4 Lands commo crew. Courtesy of Jesse McDade.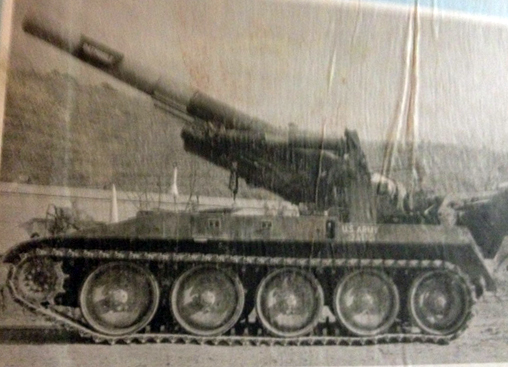 Courtesy of Jesse McDade.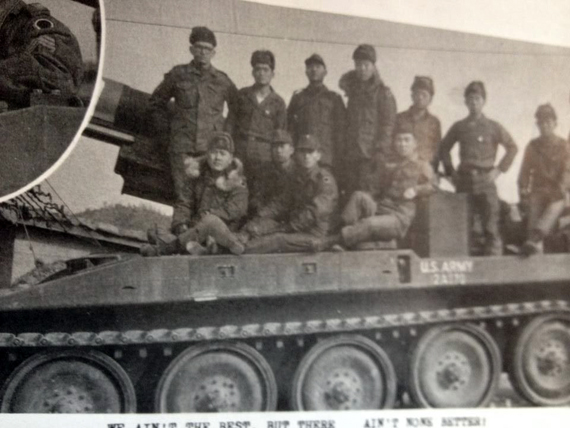 Sgt. Griffins gun crew. Courtesy of Jesse McDade.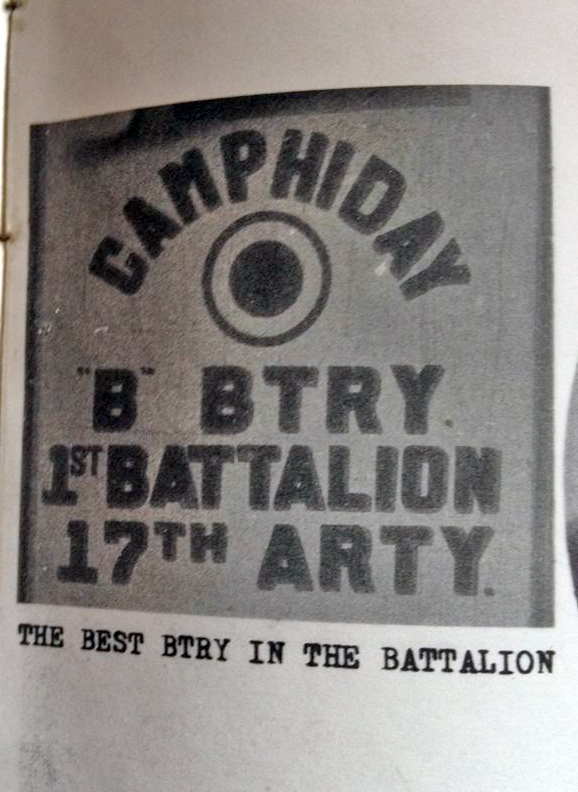 Home. 1966-67. Courtesy of Jesse McDade.
OUR LOCAL RESERVE UNIT, 1960's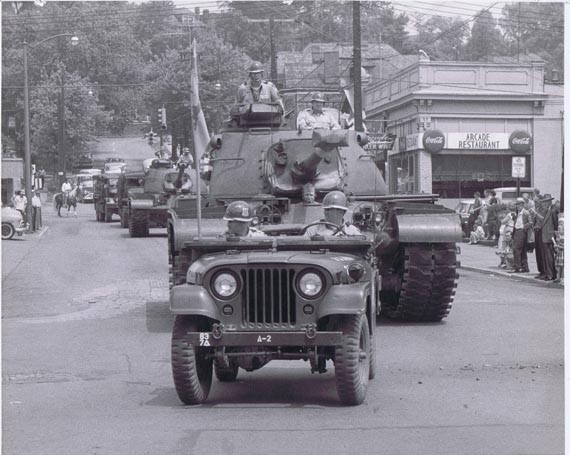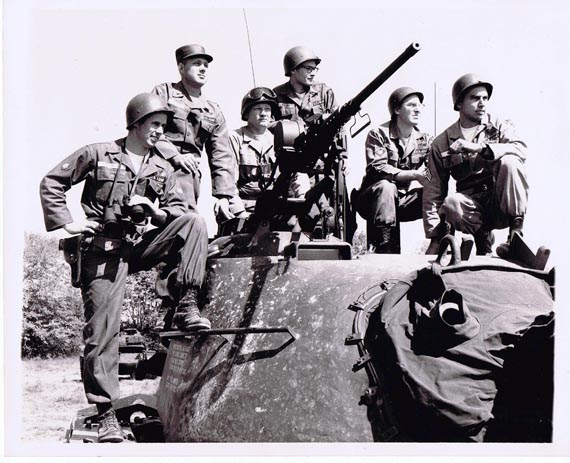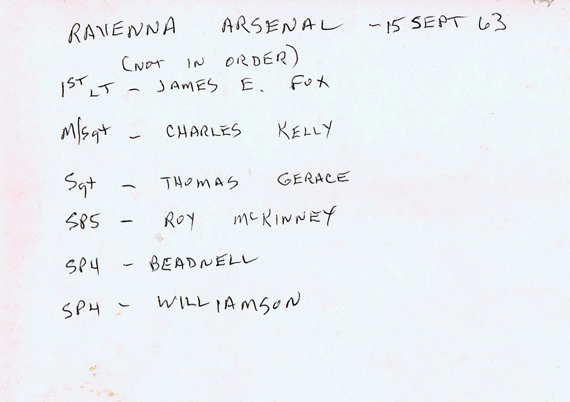 Names of those in the above picture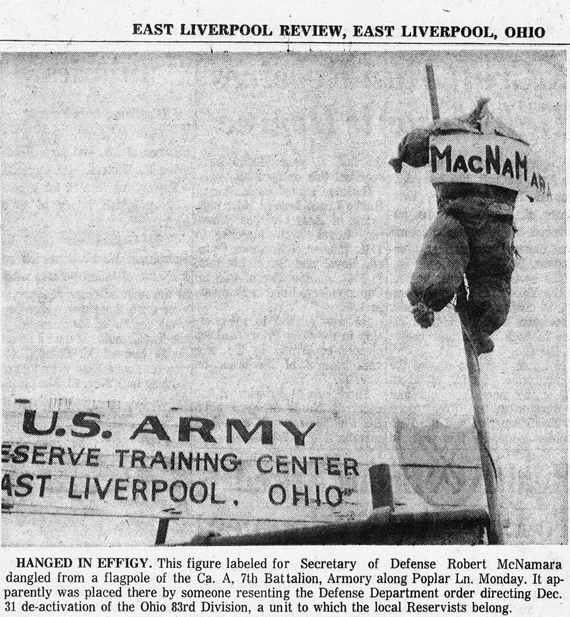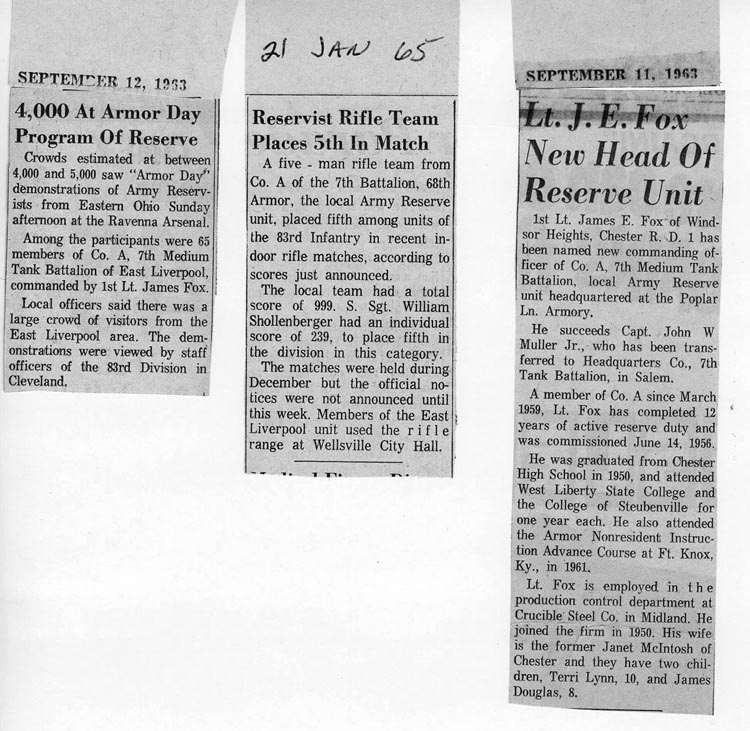 CONTINUE TO Our Military Heritage 7
---