With permission, excerpted from From his upcoming book *Picking Elderberrries* By Frank "Digger" Dawson.
Dozens of kids from our neighborhood on Grant Street would play basketball, day and night, at the court my father erected. With the help of somehand-strung lights that aided the likes of Dick Carson, Jim Mitchell, Jack Poole and Bernie Allen develop their basketball skills, we built some wonderful memories.
Of all my friends, Bernie would go the farthest in sports. The diminutive athlete, who started out as a junior drum major for the high school marching band, ended up playing ten years of major league baseball after a great stint quarterbacking the Purdue Boilermakers football team. In 1999, he was voted the town's Athlete of the Century by the Blue and White Touchdown Club. The organization played a pivotal role in upgrading the athletic programs at the school during Bob Thayer's tenure as the head football coach. Few would argue the club's choice of Bernie.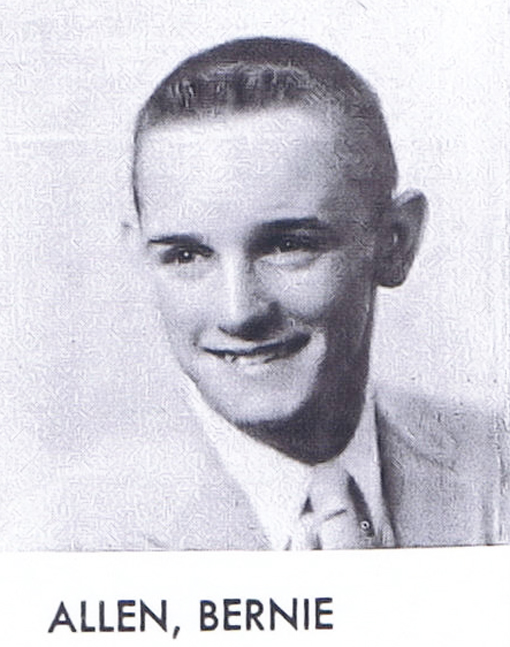 Since East Liverpool High School first fielded a football team in 1898, thousands of young men and women participated in varsity athletics for the Blue and White. Being named the best was an honor.
Leading this group would be Bill Booth, a transfer from Newell, who went on to play at Ohio State prior to his tragic death on September 4, 1937, just before his junior season with the Buckeyes.
Eddie Oliver was an excellent all-around athlete as was Robert Jackson. Each competed in more than one sport, but Oliver and Jackson excelled in football, setting records that may never be broken.
In basketball, the names of Porter Mackey, Dick Treleven, Mike Stowers, Jim Harris, Mike McFarland,
Josh Reed and Brian Kreefer were the cream of the crop as scoring leaders.
Track and field was a sport in which Aric Long and Walt Ashbaugh cut their teeth before making the Olympic team, and who would argue among the Dawson family that grandson Tom Dunlap was an excellent golfer.
On the female side, Katryn Steffen '30, Mildred Johnson '33, and Ara Feldkamp '32, were premier female athletes of their day.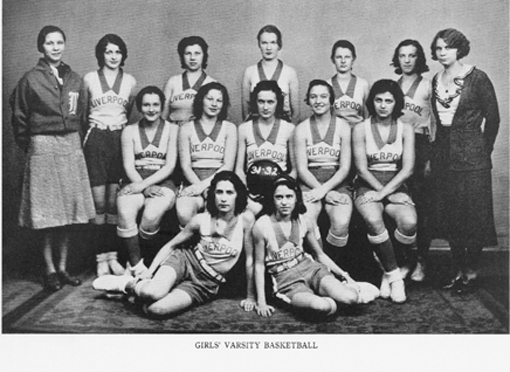 Ara Feldkamp is second from right, Middle Row. Thanks to Frank "Digger" Dawson for loan of the photo and for pointing out Ara in the photograph.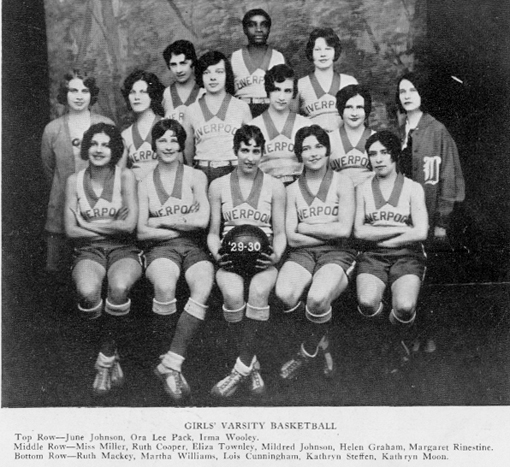 Mildred Johnson fourth from left Middle Row, Katryn Steffen fourth from left Bottom Row.
Kate Steffen was considered good enough to play nationally and, along with Johnson, was named to the ELHS Athletic Hall of Fame. Ara Feldkamp may have been overlooked for the honor since she was not a scorer in the days when the teams were divided, and three defensive players never crossed the centerline. She did, however, go on to become an excellent swimmer and scratch golfer after relocating in California.
For a number of years, girls took a back seat to the boys at ELHS, until Leslie Palmer '77, burst on the scene by setting a State meet record in the 80-yard hurdles her senior year and later put up the seventh fastest time in the USA.
Kim Auger '83, kept the beat going when she won the 400 meter state championship and finishing second in the 200,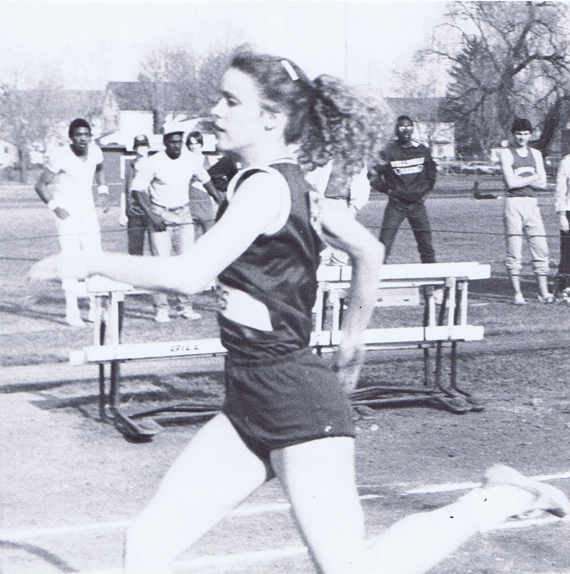 while Lynn Wilson '85, Robin Sayre '86, Lori Bowersock '88, and Courtney Johnson '89, were each top all-around performers
Tynetta Anderson '02, qualified twice for the state meet in the 100 and 200 meters, but was unable to grab the golden ring in Columbus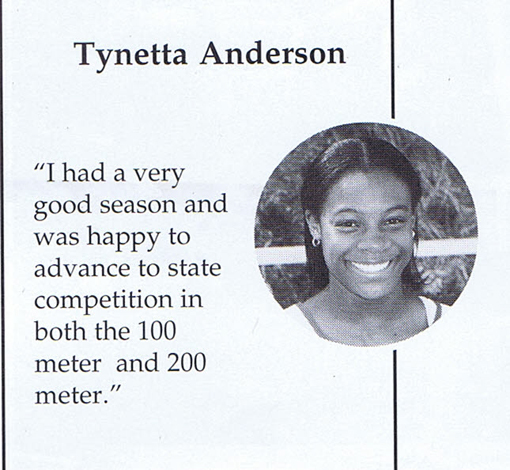 One female, Marci Reed '99, with 13 monograms, may have received the most varsity letters of any athlete ever to participate for the Potters,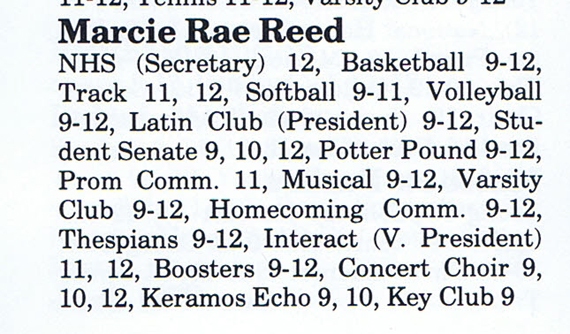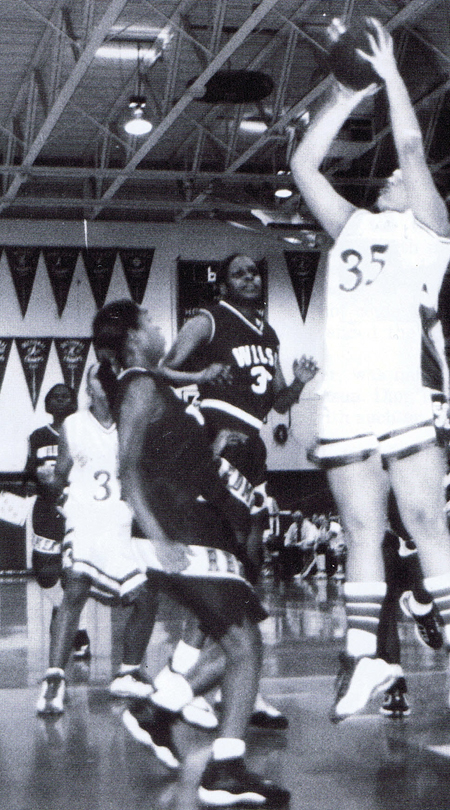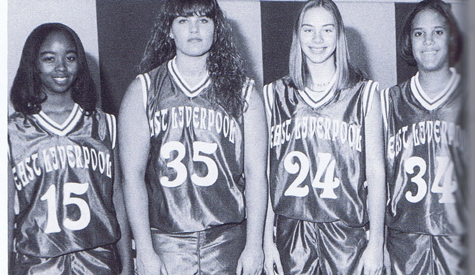 Marcie Reed is second from the left, number 35 in the above pictures.
but what about the unheralded, unsung heroes who always showed up, seldom got to play and never participated on a state championship team. How could they? Over a period of more than 100 years, the school never officially won a state team title in any sport.
One comes to realize, however, that winning isn't everything, but rather, in the words of Grantland Rice, "How you played the game."
Just being at the Potter Field House for any basketball game or at Patterson Field on an autumn Friday night when the Potters are playing at home, has often served as enough of an experience for many of us to fulfill a lifetime of memories.
Of those who were present, few could forget Jeff Wright's overtime end zone catch in 1997 to defeat Chardon. In the words of Coach Bob McNea, "You could have shot Jeff with a gun and he still would have scored!"
Flash forward to Donnie Green's three-point shot in a come-from-behind win over Wheeling Park on the same night Brian Kreefer broke the school scoring record in 2005.
How about my first memory of seeing a game at the old West End ballpark when Alonzo Spencer got knocked cold in the football contest with Ashtabula in 1945 or Robert Jackson looking great in '98, and my all-time favorite – the upset victory that quarterback Bob Mackall led over Warren Harding in 1959.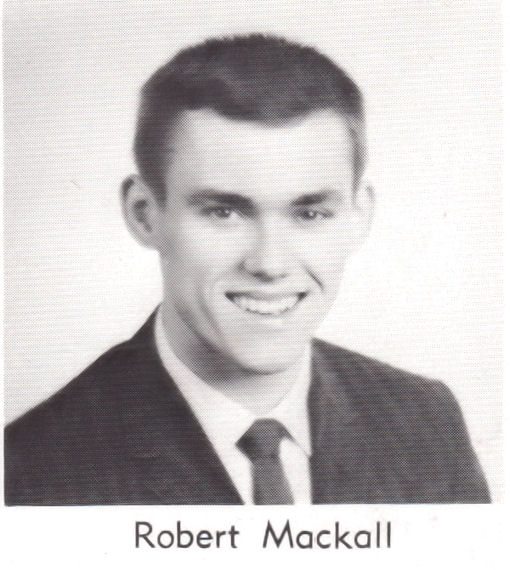 Potter football pictures, 1959
But who remembers Bob Baur, Al Dawson, Bud Manes (not to be confused with Bud Means), Gus Dauka, Bob Johnson and Tim Sheerer? These were athletes who did not excel on the varsity level at ELHS and pursued an alternative. For some it meant participating in one of the great sporting events in East Liverpool history, the Tri-State Basketball Tournament.
But, that's another story for another time coming up in *Picking Elderberries*.
---