PERCY FROST, art director of The Knowles, Taylor & Knowles Company. of East Liverpool, and one of the leading men in this country in commercial art as applied to pottery, was born in Langton, Stoke-on-Trent, England, November 5, 186o, and is a son of Thomas and Elizabeth (Pillsbury) Frost.
Thomas Frost, the grandfather of our subject, was born in the same town as was his grandson, and was a man of importance there, "owning and operating flouring mills for many years. Thomas Frost. the father of our subject, was born in 1815. He did not succeed his father in the milling business, for he possessed artistic talent which led him to follow the profession of artistic fresco work. For many years prior to his death in 1885 at the age of 70 years, he had been in business for himself as an interior decorator. He married a daughter of John Pillsbury, of Accleshall, England. She died aged 65 years and Our subject is the one survivor of the family of two sons. Thomas and Elizabeth (Pillsbury) Frost were members of the established Church of England.
Until he was 13 years of age, Mr. Frost attended the local schools and then was apprenticed to learn the trade of decorating pottery, it having been demonstrated that he possessed, natural artistic ability. He served for seven years, that being the limit prescribed in this trade and during this period he completed a course in the Minton School of Art at Stoke-on-Trent. He then followed his trade in Torquay, Birmingham and Edinburgh, and in the last named city was engaged in the particular and delicate business of decorating glassware. Following this he took entire charge of R. H. Plant's china works at Langton, and continued there until 1880, when he came to America, the quality of his work being able to command very high prices.
Mr. Frost's first engagement in the United States was at Trenton, New Jersey, with Swan & Whitehead, but shortly afterward he was engaged by W. Charles Hendrickson and then accepted an offer made at New Bedford, Massachusetts, by the Mount Washington Art Company, manufacturers of fine glass ware. After one year he returned to Mr. Hendrickson, but in 1886 he entered the employ of The Homer Laughlin China Company, of East Liverpool, Ohio. Mr. Frost remained with this firm for nine years, having charge of the decorating departnient. In 1895 he took charge of one of the Sebring. plants and so remained until 1903, when he accepted his present responsible position. This welI known company is a leader in fine china decorating. and Mr. Frost has 200 people in his department. The work turned out must be of the finest possible quality, for any other would damage the reputation of this great pottery.
Mr. Frost Married Lillian May Mackintosh. who is a daughter of John Mackintosh, of Pittsburg, Pennsylvania, and they have one son, Harry L. Mr. and Mrs. Frost are members of the Protestant Episcopal Church. He is a member of the church choir and has been connected with such organizations since boyhood, having a fine baritone voice. He is a member of East Liverpool Lodge, No. 258, B. P. 0. E., and is a popular comrade.
The above excerpt From McCord's History of Columbania County (1905) p. 677.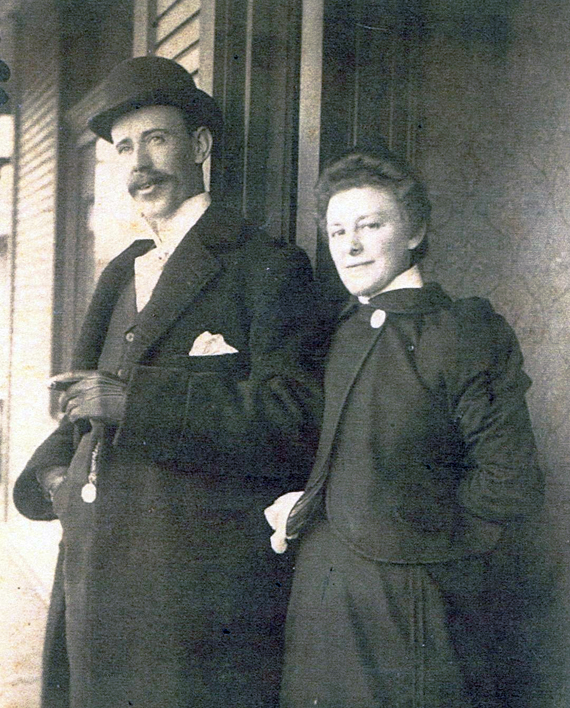 Percy Frost, Lilly Frost around 1900.
Excerpt below from The City of Hills and Kilns: Life and Work in East Liverpool, Ohio. William C. Gates, Chapter 7, pp. 294-94.
Prohibition, greed, and petty jealousies combined to produce an unfortunate incident that places a nasty blot on East Liverpool's history. As a result of numerous violations of the prohibition laws within the city limits, city council passed ordinance number 1966 in early December of 1925. This legislation authorized the employing of "dry detectives" to enforce the law. In payment these civilians were given 10 percent of the fines imposed on people that they arrested. Several overzealous "dectectives" acting with East Liverpool policemen raided some "alleged speakeasies" in Wellsville soon after enactment of the ordinance. In response, Wellsville authorities raided several locations in the "Crockery City" including the home of Percy Frost, a popular and respected decorator, where they found six bottles of beer. Frost, who was sixty-four years old and, like other Englishmen, liked a nip now and then, was arrested following the illegal search and ". . . handcuffed like some desperate criminal and conducted through the public streets . . . " and placed in the Wellsville jail. He was fined one thousand dollars plus court costs and released. Disgraced and humiliated, the proper English gentleman drank chloroform in sufficient quantity to kill himself. News of Frost's suicide outraged citizens who blamed city council for the appalling situation. On the day of his funeral every pottery in the district closed in his honor."
The editor of the Review was livid and printed his editorial entitled "Fatal Stupidity" on page one of that evening's edition. He said, "the magistrate who issued the warrant authorizing the search of the private home where there was not an iota of suspicion relative to any infraction of the law, and the police, who made the visit, are responsible for the death of a highly respected citizen." He also blamed the so-called private detectives whose incentive was a percentage of the fines and the "stool pigeon" who reported the infraction. This event, the editor said, was the "gruesome climax" to a week of irresponsible behavior that has accomplished nothing toward actual enforcement of the prohibition law; very few known bootleggers were caught in the recent dragnets. While generally upholding the principles of the prohibition law, but condoning the use of home brew in a private home, he felt that the law's enforcement was greatly abused. It is time, he added, to "cease official stupidity." A petition signed by 2,865 residents requesting repeal of the ordinance was sent to city council. Two councilmen, N.P. Kerr and Thomas Farrell, supported the petition. But council refused to yield to public pressure and voted five to two to uphold the ordinance. Following the vote councilman Farrell was quoted as saying, "I refused to vote for a delegation of thugs and gunmen to overrun East Liverpool." A number of residents expressed disbelief over the decision. Several days later the East Liverpool Ministerial Association made public a resolution defending the ordinance and council's decision to continue its enforcement. The resolution stated in part: "Why repeal the law? It works no injury to anyone who obeys it." The ministers also believed that the amount of intoxicating beverages may be small, "but the smallest quantity is technically and legally a violation of the law just as much as one who operates a still or bootlegs his product." This absurd and narrow-minded statement clearly demonstrates the zeal with which some proponents supported prohibition. In April of 1925 Governor A.V. Donahey signed a bill, introduced by Senator George H. Bender of Cleveland, abolishing the laws allowing portions of fines for violations to be collected by local officials. This ended a controversy in East Liverpool which threatened to become one of the most explosive in the community's history."
---