Stories in Part 6:
Oscar Williams
Alice Lyons
Phoebe Peachy
Unknown Woman
Steve Phillips
Letha Barrett
Margaret Apel
James White
Beulah Brown, Brady Fetty
Goldie Adams
Robert Howard
Violet Brewer
Officer Joe Mumford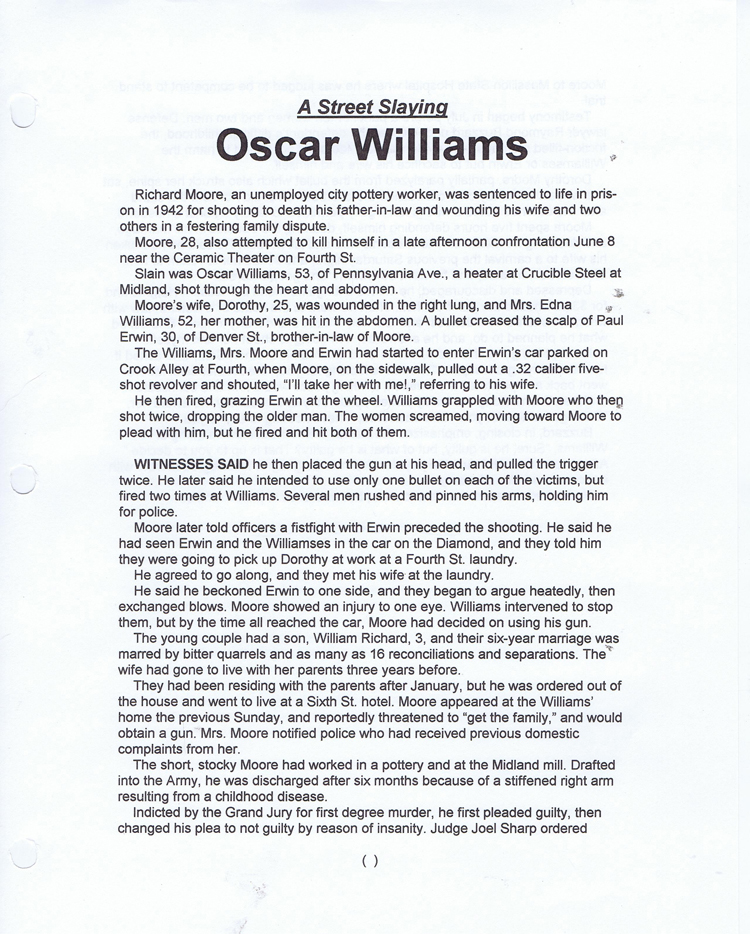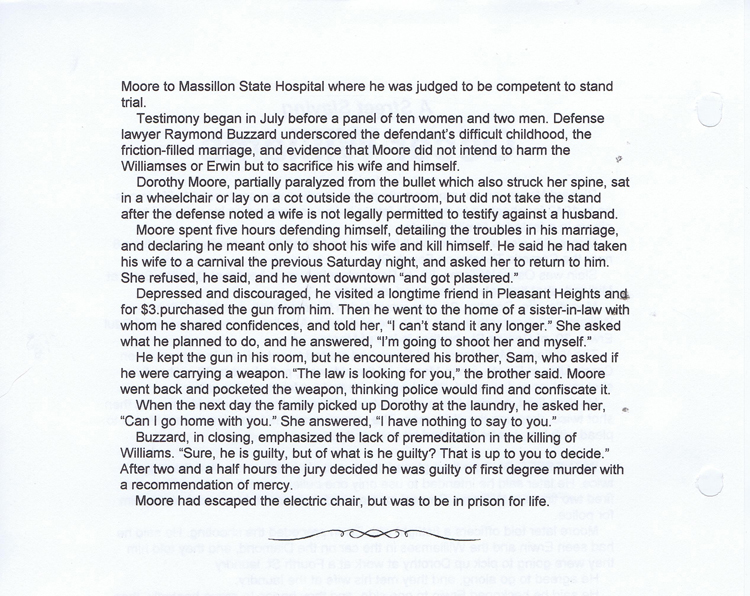 ---
Young Bride Murdered
Alice Lyons
The 1943 Case of the Vanished Bride became a Tale of a Clueless Corpse for which a killer has never been arrested.
The nude, decomposed body of Mrs. Alice Lyons, 17, of 1718 Pennsylvania Ave. -- missing for several weeks -- was discovered by three school boys in a briar patch in California Hollow.
Her husband of five months, John, 22, a foundry worker, was jailed and questioned by city and county authorities, but denied any knowledge of the crime.
Her remains were found Oct. 2 on a hillside some 25 feet from busy Route 30 about a mile north of the city. The boys -- Junior Gourley, 13, Clifford Oakes, 15, and Regis Watters, 12 -- were walking up the hill to hunt butternuts. They ran to nearby neighbors who called police.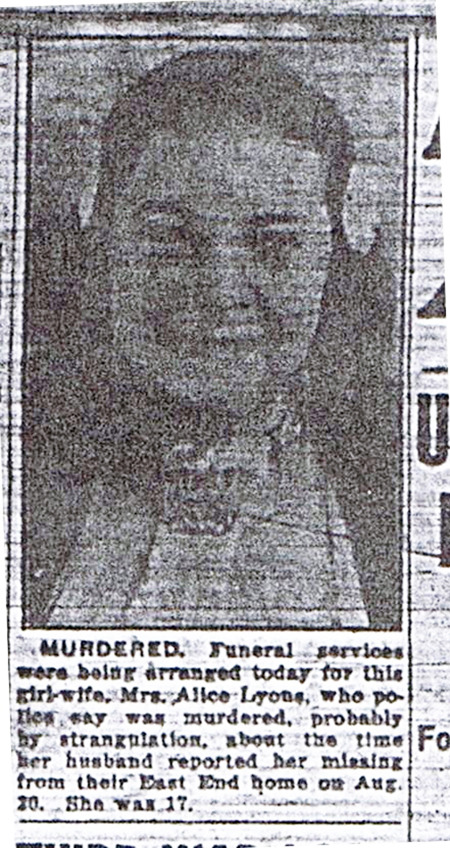 Coroner Arnold Devon said the young woman may have been killed shortly after her disappearance. The remains lay in a "V" shape, the head half-buried in soil washed up by recent rains. He thought the murder took place elsewhere, and the dead victim was "dropped roughly from the shoulder of the person who carried her."
Due to the condition of the body, the cause of death could not be determined, although officials believed it strangulation. The skull showed no marks of violence.
An anklet was on one leg, and a discolored bow of ribbon and rusty hairpin lay near the head -- the only articles of personal attire. Found nearby were the other anklet and a pair of blue pumps lent her by an in-law the day she disappeared.
THE SITE WAS behind a billboard which screened it from the highway. A neighbor living only 100 feet away reported he had noticed an odor of decay a month or so before, but thought it a dead animal.
The victim, daughter of Mr. and Mrs. Robert Neilson of Substation Rd., resided with her husband at the home of his parents, Mr. and Mrs. Charles Lyons of Pennsylvania Ave. Her parents were mutes.
She was a native of the city, and had attended East Liverpool High School for a year. She and her husband were married at Cleveland in March. Her mother-in-law said she had born an infant son the previous year, but he died within a few days.
She had walked away from that home Aug. 20, about a month pregnant, leaving a note for her husband. Her relatives said she appeared dissatisfied with the living arrangements, wanting a home of her own.
John Lyons had been arrested two weeks before with a companion after a drunken spree during which they broke out several windows at the Mary Patterson Memorial Home on Fourth St.
Questioned intensely by law officers about his wife's death, he declared his innocence. He had gone to Midland the afternoon she left, he said, to get a pay check at the Mackintosh-Hemphill plant.
He said he came back to East Liverpool to hunt for rooms into which the couple could move temporarily. Returning home around 10:30 p.m. he found her note saying she was leaving and would send and talked to for her clothes.
Lyons asserted his sister had seen Alice downtown and also spoke with her on Labor Day. There were other reports she had been in Chester.
The next day -- Aug. 21 -- he reported to police she was missing. A few days later, he placed a picture and story in The Review, telling a reporter to print that "if she didn't return immediately, he would join the merchant marine."
Her mother subsequently placed a classified ad in the newspaper reading, "Alice, please come home. We will help you."
By then, Alice was probably beyond that help.
Her death marked the third unsolved murder of a woman found apparently strangled in East Liverpool in a four-year period, stirring speculation about a serial killer on the loose.
At least one national publication picked up on the coincidence, and added or imagined another common link. The American Weekly of Oct. 29, 1944, featured a full page report with a photo and drawing about the unexplained killings of Julia Wall found in a barrel in 1940, the unknown woman whose body was discovered along State St. in 1944 and Alice Lyons.
The photo was of Mrs. Wall's body jammed in the barrel, and the drawing was an artist's conception of Sam Winter's pop-eyed finding the shapely victim. This account in the Sunday tabloid of Hearst Newspapers of that period lacked a byline of. the writer who apparently played loose with the facts.
First, the author placed all of the killings in the East End. Mrs. Wall's body, actually found along Jennings Ave. on the North Side, was described as a "stone's throw away" from State St. And Alice Lyons body, discovered along Dresden Ave. Ext., was listed as lying "along the same road" (State St.)
More interesting, however, was the writer's reporting of the "imprint of a massive hand" in the mud or soil near all three victims.
The author declared,
Although police said it was probably coincidence there were many who felt that one man was responsible for what seemed to be a series of perfect crimes, and that in all probability he was still at large in the community, merely waiting for another opportunity or another urge to wrap his sinewy fingers around a woman's throat.
He went on:
Whether one strangler or several have been busy there, a handprint in the mud has come to be the mark of a perfect crime.
But the chances are that these 'perfect crimes,' like similar series of stranglings, will eventually be solved.
He was wrong about that, too.
---
Death Ends Affair
Phoebe Peachey
A 22-year-old Dixonville woman, returning from church with her family, was shot to death in the spring of 1943 by a steelworker with whom she had ended a three- year friendship.
Phoebe Ann Peachey, a domestic worker, was gunned down by Francis "Frank" Holland, 42, of Pennsylvania Ave.
Miss Peachey along with her mother and brother were walking along Boyd St. about 9:45 p.m. Sunday, May 2, when Holland drove up and stopped to talk to her, asking that she get into the auto.
Her mother, Mrs. Willis Peachey, suggested Holland come to their nearby house "to talk things over." As Holland got out of his car, the young woman starting running toward the home of William Malkin. Holland ran after her, pushing aside Mark Peachey who tried to stop him.
Chasing the girl, Holland fired, missing once, the second striking her in the back. She continued to advance, but Holland overtook her in the Malkin backyard, shooting again, this time in the right cheek. Holland returned to his car and drove off.
Police launched an all-night manhunt, checking his rented room, his Midland hang-outs, a Wellsville place where his wife, separated for years, resided, and on roads in the area. The next morning, he turned himself in at City Hall. The .38 caliber revolver with three empty chambers was found under his car's floor mat.
A World War I veteran, Holland was employed at Mackintosh-Hemphill in Midland. Officers learned he once was a patient at Dixmont State Hospital near Pittsburgh where he was treated for a mental condition.
WHEN BOUND OVER to the Grand Jury in Municipal Court, Holland reluctantly pleaded not guilty on advice of his lawyer. At first he rejected such a plea, saying he 'Wanted to tell the truth." He had signed ,a confession, saying he had shot the girl because she had frequented taverns and played slot machines in Alliance.
Miss Peachey had worked as a housekeeper there before returning to the city a few days before the shooting. He said he had warned her several times to stay away from such places "if you don't want to get hurt."
Holland said he had spent the night in his car parked on a road near Lisbon. He denied ever being in a mental hospital, but said he had served time in the Allegheny County (Pa.) workhouse for robbery, and once shot a man in the leg arguing over payment of a bill when he was "living in the West."
To jail officers he appeared very religious, and told them he was disturbed over Miss Peachey's conduct and refusal to continue the relationship.
He appeared more concerned about the food at the Mahoning County jail than his future. A request was relayed to officials for a pound of fig cakes, two apple pies, three jelly roll cakes, two pounds of apples and a half-dozen oranges.
Indicted, his trial set for July 8. But a sanity test was ordered, and Massillon State Hospital's superintendent ruled that Holland was insane, suffering from an organic brain disease which usually worsens.
Holland was sent by Judge Sharp to Lima State Hospital for the criminally insane.
---
Unsolved Murders
Unknown Woman
Sometimes called the "Carnival Girl"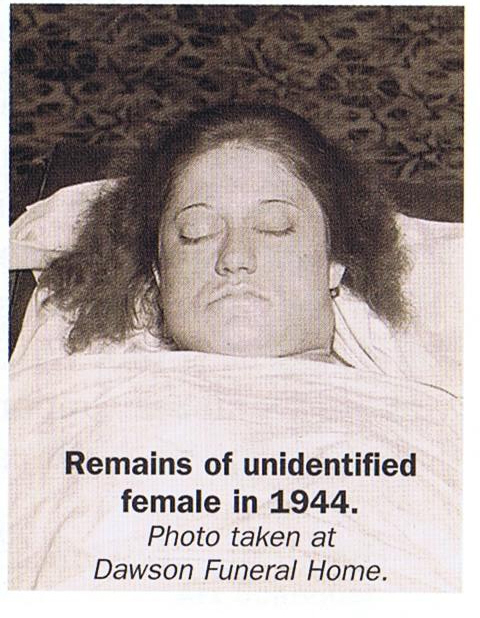 Picture from Frank "Digger" Dawson's Picking Elderberries "A Small Town Story"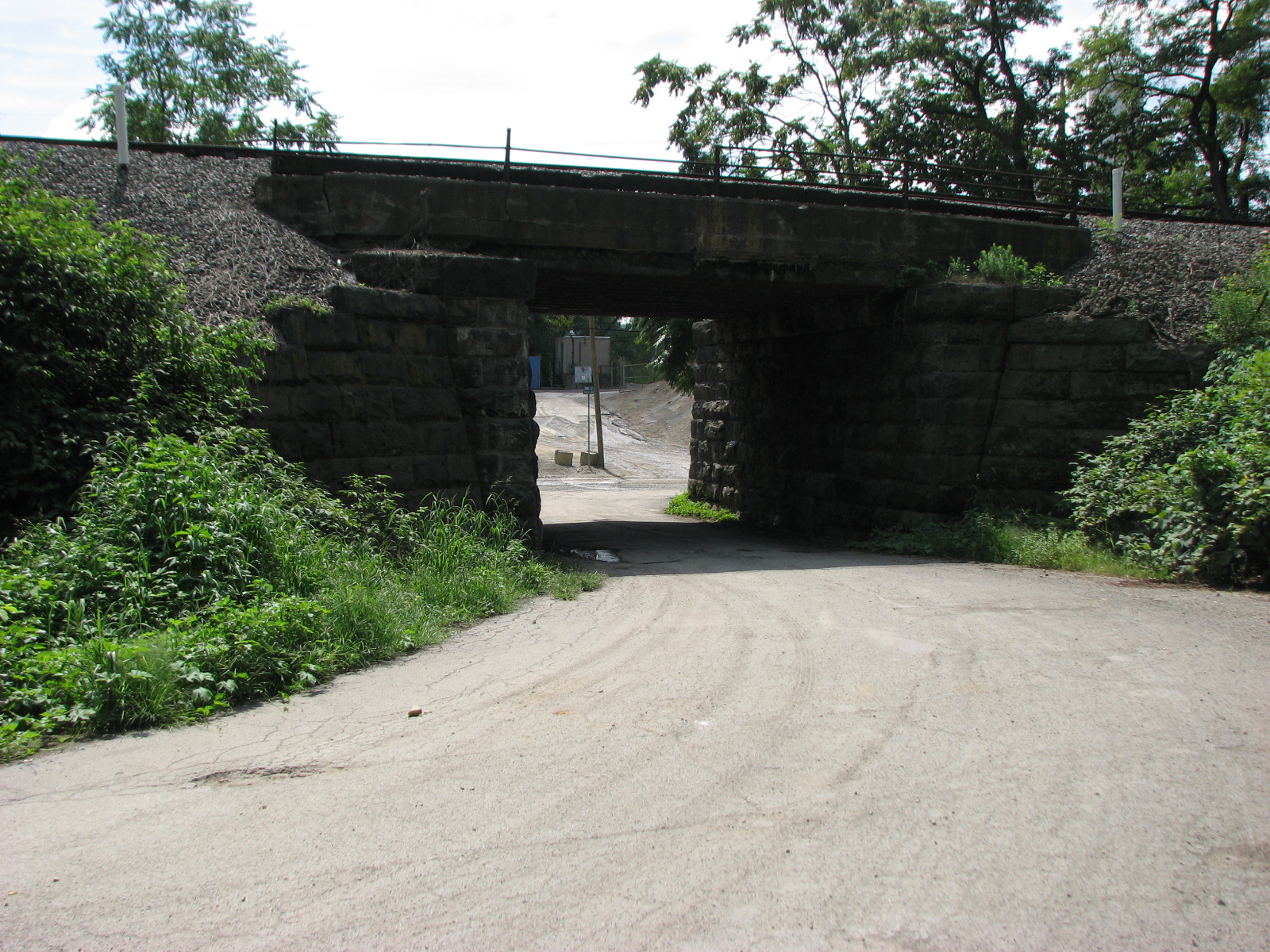 As Ralston's Crossing looks today, not back then, when webmaster took this and the other Ralston's Crossing picture below.
An 18-year-old River Rd. youth found the corpse June 5 around 7:30 am., wrapped in two green blankets and unclothed except for a torn pink slip around her shoulders.
Sam Winters, a high school football player, was on his way home from Crucible Steel Co, at Midland where he worked overnight. He had left a bus at Mulberry St and was walking along State St. when he noticed a pair of bare feet extending from blankets.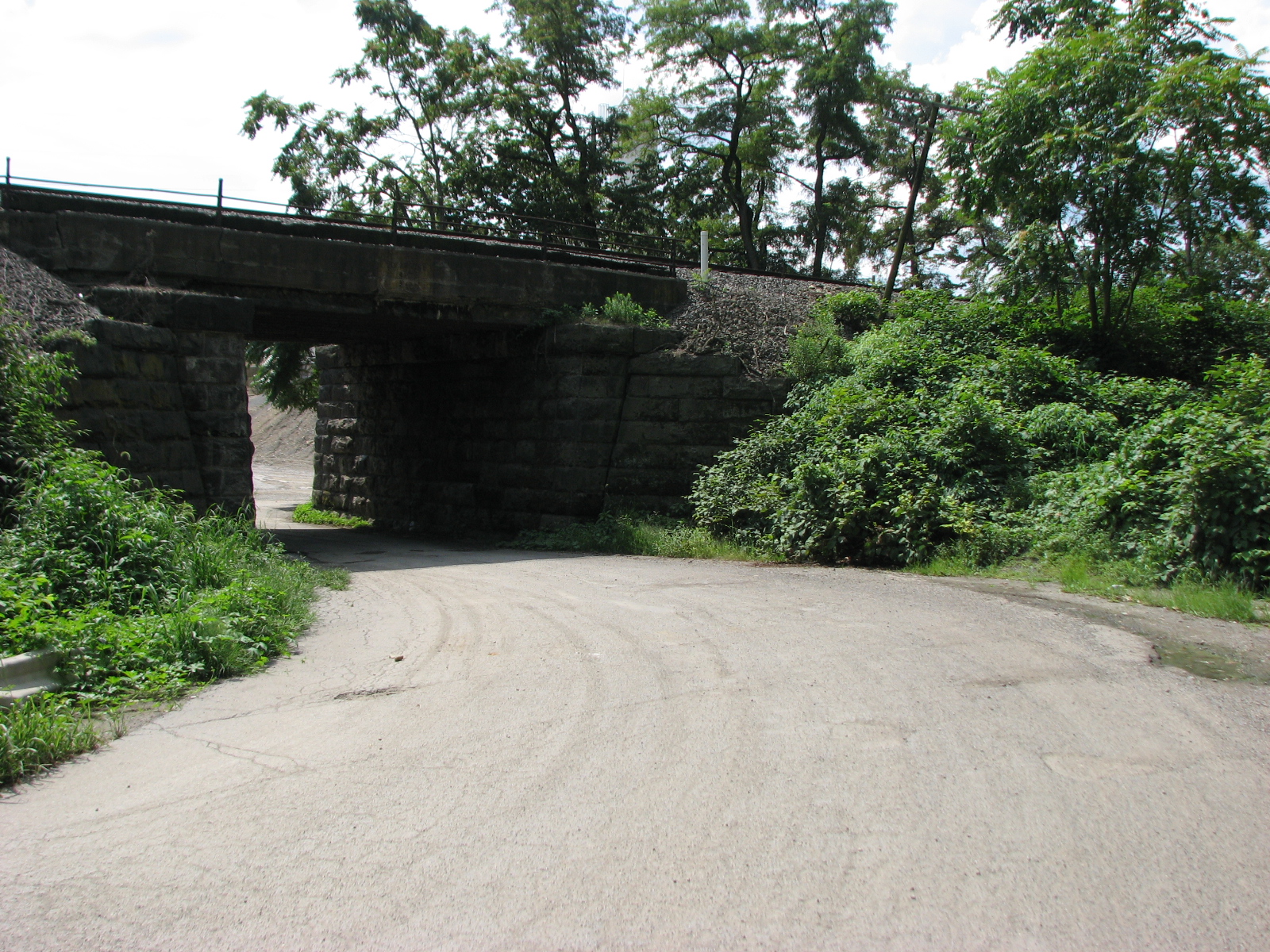 He ran to a nearby site and telephoned police.
Apparently strangled, the victim lay on her back in a cluster of weeds about eight feet from the roadway. The blankets were secured to the body with a seemingly little-used clothesline.
The woman was between 25 and 30, with dark brown hair and brown eyes, about 5 foot 6 and weighing around 125 pounds.
COUNTY CORONER Arnold Devon reported no marks on the body other than a discoloration on the left shoulder at the base of the neck The body was still warm when found, and Devon estimated the time of death around 5 a.m.
Sheriff George Hayes made plaster casts of tire tracks in the cinder road for possible future identification of the auto used to transport the body. All city police were called to duty in a hunt for clues and visits to restaurants and taverns to locate someone who would recognize the victim.
The following day - Sunday -- an East End man hunting for canvas to build his children a play tent, rummaged through trash at Columbian Park where a carnival had played the previous week. He came across a torn dress and another dress and skirt with rips.
It was discovered that the dead woman resembled one of the five girls in a picture of the Sheesley Carnival's "Gay New Yorkers revue. Sheriff Hayes traveled to Lima where the carnival was playing, but telegramed city police, "Girl in question was on show last night."
Meanwhile, the body was interred at Spring Grove Cemetery after a brief service at the Dawson Funeral Home where some 1,500 viewed the victim out of curiousity or in hopes of recognizing her.
Later the funeral home officials barred anyone from visitation other than out-of-towners sent by police.
Dozens of calls were received from relatives seeking a missing relative or friend, and from law agencies asking a description.
Her fingerprints were sent to the FBI at Washington in hopes that she made have worked in a war industry and identity could be made. But Director J. Edgar Hoover notified Police Chief Hugh McDermott there was no match.
More clues turned up. A St. George St. man putting away his car at 4:10 a.m. saw a driver switch off the lights of his auto as he pulled onto State St. at the railroad underpass. He was positive the license was not a blue and white Ohio tag.
OTHER LEADS died out. A woman who had quarreled with her husband in a hotel at midweek and disappeared from the show was found at her home in North Carolina.
Benwood, W. Va., police were looking for a missing woman with a leg scar. A Shadyside Ave. girl who had not been seen since Friday night in a Wellsville tavern did not match the body description of "Miss X.
Cincinnati police thought she may be a missing 20-year-old girl, but she had false teeth and the slain woman's were natural.
Today, the only known traces of the victim exist within a Spring Grove Cemetery plot, on police and funeral home records and in yellowing newspaper accounts.
---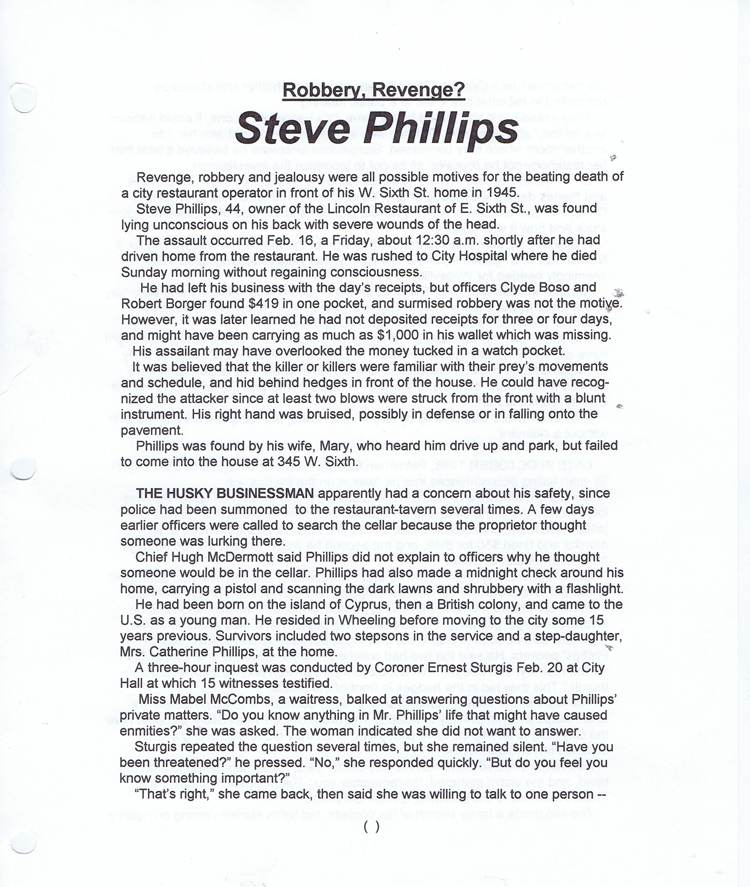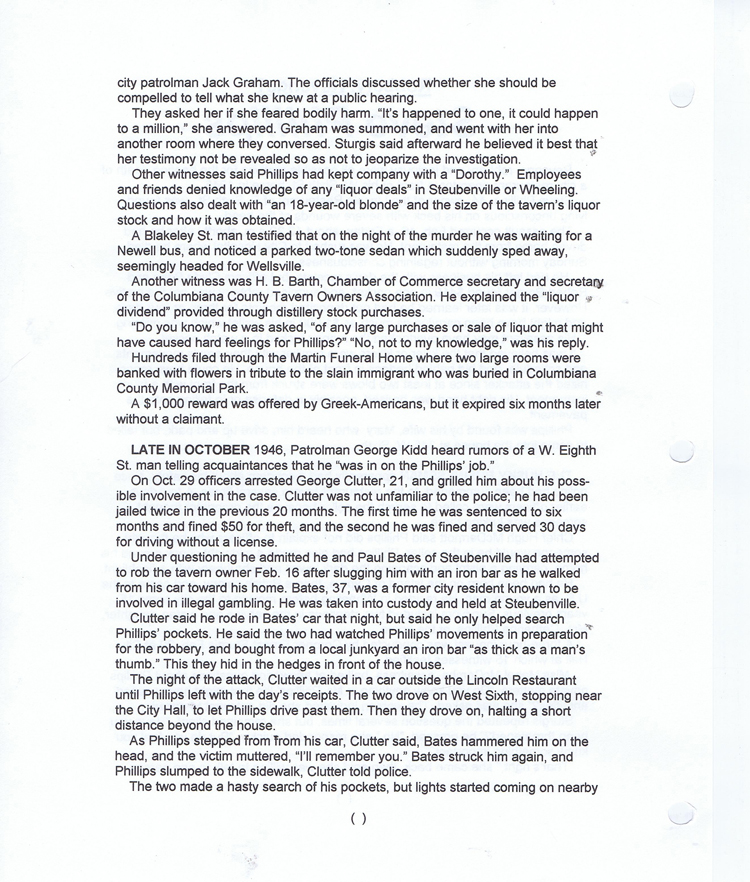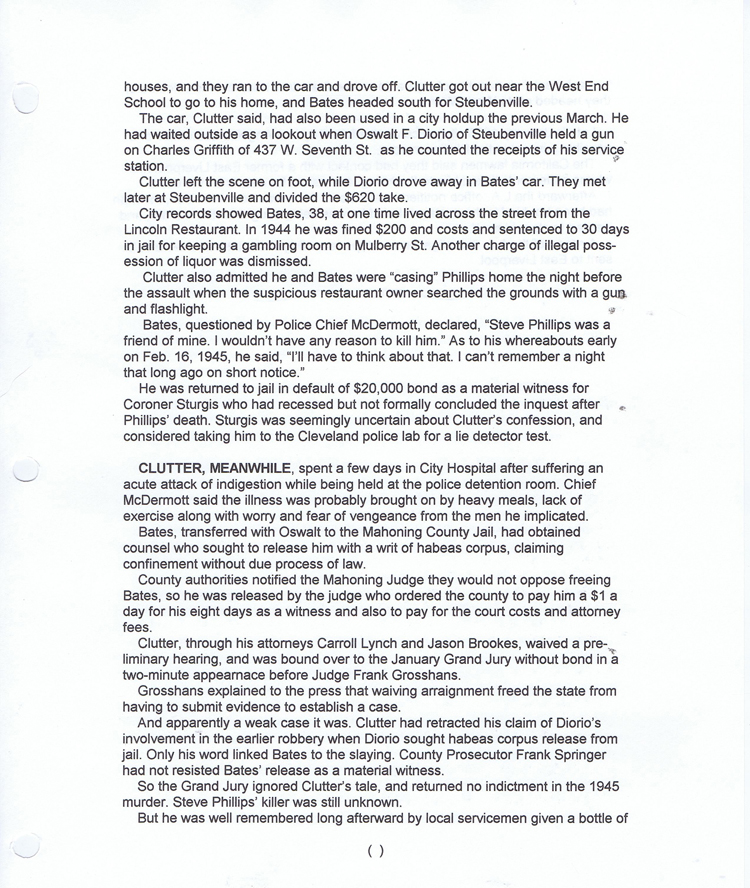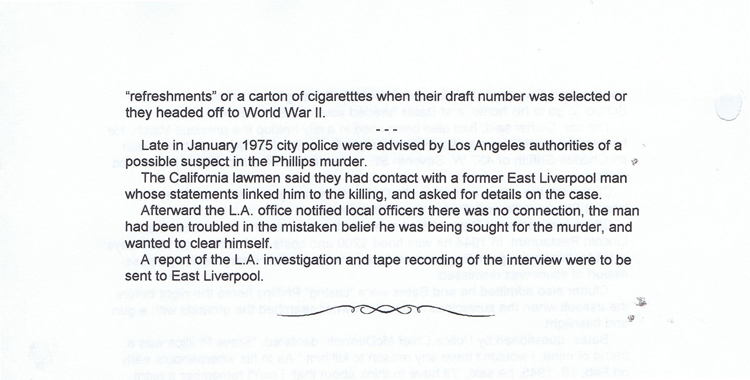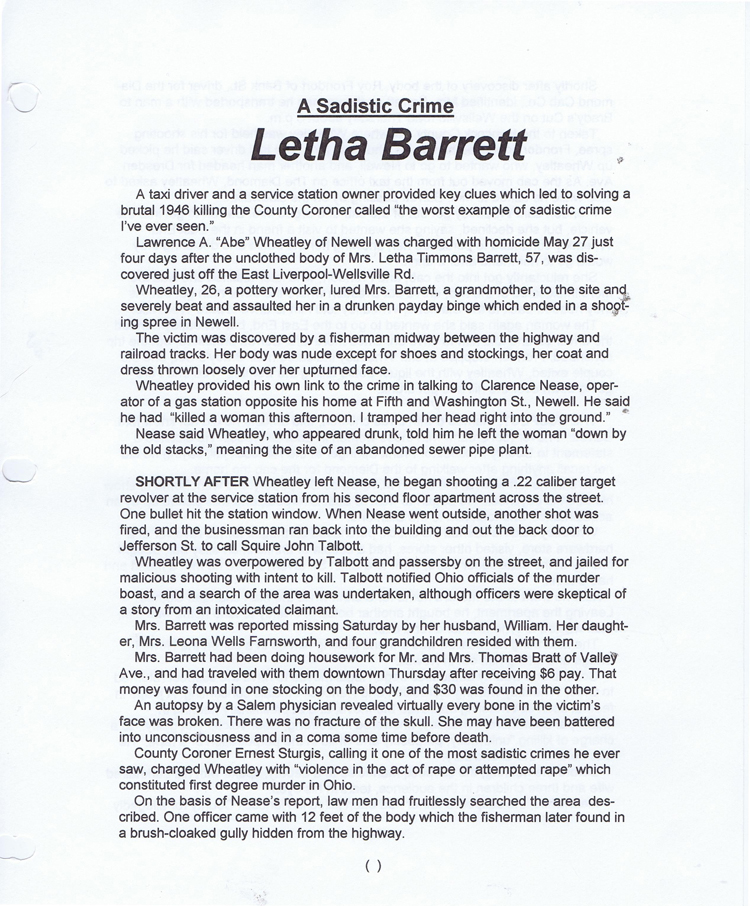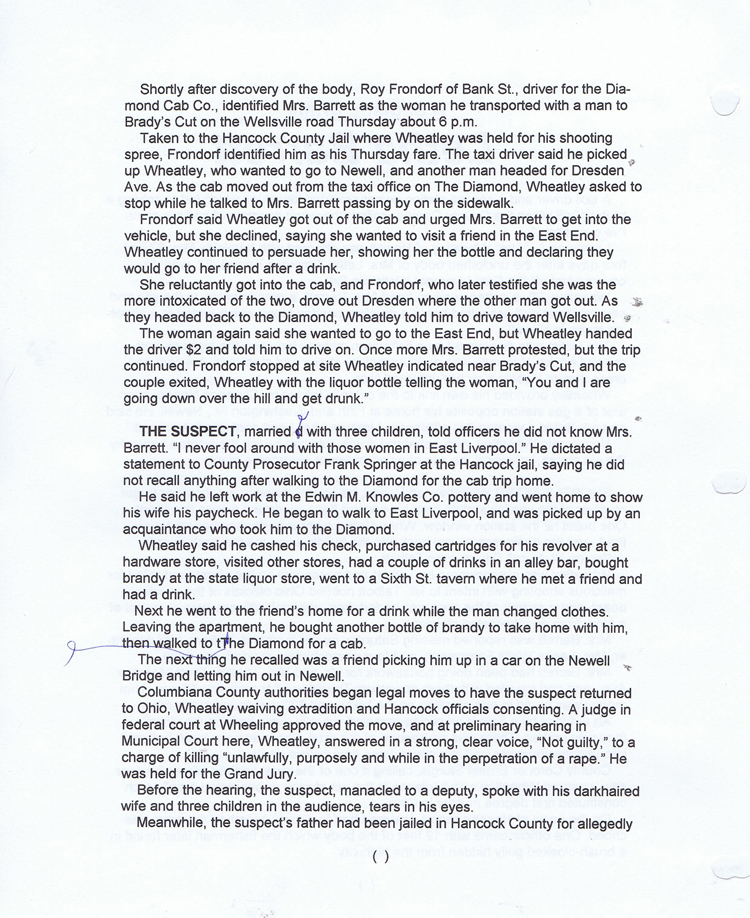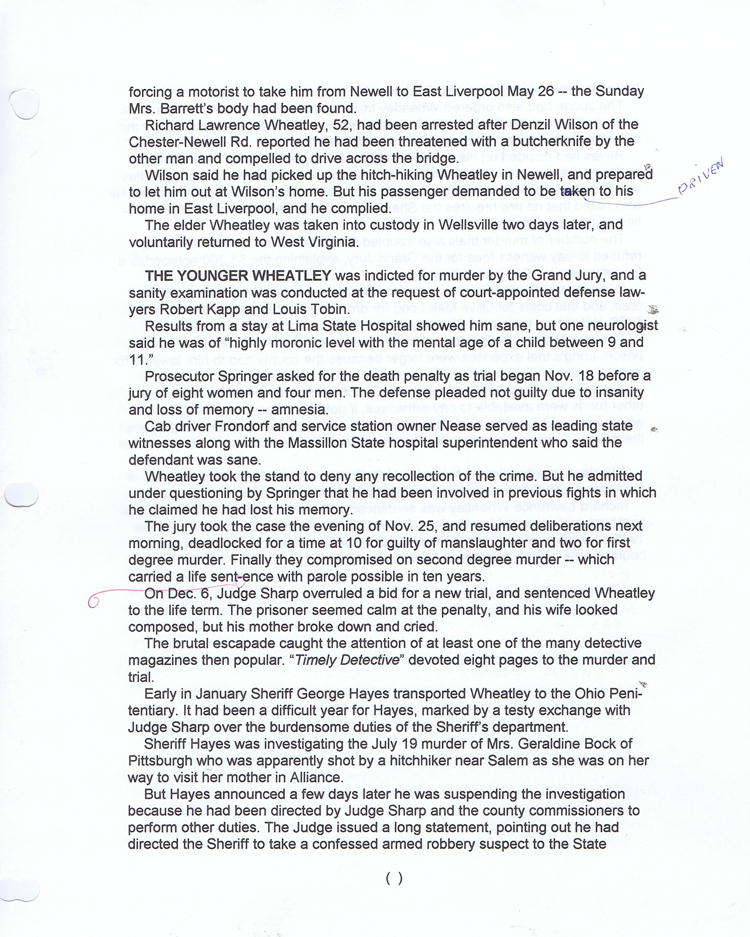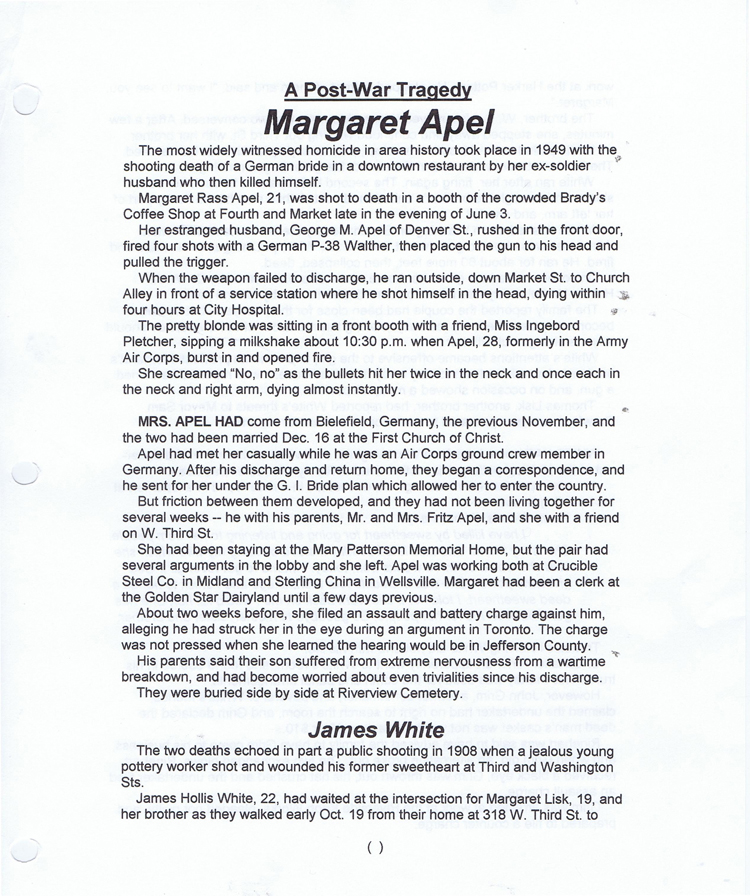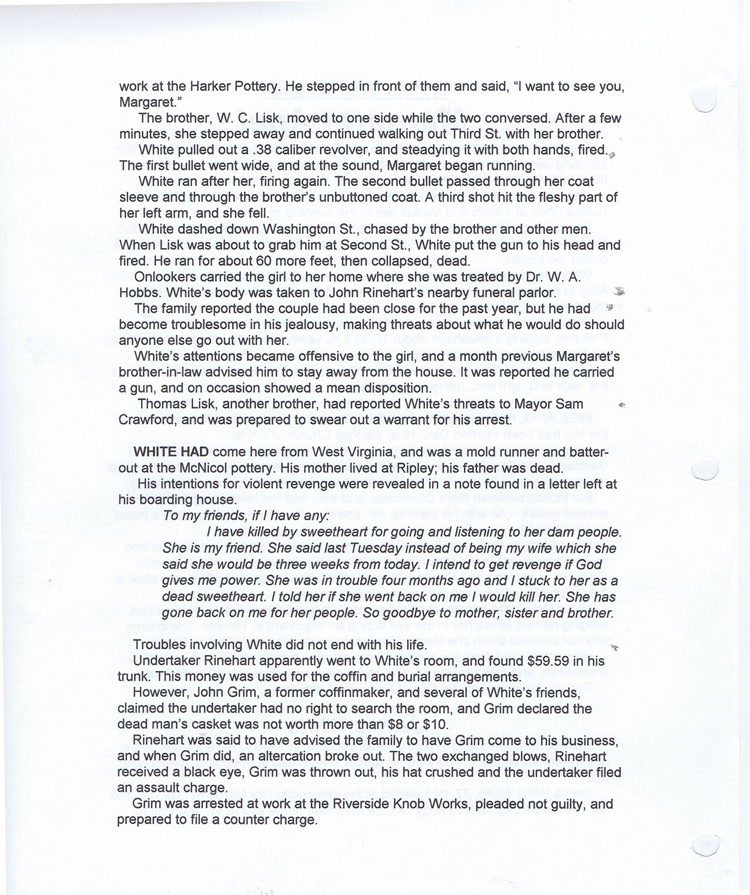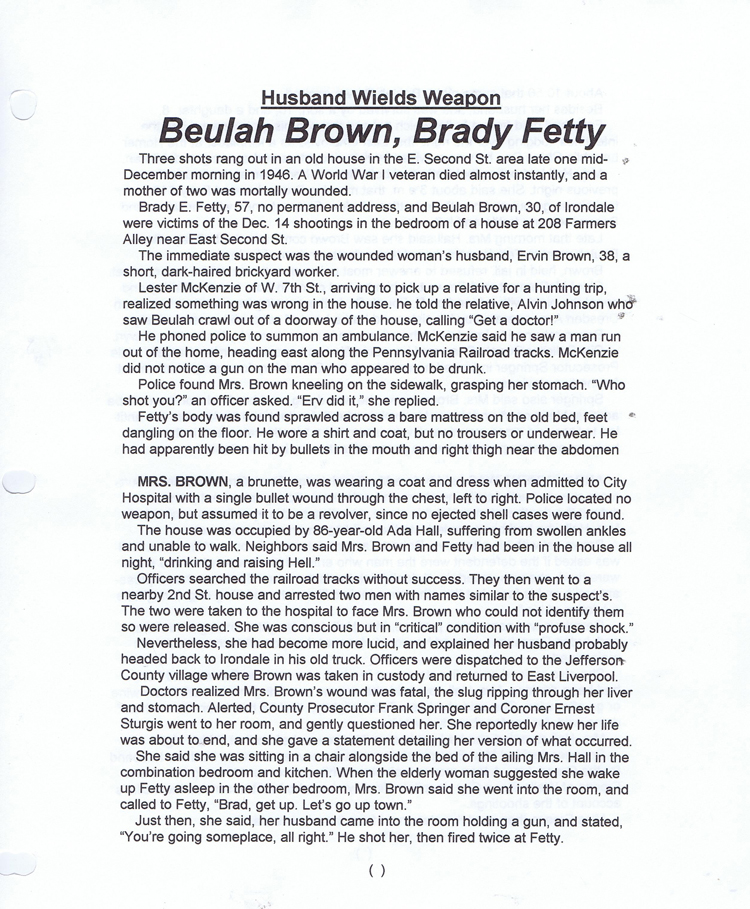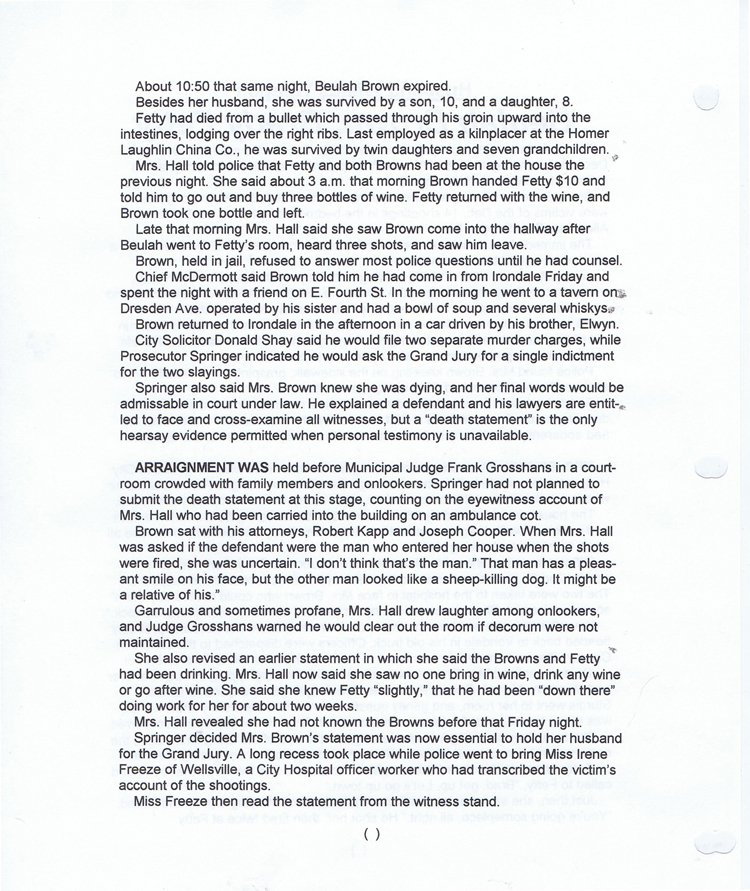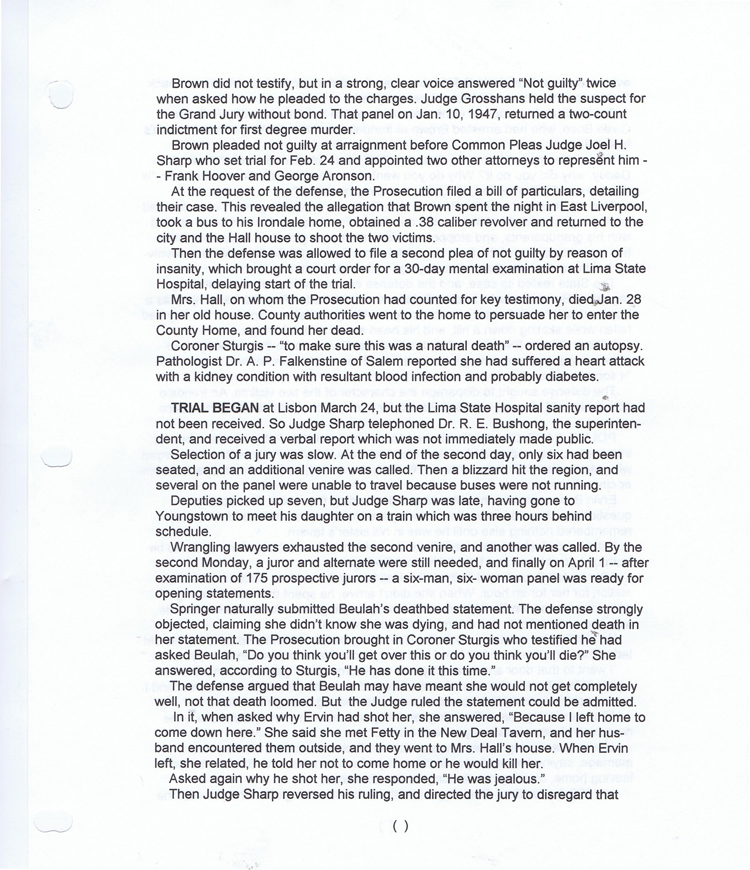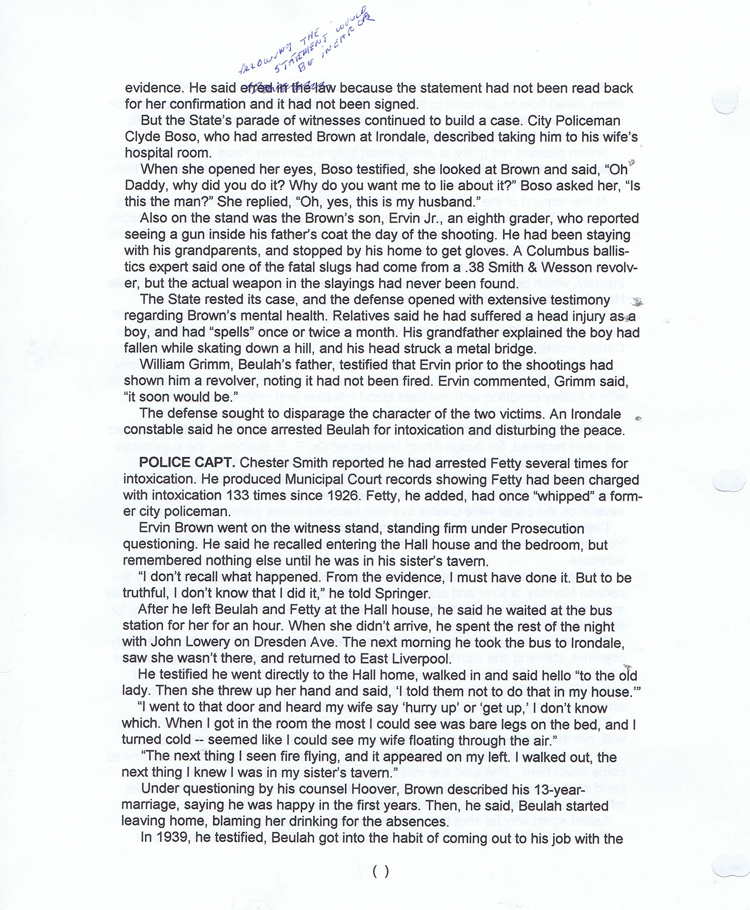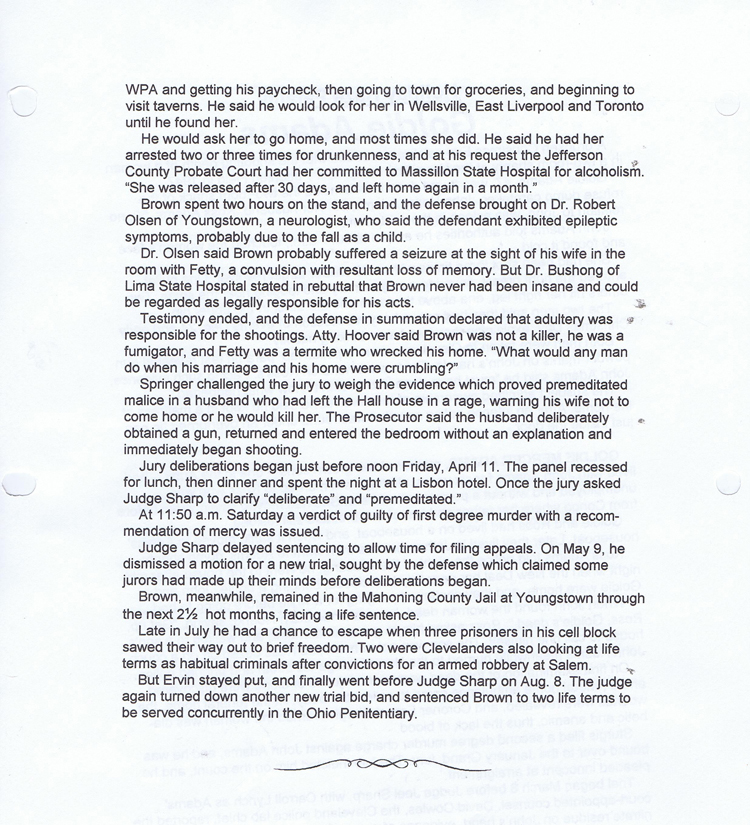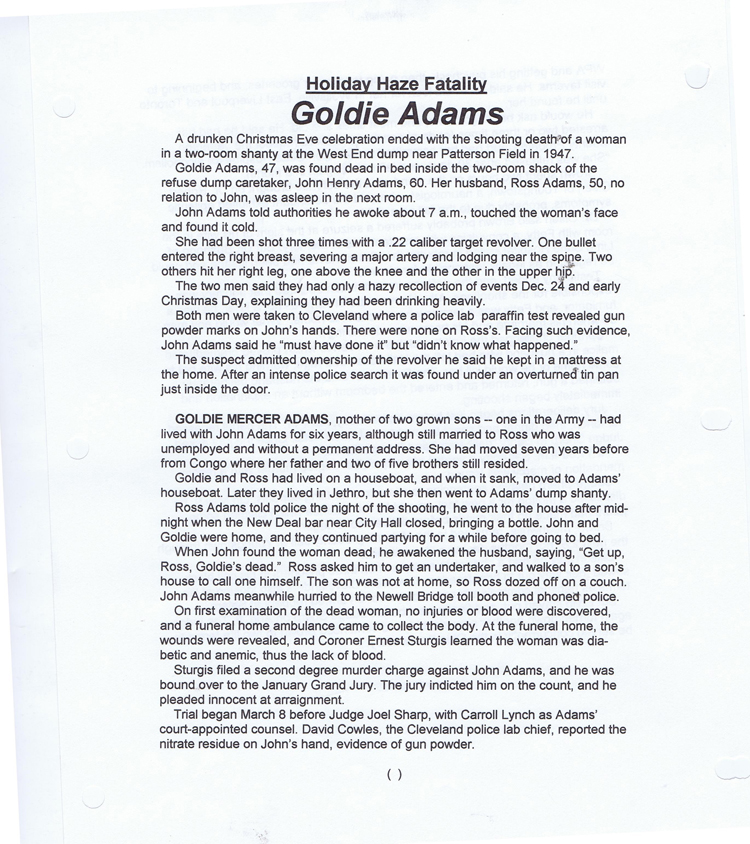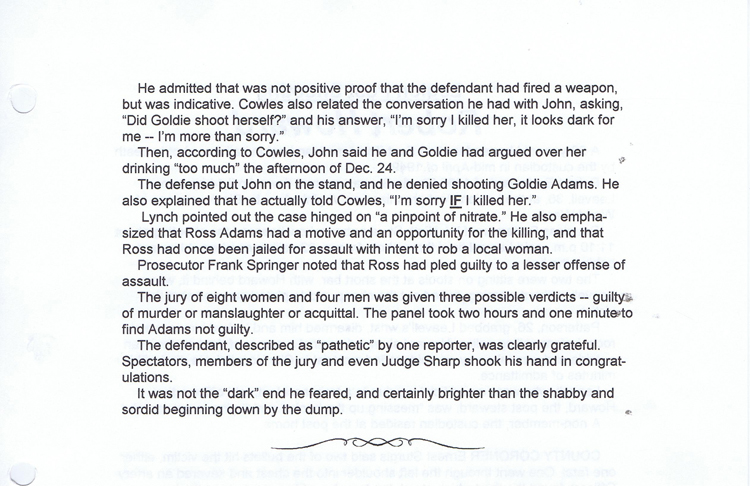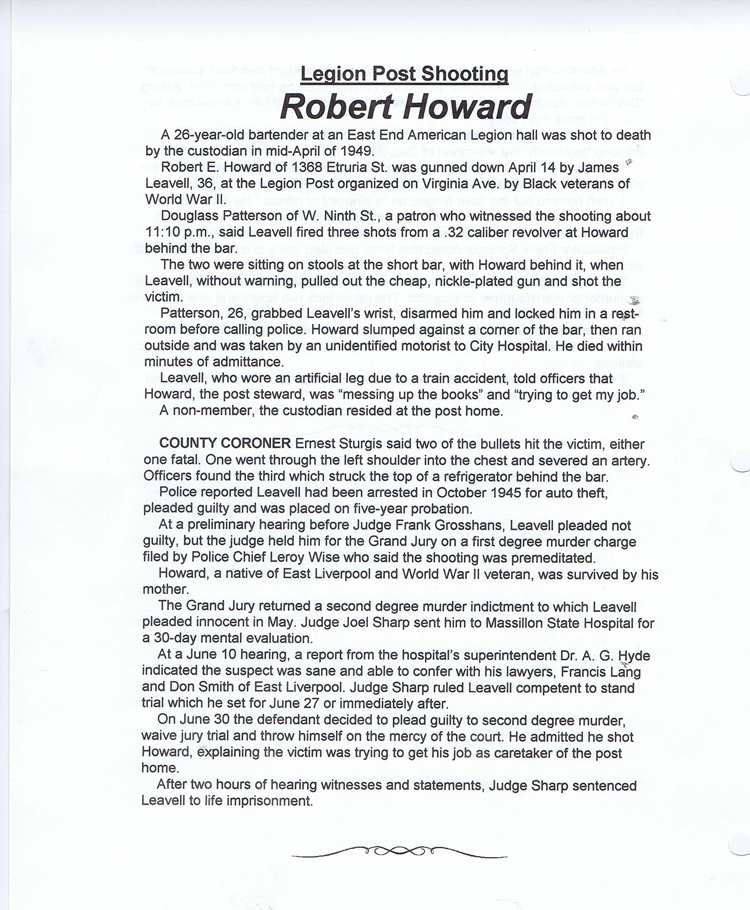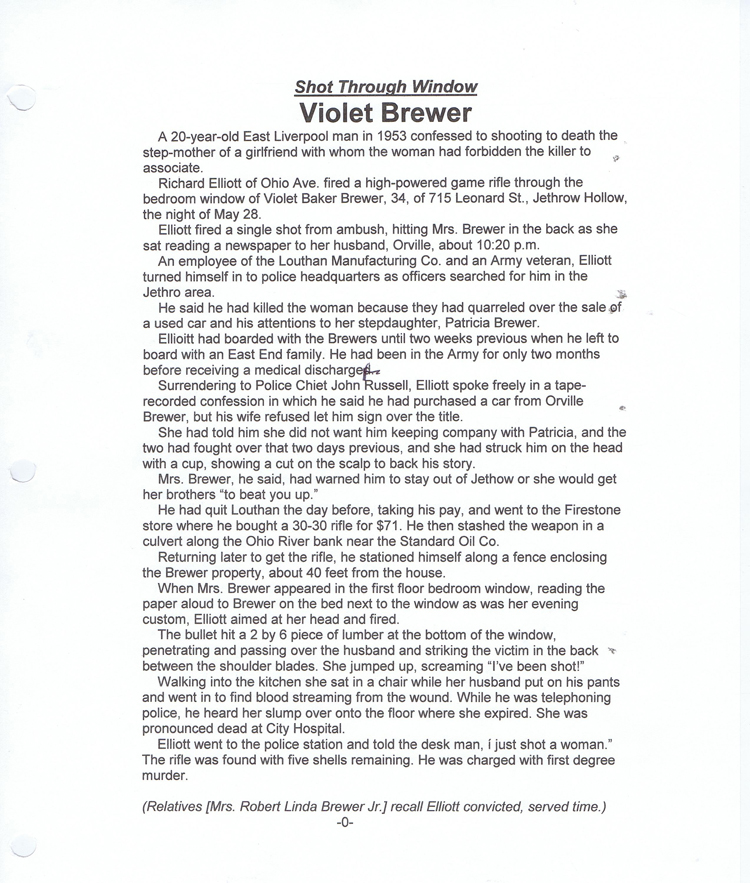 ---
Jealousy Brings Slaying
Officer Joe Mumford
One of the East Liverpool Police Department's own special officers was shot to death Nov. 16, 1956, by a jealous steel mill clerk who also wounded his girlfriend waitress.
Joseph Mumford was slain while on duty but drinking coffee in a McDonald St. home about 3:30 a.m. Seriously wounded was 18-year-old Ina Danner who rented a room in the home.
Taken into custody was Raymond Porter, 21, of W. Drury Lane who was found by police officers kneeling over his wounded girlfriend in the dining room. He was charged with firing nine shots from a .45 caliber automatic pistol -- six hitting Mumford and one striking Danner.
Mumford, 26, of W. Fourth St., father of three children, had been a part-time special patrolman since spring. He was a salesman for a used car lot on Broadway. At one time he had worked as a classified ad salesman for The Review.
The diminutive, brown-haired Danner was a waitress at the Instant Lunch opposite City Hall, frequented by police officers, and Mumford became acquainted with her there.
MUMFORD HAD PAID some modest attentions to Danner, walking her home from work at the end of her late shift, stirring Porters resentment. The latter had even telephoned Mumford's wife, telling her of husband's actions.
The officers presence at the home is unclear, although one fellow lawman said Mumford had approval from headquarters to be there during his coffee break. He was on foot patrol in the 10 p.m. to 6 a.m. shift, and apparently drove to McDonald St. in a dealer's car, after working some duty calls with Lt. John Russell.
Danner later testified she had gone to the used car lot in the evening, and talked to Mumford, inviting him during his break to have coffee with her at Mrs. Geraldine Young's house where she rented.
After the shooting, Mrs. Young immediately telephoned police, and Patrolman Charles Winters received the call at headquarters. He dispatched Patrolman Tom Walker who was at City Hospital where he had taken a woman hurt in a fall.
Walker found Porter bending over the wounded woman on the floor leaning against at wall. Mumford lay on the floor. Because the cradle telephone was broken, Walker went out to the cruiser to summon an ambulance and the Coroner.
When the officer returned, Porter was in the middle of the room, and as Walker went to comfort Mrs. Danner, Porter came toward him. Walker pushed him away, then struck him with his flexible blackjack. Porter quieted down, but when Walker went to place handcuffs on him, the suspect vehemently refused to allow him -"You can kill me but you'll never put them on," he shouted.
Walker sat him in a chair and went back to the cruiser to check on the ambulance. After he returned to calm the woman, Porter got up and started breaking things in the room. Walker said he ordered him to stop, but Porter came after him, and struck him on the head with Mumford's flashlight.
As the two struggled, Special Officer Paul Burson arrived, and pointed his gun at the suspect, warning he would shoot. Porter paid little attention, so Walker, who had brought a billy club from the cruiser, struck him on the head. The two then cuffed him and took him to jail.
The red and black Plymouth dealer's sedan Mumford drove was parked outside. Police said they assumed the officer had answered a summons to the home because "the women had threatened to call police when Porter was there earlier."
Mrs. Young indicated she had not telephoned, but Ina may have called from an upstairs phone.
Porter pleaded innocent to first degree murder at a five-minute arraignment before Municipal Judge George Brokaw. Although Ohio law provided for a specific charge for murdering a law officer in line of duty, with the death penalty mandatory, Porter was charged only with regular first degree murder for which law did not permit bond.
The city's police placed black mourning bands on the arms of their uniforms, and six officers were pallbearers for his services at the Dawson Funeral Home.
PORTER'S TRIAL began May 1,1957, at Lisbon with the defense claiming he was not guilty and not guilty by reason of insanity, that he had suffered a "mental lapse" when he shot the officer in jealousy.
A native of New Cumberland where he was an exceptional but solitary student, Porter had served in the Army where he was treated for psychiatric problems in Europe and in the states. He was judged borderline psychotic, and given a general discharge.
He attended Ohio Valley Business College for a while, then obtained a clerk job at Crucible Steel's accounting office in Midland.
Danner, a native of San Jose, Calif., and her husband had split up in Kansas City in 1956, and she came to East Liverpool where a sister lived. She met Porter at the restaurant, and began dating him.
The two made plans for marriage after her divorce, but arguments developed, one over an engagement ring, and she finally refused to see him. Porter became depressed, defense Counsel Sam Chertoff told the jury.
Mumford, who generally worked the overnight shift., was often a customer at the Instant Lunch where he became friendly with Danner. In Prosecutor William Brokaw's opening statement, he said Mumford had walked her home a few times when she lived near the YMCA, and had been at least once to the home on McDonald St.
Danner testified Mumford told her he was not married, and suggested that she telephone his home and ask. She said she did so, several times, and the woman who answered said she was not "Mrs. Mumford."
But Mumford's widow later testified her aunt and sister answered the phone on three occasions when a woman called asking the question, then hung up.
The day before the slaying was pay day at Crucible, and Porter went to work at the Midland plant. He quarreled with a supervisor about having been absent, obtained his check and returned to East Liverpool.
Cashing the check, he had drinks at a Sixth St. bar then at a Third St. restaurant, Brokaw said. Here he met a friend, Cliff Humphrey, who was "pretty well intoxicated." Humphrey was told of the split with Ina, and he drove Porter to the Young home to try a reconciliation. Mrs. Young told him to leave or she would call police.
Ten minutes later, Humphrey phoned Ina, and she refused to reconciliation or an apology. She also apparently told him Mumford was coming to the house.
Cliff Humphrey then drove to near Porter's home, parked and fell asleep. Porter went into his house, picked up his pistol and a clip and went back to the car. He had Humphrey drive him back to McDonald St., removed his shoes so as not to alert Mumford, and went to the rear of the home.
Inside Mumford and Danner were at the dining room table with their coffees. Mrs. Young was sweeping up petals from roses Porter had sent two days before. Porter, outside, took aim through a rear window fired at Mumford, the first bullet splintering the handle of Mrs. Young's broom.
He fired two more times through the window, hitting his target. The wounded officer rose from the table, drawing his weapon and starting through the archway into the living room, but collapsed face down on the floor.
Porter then went to the front of the house, shot three times through the door's glass pane, and smashed his way inside, firing more three bullets. One hit Danner, and the rest struck the officer, one reportedly glancing off a pen in his pocket.
Porter later told police, "I wanted to make sure he was dead." Mumford's .38 caliber revolver lay on the floor fully loaded.
DANNER, LYING near the front door, was struck in the right abdomen, the slug passing through the stomach and lower intestines, exiting from the lower back. She remained in "critical" condition at City Hospital for several days.
She told the jury that Mumford had taken off his jacket when he arrived. (William Devon, then a Patrolman, recalled that it was his -- Devon's jacket, and it was riddled with bullet holes. He lent it earlier to the special officer when he came to duty on the cold evening without a coat.)
A ten-page statement signed by Porter was admitted as evidence, and he spent two and half hours on the witness stand, declaring he had been drinking and remembered nothing about the shooting.
Porter's statement had been written down by Lt. Charles Kidd about four and half hours after the shooting. When Lt. Kidd began asking the suspect clarifying questions, Porter declared he would not sign the statement if more questions were asked. Lt. Kidd stopped, and the suspect signed the papers "voluntarily."
While sitting at the defense table prior to his testimony, Porter became angry when Assistant Prosecutor Warren Bettis aggressively cross-examined his mother.
During her examination by defense counsel Chertoff, she told of her son's "spoiled" childhood, his day-dreaming, his lack of friends and his breaking things. She said she was advised of his conduct by Army psychiatrists, and she kept knives and forks hidden from him.
When Bettis asked Mrs. Porter, "How many times have you gone over this story with Mr. Chertoff?" the defendant jumped to his feet, grabbed his heavy wooden chair with one hand and threw it almost overhand at the startled Bettis.
I covered the trial as a Review reporter, and was taken by surprise when Porter, his face livid, hurled the chair which struck the floor at the Prosecutor's feet, as a deputy and defense lawyer seized the prisoner.
Mrs. Porter denied talking to Chertoff, adding she was glad that he was their lawyer.
Testimony was read from Dr. R. E. Bushong, psychiatrist at Toledo State Hospital and former chief of Lima State Hospital where Porter had been taken for a two- month mental evaluation after the killing. Dr. Bushong was ill, and his deposition was taken by a court reporter during a one-day recess of the trial.
The defendant, in Dr. Bushong's opinion, was mentally ill, displaying schizophrenic tendencies before and after the crime. He was sometimes abusive and violent with women he dated and with his own family, and had twice tried to commit suicide, Dr. Bushong said.
Another dramatic moment came when the slain officer's widow spent six minutes on the stand telling of a telephone call from an unidentified man who told said her husband was walking Ina Danner home from the Instant Lunch. Mrs. Mumford, dressed in black, carried their 11-month old blonde daughter into the room. While testifying she turned the child over to Patrolman Walker, friend of Mumford who accompanied her to Lisbon.
After the state rested its case, Atty. Chertoff asked for a dismissal of the indictment, saying no ballistics tests were taken to link the weapon to the death. Judge Raymond Buzzard said Porter's own account and the testimony from Mrs. Young indicated the pistol was the weapon.
THE DEFENSE pointed to Dr. Bushong's opinions on Porter's mental condition, along with testimony by Dr. R. M. Croissant of Lima State Hospital who also examined the defendant.
Dr. Croissant said Porter was very immature when he went into the Army, and showed emotional disturbance, was unable to evaluate reality. "He had been generally unhappy since his father returned from the service. He had delusions people were against him, and had auditory and visual hallucinations."
Brokaw asked, "Would you say Porter knew right from wrong on Nov. 16?" The doctor said his ability to recognize right from wrong was seriously impaired, "but we physicians don't concern ourselves with moral principles such as these, we deal more with methods and treating long-standing attitudes."
Porter on the stand swung back and forth in his chair, some times flip and sarcastic, other times seemingly remorseful and close to years. He declared he did not remember anything from the time he left the Naples Restaurant until he read of his indictment while in the County Jail
He recounted his Army hospitalizations at Camp Breckenridge, Ky., Ft. Stevens, Mass., Stuttgart and Frankfurt, Germany, and Valley Forge, Pa.
Porter described his relationship with Ina, meeting her at the Coffee Shop, going steady, planning marriage. They had "intimate relations," and at one time she told him( she was-pregnant, then-denied it.
He said he saw her "holding hands" with Mumford, and followed them one night to the McDonald St. house. A few nights before the shooting he said he met them on Sixth St. and tried to talk to Ina. He said he "slapped her," then "Joe butted in."
Porter said he asked Mumford if he wanted to fight, and the officer replied, "As long as I have this badge and gun, don't bother me, sonny boy."
Prosecutor Brokaw pressed the defendant on cross-examination, asking him if he knew what a "gold brick" is, suggesting he didn't like to work, shirked hard jobs, played hookey from school.
Brokaw questioned him about his suicide attempts. "You didn't try very hard." Porter replied, "Give me a .45 and I'll blow my brains out in front of you." As for his forgetting the shooting, Brokaw asked, "Do you remember the gun?" Porter answered, "I didn't see it -- I own a .45 though."
Brokaw replied, "Oh, I'm not going to show it to you; you'll just put on another show for us."
"Do you think it was right," Brokaw demanded, "for you to sneak up and from behind a window shoot a man, then go in and shoot him again to make sure he was dead? "What's wrong with it?" the witness replied.
"You won't answer this. You're pretty smart, you won't answer questions that will indicate you know right from wrong. You'd like to get away with this, wouldn't you?" Porter responded, "I can't answer that."
Brokaw: "Do you think you can fool this jury?" Porter: "I'm not trying to fool anybody."
On May 10 the jury of five men and seven women deliberated for two hours and 45 minutes before returning a verdict of guilty of murder in the first degree.
THE PANEL, HOWEVER, recommended mercy, changing the penalty from death in the electric chair to life imprisonment, subject to parole after 20 years.
His mother, barred from the courtroom during the eight-day trial because she was a defense witness, sat in the front row.
Porter sat with his head in his hand after the verdict was read. He smiled slackly when led out by Sheriff deputies.
---