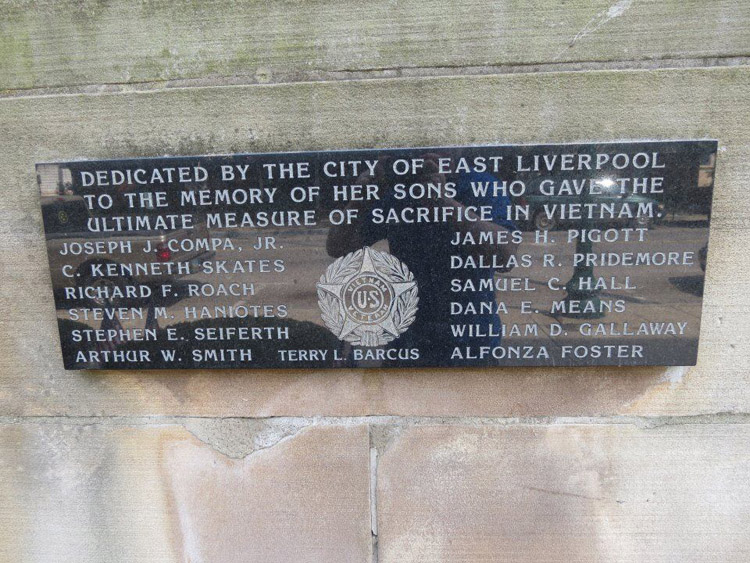 From: Larry Myers [Vietnam Veteran]
Tuesday, March 25, 2014 11:19 AM
The Vietnam Wall
You may be surprised, as I was, to discover the extensive loss of life within the communities of the tri-state area during the Vietnam War. Nearly every community on our home front suffered the loss of at least one service man and all toll, fifty of our citizens paid the ultimate price and their names are forever inscribed on the Vietnam Memorial Wall. In tribute and in memory of their honorable service to our country I have documented their military biographies and most are accompanied with individual photos. The following is a staggering list of the communities directly affected by the Vietnam War.
East Liverpool 13, Salem 5 and Wellsville 4. Three each from: Weirton, New Cumberland and Toronto. Two each from: East Palestine, Salinesville, Rodgers, Hanoveton, Lisbon and Hookstown. One each from: Leetonia, Kensington, Midland, Chester, Newell and Industry and one from Cleveland with previous residences in Lisbon and Wellsville.
These are not just numbers but our very own, with families, friends, fellow veterans and all who knew them during their life's journey. May they rest in peace with the declaration of a grateful nation for their distinguished sacrifice while in service to God and country.
From Wayne Stanley Tolley [Vietnam Veteran]
A little history most people will never know. Interesting Veterans Statistics off the Vietnam Memorial Wall There are 58,267 names now listed on that polished black wall, including those added in 2010.
The names are arranged in the order in which they were taken from us by date and within each date the names are alphabetized. It is hard to believe it is 36 years since the last casualties.
The first known casualty was Richard B. Fitzgibbon, of North Weymouth , Mass. Listed by the U.S. Department of Defense as having been killed on June 8, 1956. His name is listed on the Wall with that of his son, Marine Corps Lance Cpl.Richard B. Fitzgibbon III, who was killed on Sept. 7, 1965.
There are three sets of fathers and sons on the Wall. 39,996 on the Wall were just 22 or younger. 8,283 were just 19 years old. The largest age group, 33,103 were 18 years old. 12 soldiers on the Wall were 17 years old. 5 soldiers on the Wall were 16 years old. One soldier, PFC Dan Bullock was 15 years old. 997 soldiers were killed on their first day in Vietnam .. 1,448 soldiers were killed on their last day in Vietnam .. 31 sets of brothers are on the Wall. Thirty one sets of parents lost two of their sons. 54 soldiers attended Thomas Edison High School in Philadelphia . I wonder why so many from one school. 8 Women are on the Wall. Nursing the wounded. 244 soldiers were awarded the Medal of Honor during the Vietnam War; 153 of them are on the Wall. 1 of them was from Wellsville, Ohio and is also on the Wall. Beallsville, Ohio with a population of 475 lost 6 of her sons. West Virginia had the highest casualty rate per capita in the nation. There are 711 West Virginians on the Wall.
The Marines of Morenci - They led some of the scrappiest high school football and basketball teams that the little Arizona copper town of Morenci (pop. 5,058) had ever known and cheered. They enjoyed roaring beer busts. In quieter moments, they rode horses along the Coronado Trail, stalked deer in the Apache National Forest . And in the patriotic camaraderie typical of Morenci's mining families, the nine graduates of Morenci High enlisted as a group in the Marine Corps. Their service began on Independence Day, 1966. Only 3 returned home.
The Buddies of Midvale - LeRoy Tafoya, Jimmy Martinez, Tom Gonzales were all boyhood friends and lived on three consecutive streets in Midvale, Utah on Fifth, Sixth and Seventh avenues. They lived only a few yards apart. They played ball at the adjacent sandlot ball field. And they all went to Vietnam. In a span of 16 dark days in late 1967, all three would be killed. LeRoy was killed on Wednesday, Nov. 22, the fourth anniversary of John F. Kennedy's assassination. Jimmy died less than 24 hours later on Thanksgiving Day. Tom was shot dead assaulting the enemy on Dec. 7, Pearl Harbor Remembrance Day.
The most casualty deaths for a single day was on January 31, 1968 ~ 245 deaths. The most casualty deaths for a single month was May 1968 - 2,415 casualties were incurred.
For most Americans who read this they will only see the numbers that the Vietnam War created. To those who survived the war, and to the families of those who did not, we see the faces, we feel the pain that these numbers created. We are, until we too pass away, haunted with these numbers, because they were our friends, fathers, husbands, wives, sons and daughters. There are no noble wars, just noble warriors. Please pass this on to those who served during this time, and those who DO Care . I've also sent this to those I KNOW do care very much, and I thank you for caring as you do.
George Haught on Military Memories East Liverpool & Tri-state area. Those who served, their friends, families & admirers wrote: A battle that I was involved in is the first in the series tonight at 10 PM on the military channel, the battle for Hues City during the 68 tet offensive. . . as a member of Golf Co.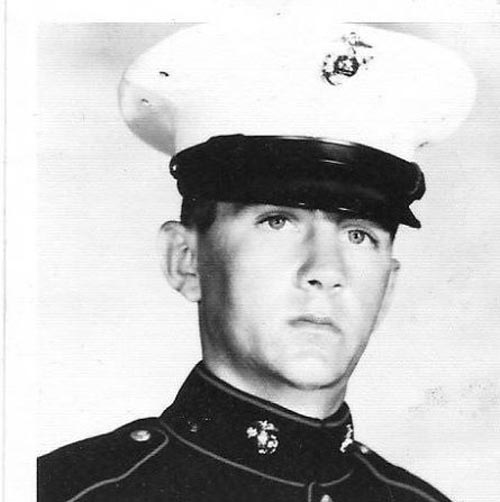 George Haught
Against the Odds. The Marines battle to retake Hue City, Vietnam, Tet Offensive 1968.
Beware of a Pissed Off Marine | Against the Odds
https://www.youtube.com/watch?v=n0N7l396cJI
Learning Urban Warfare in Hue - Ultimate Warefare Episode 4
https://www.youtube.com/watch?v=w7Gcxo-8M2o&list=PLLb4Aujw26R6bK7qyCjfa1y5Y17F7P-X
Crossing the Bridge to Liberate Hue | Ultimate Warfare
https://www.youtube.com/watch?v=9hTfh4UCGiw
Taking Hue City Building by Building | Against the Odds
https://www.youtube.com/watch?v=0FY4W3upIXo
Don't Make Friends in Combat | Against the Odds
https://www.youtube.com/watch?v=qpgxV3EXYo4
There are two links that tell the visual story of the Battle of Hue City which I was a part of with Golf Company 2 ND. Battalion 5 Th. Marines. The battle was one that we successfully completed after 31 days of intense fighting. Hue was a city of about 350,000 that was completely taken over by 10,000 North Vietnamese soldiers. We counter with one company at first Alpha Company 1 St Company 1 St. Marines, they suffered heavy losses and where pinned down. My Company came in as the reactionary force and was the spearhead for the rest of the operation.
Working with odds of at least a hundred to one we started systematically clearing the city room by room building by building we suffered heavy casualties along the way but if you were not dead you kept going on. I had people come into my unit that I barely got to meet before they were gone.
I was proud to serve and be a part of that battle and now after all of these years to be able to tell a little about it and the love and pride that I shared with all of those brave men. Courtesy of George Haught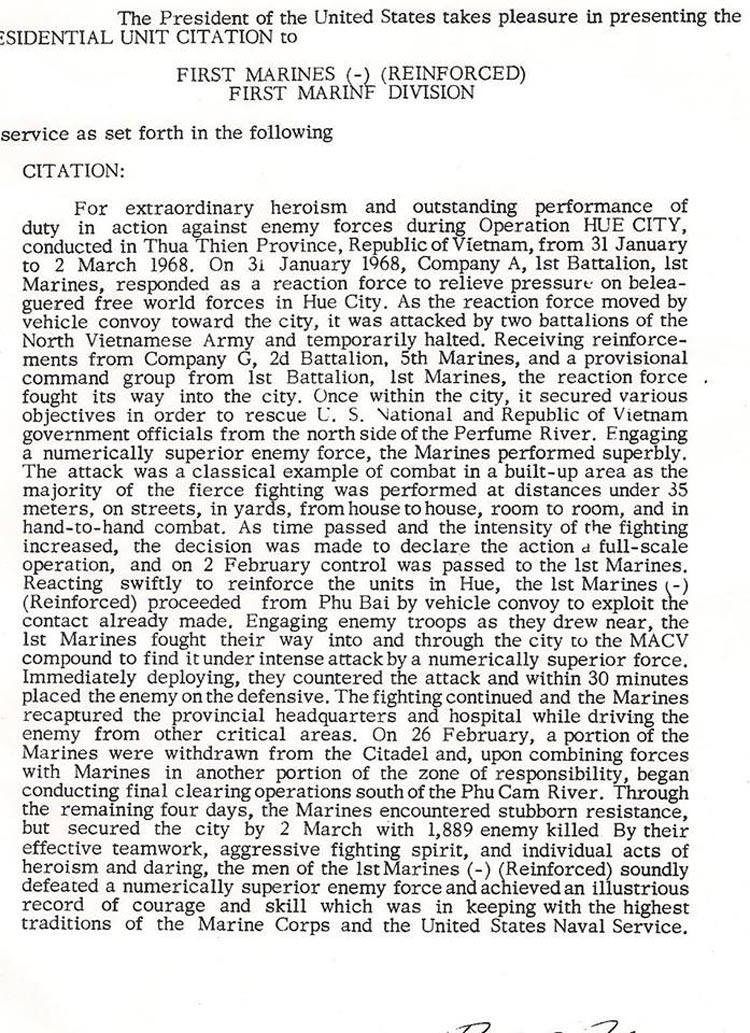 Courtesy of George Haught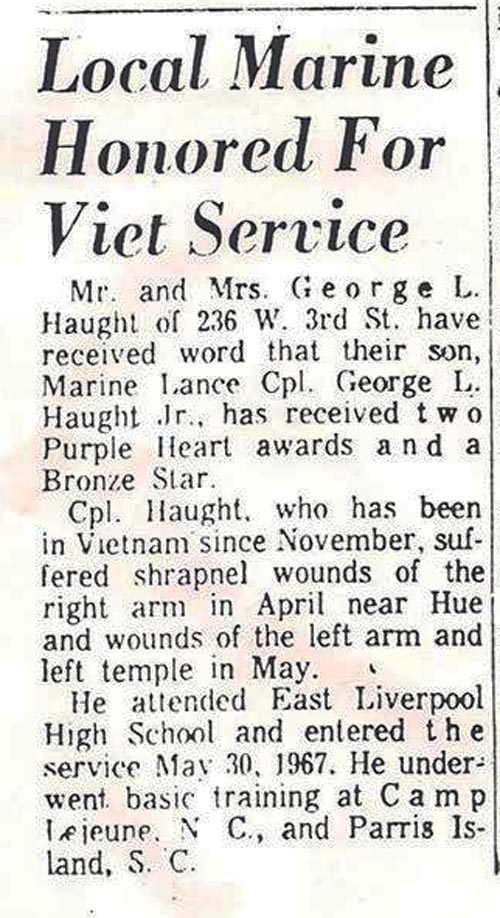 With all the talk about want to be's*, I thought that I would post my picture with a friend in Vietnam that paid the ultimate price. Him and the number of others like him that I served with are the reason that these people get my blood boiling. His name is Clyde Carter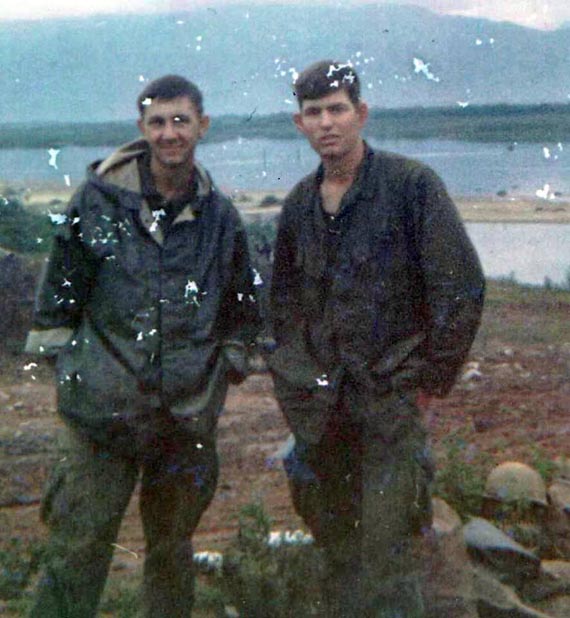 Courtesy of George Haught.

"Want to be's "* There are people, not only in this country but other countries as well like England, who buy military uniforms, that they never wore as a member of any branch of any military in reality. Buy a bunch of medals, they were never awarded in reality and wear such pretending to be big time military heroes.

Battle of hue

https://www.youtube.com/watch?v=g6Xa75XCuj0

Battlefield Vietnam - Part 08: Siege at Khe Sanh

https://www.youtube.com/watch?v=6dh-qZV7l-g

A local Vietnam story:

A Walmart story. Yesterday as I was going to the self check out section to check out I heard a voice say "I'm glad you made it home".

I turned around and saw a guy with a hat that indicated he had been in Vietnam. He came up even with me and reached out a shook my hand saying the same thing I am glad you made it home. I said I was in the Navy I don't think there was a whole lot of risk to me personally. I was on carriers. We launched planes and the planes bombed them a lot. We did lose some pilots.

He said, it doesn't matter, you were there, you served. He said he was in armor. He said he recalled some sticky times and they would make a call. He said, "We didn't even see them coming but then there they were out of no where it seemed bombing and strafing. Those planes helped us survive more than once." I invited him to join us here. He said he didn't live in East Liverpool, he was in W Va. I told him it was for the entire area. Hopefully he will join us here.

It has been said in any military undertaking only about 10% of the total number of troops involved are involved in actual combat. The other 90% are involved in support of that 10%.

Just a few pictures showing what was involved in "We didn't even see them coming but then there they were out of no where it seemed bombing and strafing," mentioned above. He didn't say if it was Navy or Air Force planes but in this case for demonstration purposes we will say it was Navy planes. In most cases it would be the same if Navy or Air Force planes. Major difference would be Navy planes would come from Aircraft Carriers at seas and Air Force planes from bases on land. WHat follows would be the same for WI. Korean War. Vietnam War and recent post Vietnam conflicts.

The following pictures come from the 1970 West Pac Cruise Book of the USS SHANGRI-LA CVA-38. It does not imply that it was planes from that ship on that day that got the veteran above out of his sticky time. However, the planes from that ship doing that tour of duty in the western Pacific did get many ground troops out of sticky situations. The following is the typical way it would work.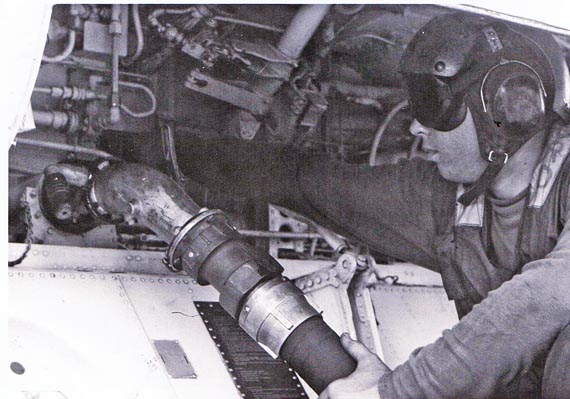 At some point in time, probably early in the morning, planes are fueled.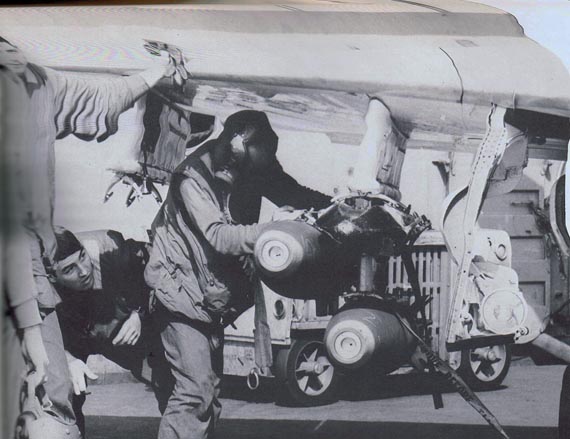 Loaded with bombs.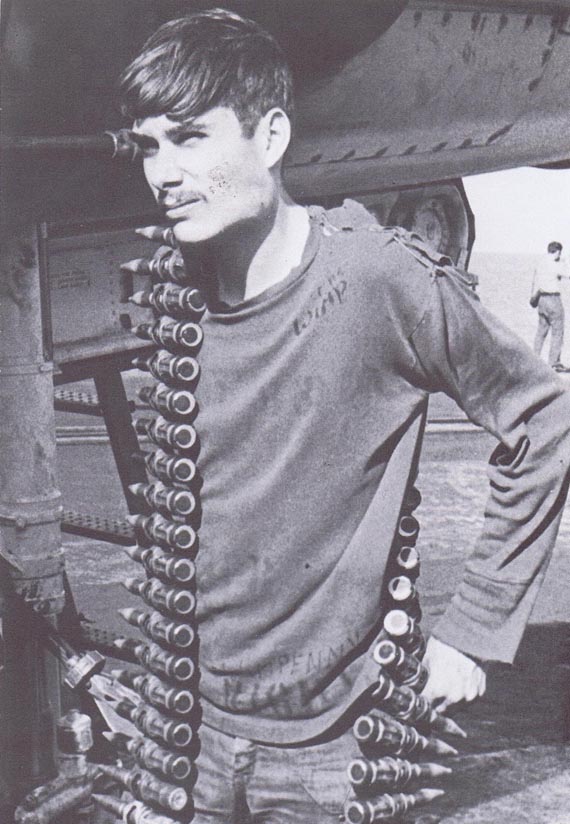 and ammo. These are all dangerous jobs. See:

http://en.wikipedia.org/wiki/1967_USS_Forrestal_fire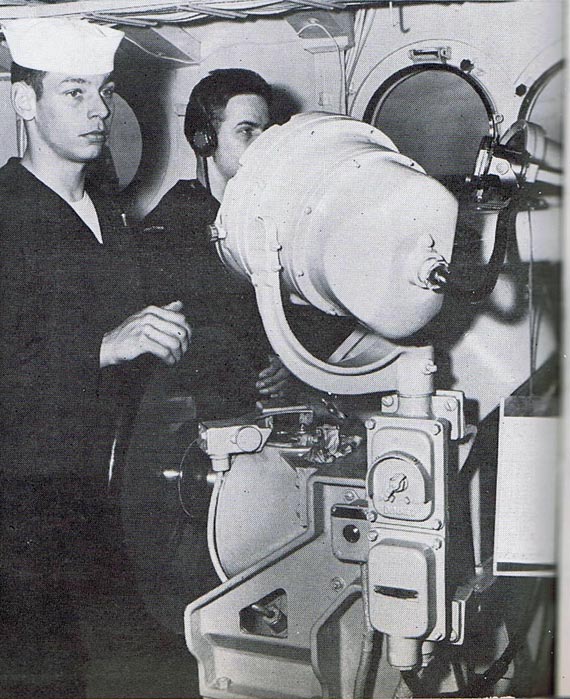 Flight Ops, time to launch aircraft. The Officer of the deck issues orders. The helmsman turns the ship into the wind.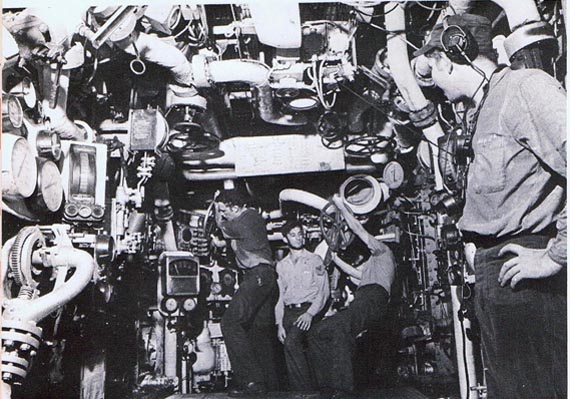 Twenty-five knots is rang up and the boiler room crew lights more burners to keep steam up. The boiler rooms in waters off Vietnam average about 120 degrees f. The boiler produce steam at 600 pounds per square inch pressure superheated to 850 degrees f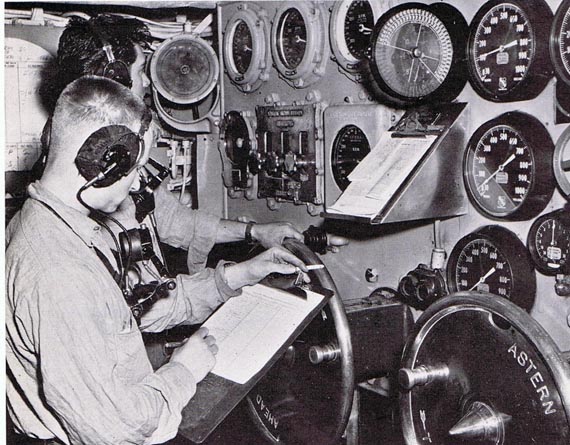 The steam passes through main steam pipes, in this case that are about 23 or 24 years old, to the a main engine room where is where the sailor in the picture directs the steam by way of those large brass wheels to the main engine bringing that engines propeller rpms up 191 rpm which will produce the ordered 25 knots. This ship has 4 such main engines. Two in the aft engine room, two in the forward engine room. Four boiler rooms with two boilers in each. Typical tempature in the engine rooms off Vietnam, 115 Degrees F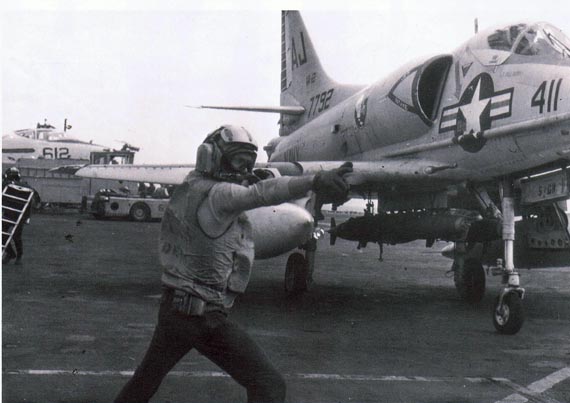 During flight ops the flight deck is dangerous times 10. One spit second of inattention could result in being blown overboard by a jet exhaust, being maimed or killed. Planes are shot off the ship.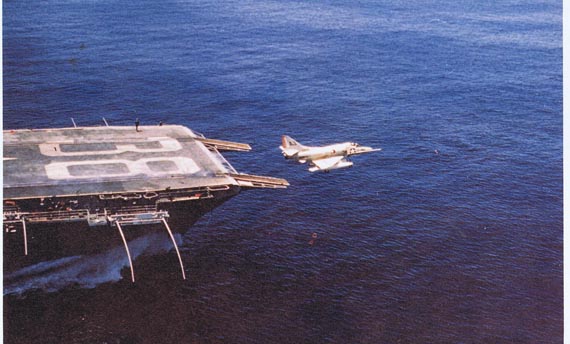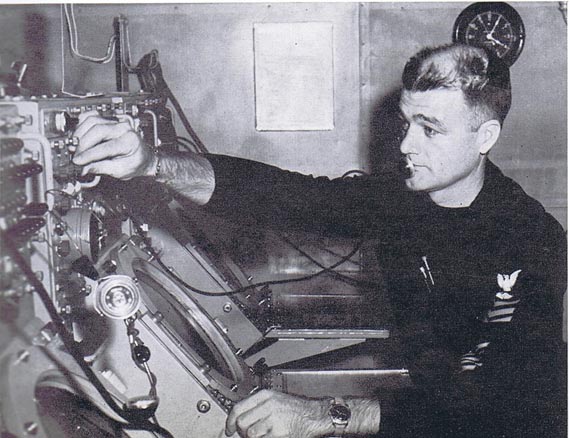 A call comes in. Ground troops a stick situation, asking for support. The sailor in the picture contacts planes in that area of the trouble giving them the coordinates and go ahead.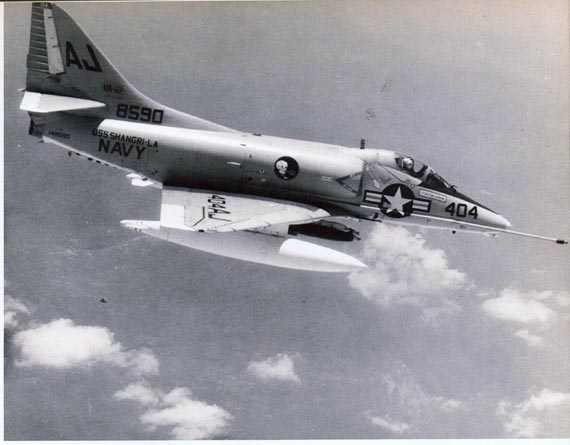 The pilot begins his attack and the result is the ground troops are aided,
PERSONAL STORIES
John Stephens Military Memories East Liverpool & Tri-state area. Those who served, their November 13, 2013 General McCutcheon came to my air base to visit me when I was in Viet Nam. I had just returned from a fire team insertion. As I was carrying a 50 caliber machine gun down the flight line, our XO cam "running" to tell me I had a visitor (???). Before I could turn the machine gun into the armory, and get squared away, there he was!!! As we chatted (and all the officers stood at attention - I was a Sgt ) , he siad that he stopped by because he went to ELHS with my mother and she asked me to look in on me OMG MOM!!! . . . as he was leaving he said if I ever needed anything - ". . . please contact me" What a great guy!!! Turns out he had been the first CO of my helicopter squadron. [General McCutcheon graduated from ELHS in 1933]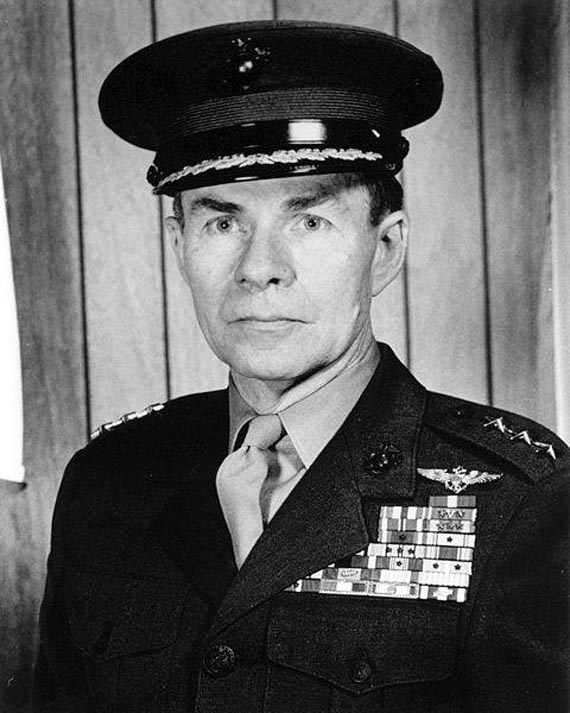 From Larry Myers

Subject: Final Analysis, Camp Radcliff under attack.

Forty-eight years ago this Thursday Feb. 20 my count down reached 13 days when communist forces attacked my base camp in the central highlands. I have already reported my view of the attack while on company guard duty and the timely arrival of my Mother's Valentine Card the day after. I will now provide additional details of the attack through information I discovered about 4 years ago on the internet. In my final analysis I will elaborate on the contents of that captured enemy document followed by personal statements from others who became involved on that fateful day.

According to the enemy document their forces consisted of the following: 1) 407th Battalion minus one company; 2) One 82mm mortar platoon; 3) One company of Province Local Unit; 4) Militia, Gorilla and concentrated units of areas 11 and 8. All preparation had been made from 12-20-65 to 2-10-66 and went into effect the night of 2-19-66. Subsequent sapper attacks were to follow and in ten days there would be another concerted attack on either An Khe city or a repeat attack on the 1st Cav's helicopter landing site, housing areas and brigade head- quarters. Note: I can account for further skirmishes along our perimeter and with 4 days left on 3-1-66 I referred to an attack the previous night of lesser consequence. I was among those deployed to the Golf Course as our gun ships again fired rockets into Hon Cong Mountain before the "all clear" was given. I suspect that Viet Cong losses on Feb. 20 had limited their ability to wage further engagements of equal intensity.

Under cover of darkness enemy forces were in place 2-19-66 and while the exact timing of the attack remains in question, the enemy reports initial contact at 11 pm. Our radar and commoinstallations a top Hon Cong were eventually over run and the Liberation Army Flag could be seen at that vantage point. The 1st Cav responded within 15 minutes and the enemies main force with drew from that area about 30 minutes later with a limited number left behind to cover the retreat. The 1st Cav resorted to blowing up our own block houses to eradicate the final remaining elements of resistance including the last two of the Viet Cong killed by 4 am. Elsewhere along our perimeter the V.C. assault proceeded as planned with other targeted areas assigned in addition to Hon Cong. The enemy report admits to 11 KIA and 7 WIA but casualties may have been far greater since the author cites their failure to remove all casualties from the battle field in compliance with the communist party's edict that none are to be left behind. By the time I was awakened for company guard duty at about 1:45 am we must have been engaging smaller pockets of resistance from those who may have been cut off from retreat. I believe the 12 page enemy document to be accurate in detail but tainted with the exaggerated claim that 497 Americans were killed, 97 aircraft and 50 vehicles destroyed.

1st Cavalry casualties are reported as 5 KIA on top of Hon Cong and 3 KIA inside our perimeter in addition to 51 wounded. I had hoped to identify the 8 killed at Camp Radcliff from alist of 22 who were killed throughout Vietnam on 2-20-66 but this became impossible since 13 of the 22 were from the 1st Cav in addition to 3 in signal companies and 2 in aviation. Further more the location of their deaths was not specific. For instance, 2 were attributed to An Khe and 11 in Binh Dinh Province which includes An Khe and Camp Radcliff. One can conclude that either the death toll at Radcliff was higher than indicated or the 1st Cav was also involved in combat elsewhere and in fact my battalion was forward at this time. As it turns out I can only identify the 3 men killed inside our perimeter and 1 of those killed on top of Hon Cong.

"If he hadn't gone back that day 15 minutes past midnight." The death of Master Sgt. Richard Anthony Filletor, 39, McCutchenville, OH., reflects how a roll of the dice can affect one's survival in war time. John Bentley provides the following on 5-24-2005 but with the passing of time he refers to the wrong date. "Sgt. Filletor. You were my boss. That day Feb. 22 at 0015 hrs. I was walking guard. Mortars began to rain in on us. You were fast asleep. I came in yelling for you to go to the bunker. You awoke and scrambled following me to the bunker. You stopped, turned around saying you left your weapon in your hooch. On your return with your weapon in hand, I had not yet reached the safety of the bunker and you caught up with me when a mortar landed almost direct on you. God protected me and I was not touched. The concussion threw me some distance. When I got my composure I made it back to you only to find that God had taken you. Why God the contrast of the moment? I was untouched. Dear Lord Richard was scheduled to go home in a matter of days to retire. Lord you have your reasons and I should not question your reasons. I LOVE YOU LORD and thank you for sparing me but my life cheated Richard's."

The other two deaths inside our perimeter were SFC Victor Joseph Kohlbeck, 38, Manitowoc, WI. and SP5 Thomas Manuel Dillard, 28, Sheffield, AL. Both died from mortar fire and were members of the 1st Cavalry Band which was the only military band in Vietnam. SFC Kohlbeck was fatally wounded while helping carry wounded to a medevac helicopter. It is believed that SP5 Dillard was killed while asleep in his tent from mortar fire. Both are included in earlier photos while practicing with their fellow band members.

Thanks to an anonymous post 12-6-2002 I can identify one of the 5 killed at the top of Hon Cong as PFC Myron McClellend, 24, Dowenieville, CA. who died of gun or small arms fire. "Titled A True Friend" the author's tribute is as follows: "Hi Mac. It's been a long time since you went to that mountain for me on that awful day in Feb. 66. I remember it as if it was yesterday. I have been close to your home on several occasions but have not had the courage to locate your family and explain how you died for me on that day. I hope someday I will. Thanks Mac, from me, my wife, my children and my new grandson."

I can not identify the other 4 men killed on Hon Cong but 47 years later I discovered that SP4 Charlie Kenneth Scates, 28, E.L.-Martinsburg was killed on this date and may have been one of the 5 who died on the mountain top. He was a signalman, fatally wounded by apparent mortar fire. Sgt. John Edward Kerns, 34, North Bend, OH. is another possibility since he was a 1st Cav signalman also killed by mortar fire. His MOS was radio teletype, the same as mine. I could go on with the possibilities from the list of the 22 who were KIA on this date. I will now share personal statements from others who became involved on that fateful day 2-20-66.

Ken Risley, 6-23-08 - "Read with interest the rumor of VC site under Hon Cong. It wasn't just a rumor. Remember some dinks coming out of caves and killing some communication men there. Cav troopers then swept up Hon Cong and cleaned caves out and Pathfinders blew them up. That's when troops were assigned to guard perimeter. (He probably means the far side of Hon Cong.) From where my fox hole was I could see sin city." (He is referring to An Khe city. Also it became a common joke that the VC had an underground recreation center.)

Ronnie Bugg, 7-25-08 - "I got to An Khe around 8 Dec 65 and was one of the first replacements in management tent for those that got there Sep 65. I do recall the early 66 incident on top of the mountain. At about 11 PM the division started receiving 61mm mortars coming from the right rear of the mountain. The enemy was walking the mortars towards the headquarters area. They killed the Div CQ and also a Div band member while in his sleeping tent. By the time a few rounds had hit, I got up, don my flak jacket, ammo belt, helmet and went for the bunker just outside our GP tent. At this time Huey gun ships from the Golf Course came directly overhead of our area and raked the top of the mtn with rockets and mg fire from their door gunners. A lot of flames were coming from the top of the mountain prior to the arrival of the choppers. Word later from the casualty tent indicated 8 signalmen from their signal site on top were KIA. There was also an indication that a Lt in charge turned his 45 pistol on a fuel bladder when they were overwhelmed by a much larger force. The date of the incident is foggy. I think we started perimeter guard on the top back side of the mtn after that incident. They formed two companies of men from the 15th Admin Co and we were placed on the back side of Hon Cong. I had to go out on this guard every other night from that date to some date in April 66. Mixed us up with the inf, every other hole was a support guy. It was said the enemy used a saddle mtn behind Hon Cong to gain access to the signal site."

Joe Loughnanem, 12-13-08 - "Feb 20 1966. On that night I remember the incoming mortar rounds landing north of our company area which was the 2nd Surgical Hospital MASH. Then there was small arms fire on top of Hon Cong Mountain. I remember the choppers responding. Then a radio transmission....we're over run, I'm letting off flares, you'll probably get me but I'm a gonner anyway. Later I was told that the soldier transmitting the message survived. At the time I was 23 years old, recognized the carnage of lives ruined. One individual was a member of the 2nd/7th the great guy from Ill. To this day I haven't forgotten him in my prayers. He was killed on my birthday, by enemy action." (I thought I'd identified another KIA at Camp Radcliff but none of the 22 killed that day in Vietnam was from Illinois.

In conclusion, the enemy attack of Feb. 19 and 20 affected me personally so I was understandably interested in increasing my knowledge of the events which transpired during that period of time. I need not elaborate on my state of mind during my last 13 days at Camp Radcliff. I had been part of the U.S. troop build up when the 1st Air Cavalry was deployed to Vietnam in August and September of 1965. Once safe at home I could fully appreciate how fortunate I was to be in and out of Vietnam before the situation turned ugly. Since I had no control over any of the circumstances that confronted me during my tour of duty I can only attribute my good fortune to pure luck and the grace of God. I am forever humbled to have returned home with no physical injury when so many were denied the same opportunity of survival.

Medal of Honor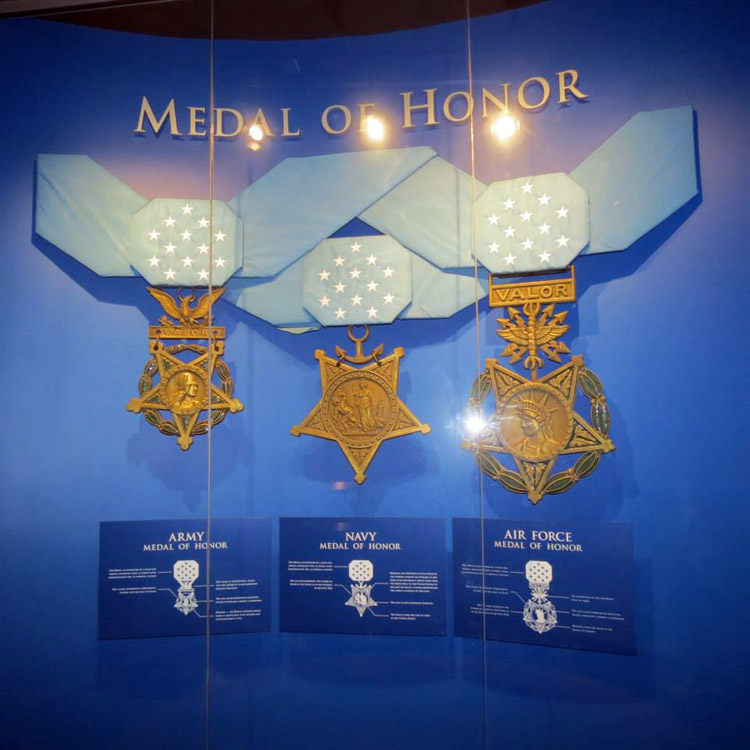 MEDAL OF HONOR, MELVIN E. NEWLIN, WELLSVILLE, OHIO

http://en.wikipedia.org/wiki/Melvin_E._Newlin
---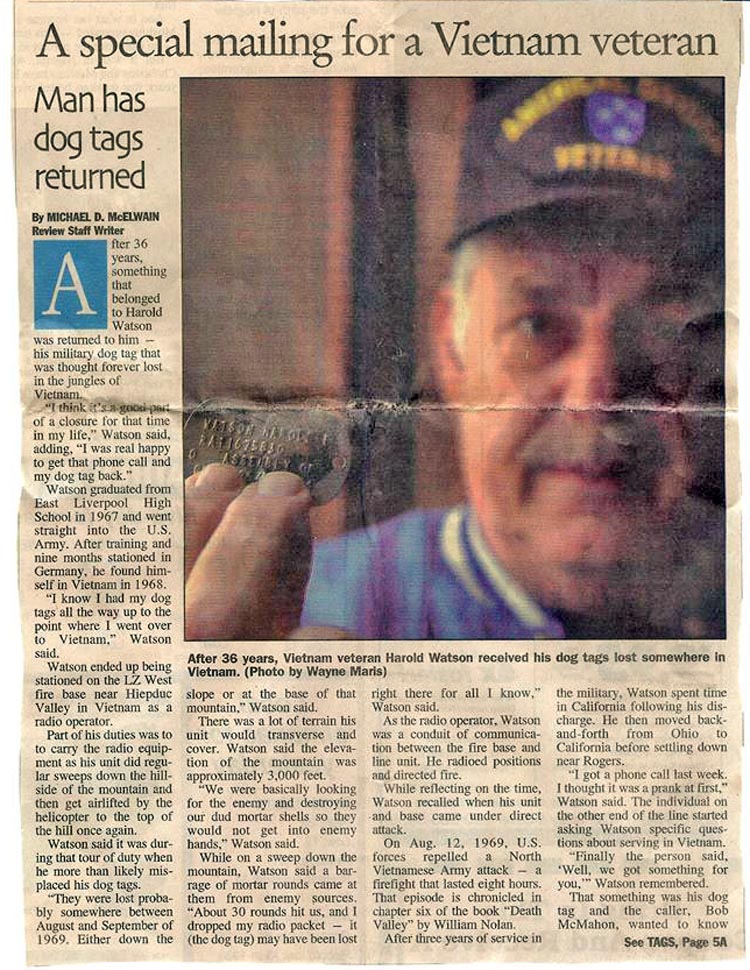 Courtesy of Harold Watson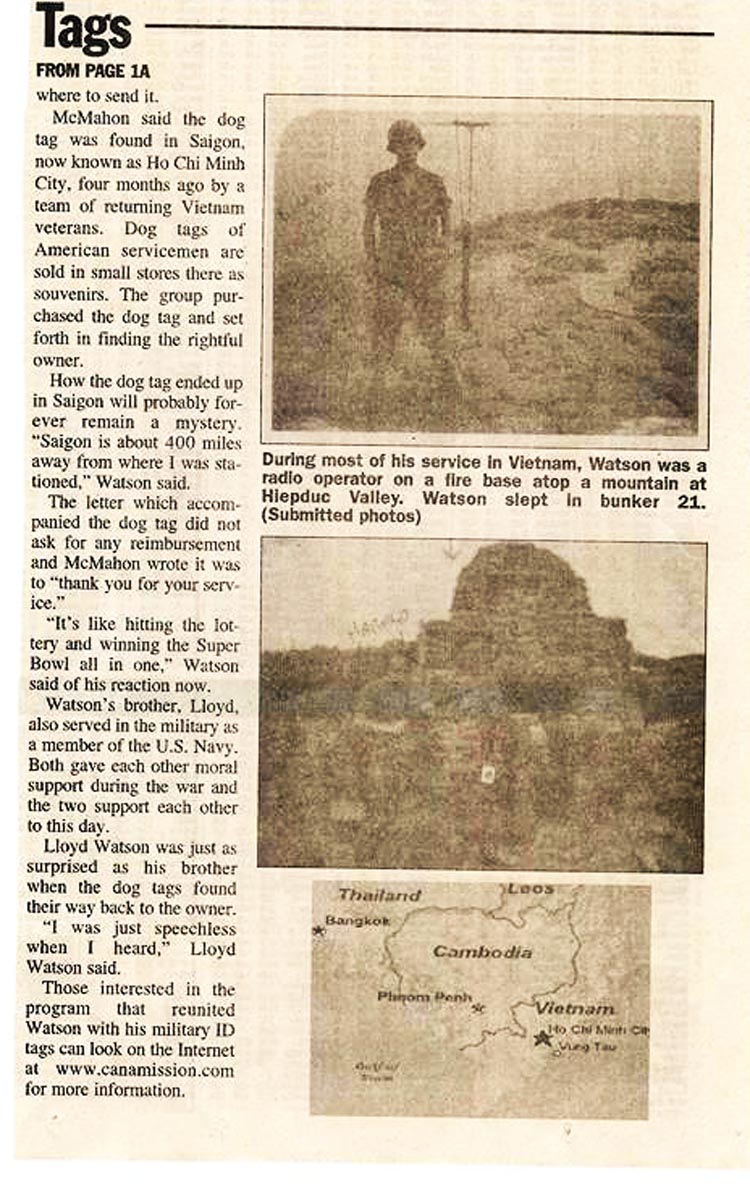 Courtesy of Harold Watson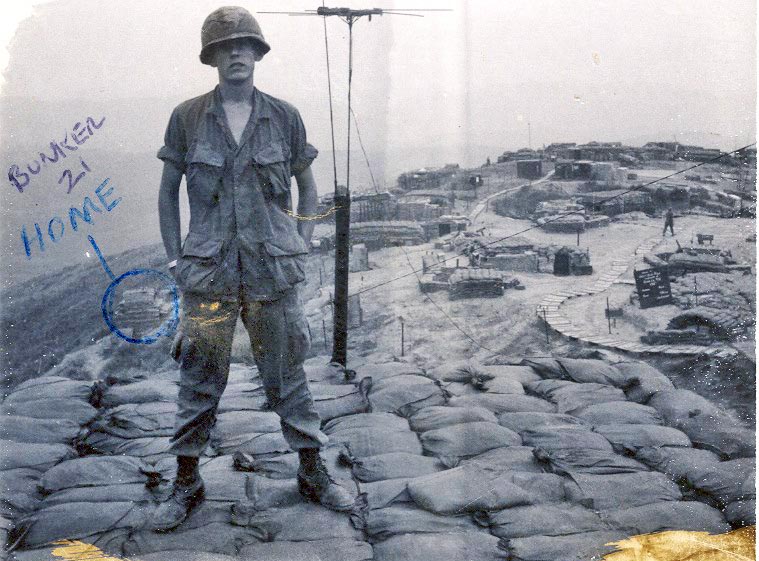 Courtesy of Harold Watson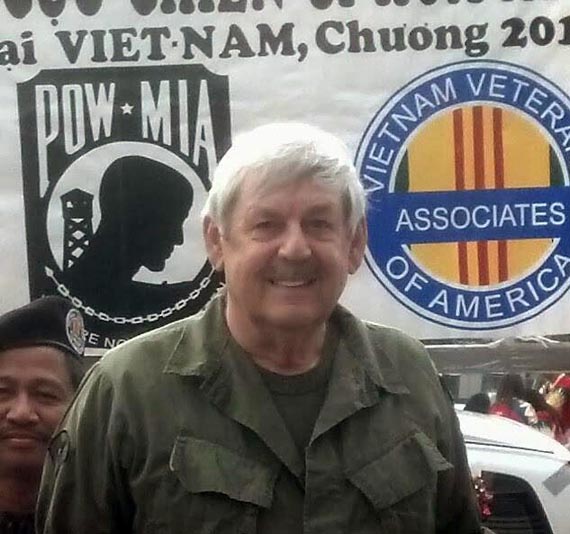 Harold Watson, Courtesy of Harold Watson

Vietnam c-rations #1.mpg

Posted by Harold Watson (namdogtag)

https://www.youtube.com/watch?v=xMahwBWjJw4

Vietnam c-rations #2.mpg

Posted by Harold Watson (namdogtag)

https://www.youtube.com/watch?v=hIabIt_IdL4

CONTINUE TO Our Military Heritage 9
---