Only the overgrown foundations of a few buildings mark the area along East Liverpool's eastern border that once earned notoriety as a center for illegal activities and a hideout for fugitives from the law.
At the far end of Pennsylvania Ave, near Beaver Creek, the shady little neighborhood was labeled "Hell's Half Acre" earlier in the century by police, criminals and law-abiding citizens. It offered a safe refuge for suspects who could flee from one state to another whenever The Law approached from east or west.
---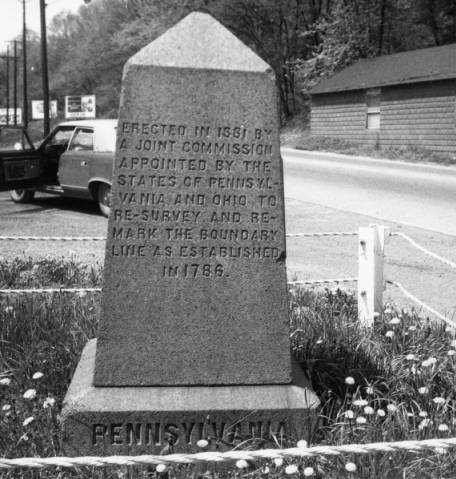 The above picture was taken September 30, 1961 at one of the dedication's of "Point of Beginning" Marker - (175th Anniversary). We include that picture here because the building partly shown in the background on the rigth is the "Bar" described above.
Darlene Heard, a granddaughter a woman who lived in that area had this to say about the bar in Feb, 2014:
That building is the Ohio, Pa, bar. If the police from Ohio were to come the patrons would run to the Pa side of the bar. If police from PA would come everyone would run to the Ohio side of the bar. Either way the police couldn't touch them. Grandmother lived right up behind the building down the road a bit. Jenny lived there had a tunnel under ground go to her house.
---
Noted bandit Charles "Pretty Boy" Floyd reportedly visited the place, and was allegedly en route there when spotted and slain near Sprucevale in October 1934. Other outlaws, including John Dillinger and "Baby Face" Nelson, were said to be familiar with the section.
One of Floyd's partners in crime earned his reputation at the state line as a murderer when in 1925 he shot to death his brother in jealousy over a city woman.
Willis "Billy the Killer" Miller had frequented the place in the Twenties, and his brother, Joseph "Alabama Joe" Miller, was long involved in bootlegging there.
Michael Wallis wrote in his biography of Pretty Boy that Billy once took him to a saloon run by a "crusty old lady who asked no questions about her patrons' private lives."
Adam Richetti, with Floyd on his final trip, also knew of the "Acre," Wallis wrote, and the two planned on "wetting their whistles" there before heading to some of Richetti's relatives.
The advent of national Prohibition in 1921 turned the isolated section of the city to a haven for the thirsty seeking to buy bootleg whisky. But gambling, prostitution and other offenses marked the business ventures pursued, accompanied by fist fights, knifings, shootings and robberies.
Consisting of a main house with a bar and several one- and two-room fame buildings behind, the place offered a handy state line escape access, and single police department action was implausible. But continuing trouble, and complaints from the community brought coordinated efforts by law agencies to stem illegal activities and violence.
On a hot day in June 1923, bent on "uprooting lawless gangs" at the infamous site, 21 Ohio and Pennsylvania police officers staged a raid which netted eight men on liquor charges. Small quantities of "booze" were seized despite attempts to destroy them.
---
ANOTHER VERSION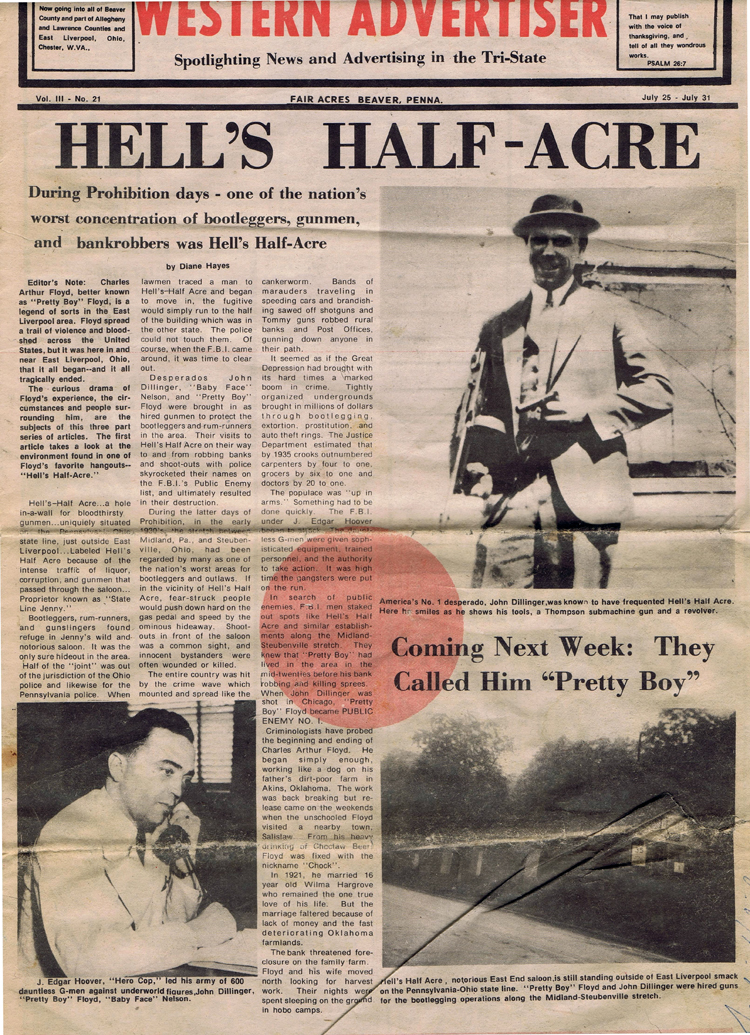 Newspaper courtesy of Kelsey Hedrick
---
A newspaper report said many men and women were seeking relief from the heat when the six carloads of law men stopped and headed for the drinking center. Three were taken to Beaver for court action on charges of illegal possesion of liquor. The others were cited before city Mayor Wilson for drunkenness.
Police Chief Hugh McDermott reportedly planned the foray which also involved Columbiana and Beaver County sheriff deputies. Fugitives running toward Pennsylvania were halted by Ohio police. One tossed a pint of whisky into bushes, but it was recovered by an officer. Another culprit tried to kick a deputy who grabbed his foot and threw him.
The "Review" story said raiders found a spot "typical of Hell's Half Acre. Beneath a huge tree hung a sign 'Union Bar.' At the base of the tree was an empty liquor case. The deputy smashed all the bottles within reach. The sign, one which pre-Volstead days usually hung in all saloons, created amusement."
The news article went on: "Frequenters of the 'Acre openly buy liquor, shoot craps and engage in other lawless acts. However, recently they have grown so bold that they have halted passersby. Saturday two men in a motor car were held up and robbed at gunpoint."
Among the early victims of violence was Fred Wyand, 48, of East Liverpool seriously injured in brawl at the "Acre" in October 1923. City police interrupted the fight along Harvey Ave., arresting five men. It was claimed they had been battling another group which escaped.
Wyand and two others who suffered head and face injuries, were among five taken into custody then later released. He went home, his condition worsened, and he was taken to City Hospital where he died of concussion of the brain. His father said the state line crowd attacked the men with blackjacks.
By December 1923 the turmoil and troubles at the notorious location brought a meeting at Columbus where federal and state agencies mapped plans with local law officers to move against the illegal whisky operation. Mayor Charles Brown, the city solicitor, and Prosecutor Jesse Hanley conferred with J. E. Russell, federal prohibition director for Ohio.
Effective action came eight months later in a raid by a combined force of Ohio, Pennsylvania and West Virginia law officers raided the little wooded area in July 1924, arresting 17 men and three women.
Termed the most successful crackdown to date, it followed an attempt by federal agents to stem the liquor sales earlier. The July raid stemmed from a demand by an East End citizens committee for a cleanup of the "community of crime."
The committee organized after the death of an 18-year-old youth, Francis Wilson, who police said drank some poisonous whisky. The day before the combined move, police received a call that a man had been beaten unconscious and another was being attacked by a gang there.
The lawmen - Pennsylvania State Police, city officers, Columbiana County Sheriff Gomer Lewis and deputies and Hancock Sheriff J.D. Mercer and deputies - moved into the small neighborhood just after 2 on a Saturday afternoon. The Pennsylvania men came from the east, the county deputies guarded the Liverpool Township line to the north, and Hancock contingent to the south.
One suspect, Joseph Miller of East Liverpool, was slightly wounded by an officer when he attempted to draw a gun. Miller, officers said, was about to serve a drink to a Pennsylvania undercover officer when he saw the man's badge inside his coat. One constable knocked the gun from his hand, and another fired, grazing Miller's neck.
Miller was the same Joseph Miller found guilty by a Beaver County jury in 1914 of possessing, selling and manufacturing whisky. Miller, known as "Alabama Joe," was reputedly the "king of state line bootleggers." He had been arrested at his home on the south side of the Ohio River near the state line after police of both states had failed to nab him.
In his defense, he said he was not "Alabama Joe," a nickname applied to another person, a noted gambler whose last name was Watson.
Mayor Charles Brown later declared the 1924 cleanup was virtually complete, saying there could be "some small fry" left, but the major bootleggers had been caught in the net.
Even Wellsville police moved in on East Liverpool's "Trouble Town," conducting a 3 a.m. raid on their own in August 1924 at a site along the state line. Police Chief John Fultz and Mayor J. S. Barnes led the raiding party which took four suspects to the Wellsville jail for a hearing before Mayor Barnes, charged with illegally selling whisky.
One city policeman was with the raiders who included a railroad cop and seven Wellsvillle regular and volunteer officers.
Nevertheless, before the 18th Amendment was repealed in 1932, Hell's Half Acre was among the centers between Steubenville and Midland regarded as one of the nation's worst for bootlegging and outlaws. One report described the speakeasy as operating in conjunction with houses of prostitution. (Wm. Gates, "City of Hills & Kilns")
A local businessman reports whisky was made in an illegal still on a hill up Dewey Ave. Ext. by three men, at least one named Wright. They lived in a shanty with a woman who appeared to be Indian.
He recalls when he was a child, the woman came to his home in Dixonville, complaining that the three were drunk and unruly. She declared she was ready to shoot them dead and bury them. All she wanted was permission which, of course, was not granted.
Two of this trio may have been the pair arrested in December 1929 by Sheriff William Barlow in connection with illegal whiskey found in a shack a few miles up Beaver Creek. Earl and Lloyd Wright were charged by Barlow who said two barrels of mash were found in their shanty.
Another example of the periodic visits by The Law occurred in April 1927 when city Police Capt. Mason Conley and Patrolman Leslie Curran broke up a poker game. Seven men escaped into Pennsylvania, but left behind four bottles of beer hidden in an empty keg.
A few days earlier police visited there, but the imbibers fled over into the Keystone State, except one arrested for being drunk. Twenty bottles of home brew and six bottles of corn liquor were destroyed.
There was obviously a supply of whisky available in the area, and not of the best nor safest. Many patrons were sickened by contaminated liquor or that made from poisonous wood alcohol; others simply drank too much. A Putnam St. man -- Augustus Hoover, 52 - was found dead one Sunday morning in March 1926 on a hillside at the state line, claimed, according to the coroner, by alcoholism.
The major domo who presided over much of the "Acre" jurisdiction in the Twenties and Thirties was Jacob J. Eckert, a World War One veteran who came to East Liverpool around 1920.
Jake was born Dec. 12, 1888, at New Castle, Pa., a son of Jacob and Elizabeth Russell Eckert. He was 29 when America entered World War One, and he entered the Army, becoming a mess sergeant with an infantry division.
Eckert was a small man but a ferocious fighter, the father of an East End man once told his son. A set of brass knuckles sometimes helped his technique. According to one tale, Jake was behind the bar and ordered two or three disorderly toughs to leave. They laughed, and made comments about what they were going to do to Jake and his place.
Jake vaulted over the bar, the brass knuckles already on, and downed one man with a blow to the head. The others crowded in on him, but he smashed their faces and put them away. All were dragged through the front door and tossed onto the ground.
The Eckert home was a one-story frame building with attic area and brick basement section, at the Pennsylvania line, one ex-city police officer recalled recently. To the west, all on the north hillside of Pennsylvania Ave. Ext., were several smaller frame structures, he said.
A common belief about the main house was that it was either exactly on the state line or that the boundary line ran through part of the structure.
A 1981 survey of the area, based in part on Columbiana County tax maps, shows the house was 13 to 15 feet west of the line. The map, on a scale of 1 inch equals 20 feet, reveals that the side of the structure was not exactly parallel to the state line. The front part of the building lay within the city - in fact, extending onto the Pennsylvania Ave. Ext. 60-foot right of way. The rest of the house was in Liverpool Township.
A one-story frame building some 80 feet to the west of the house was also half on the city's right-of-way. The roadway, of course, was not a wide, hard-surfaced street but a narrow slag and cinder 'cartway' as described on the map.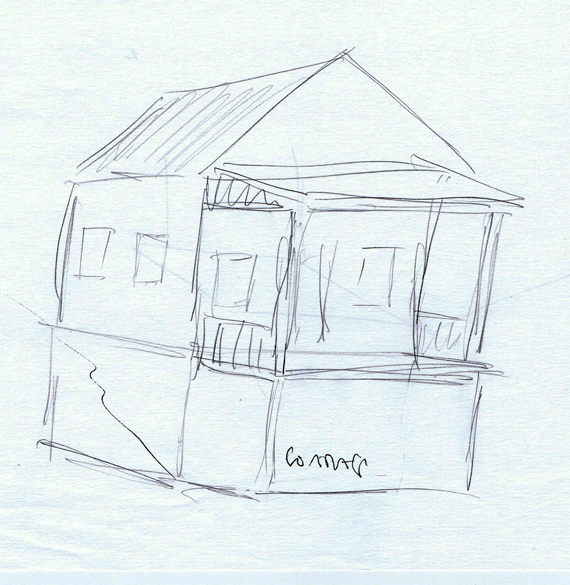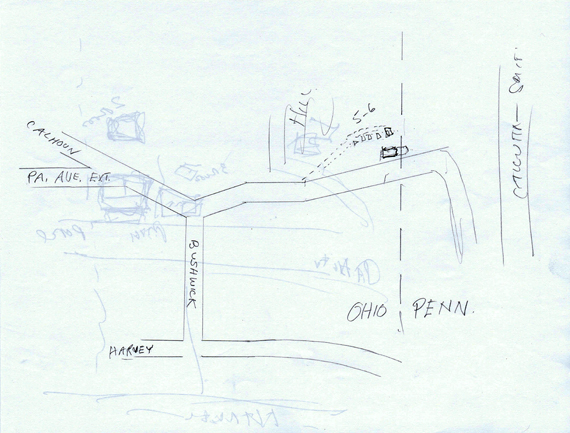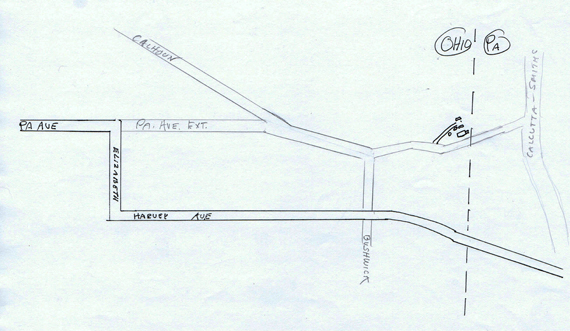 The three pictures above are sketches made by the late Glenn H, Waight and included in the folder of his notes on Hell Half Acre story. Hopefully this helps clarify locations.
The city man who grew up in the East End remembers his group of teen-aged boys sneaking up to the Eckert place late on Saturday nights "to watch the action." There was usually a fight, and one time they saw two men battling away outside. One knocked the other senseless down the front steps, then rolled the unconscious loser over the hillside. He then staggered back inside where the music was still blaring.
The bar and neighborhood were also known as "The Bucket of Blood" across the region. The East End man said he and his father went to Canada in 1946 or 1947, and when they told the border guard they were born in East Liverpool, the officer asked, "Did you ever hear of the 'Bucket of Blood'?" When the two said they lived only three blocks away, the Canadian shook his head in wonder.
The 'Acre' was also known for its cock fights, which sometimes drew bettors and spectators from throughout the region. On Sunday, April 20, 1930, a combined police group swooped down upon the site, arresting 40 participants, seizing 32 live birds but failing to nab the operator who jumped into Beaver Creek and swam to freedom.
City police, the Columbiana County Sheriffs office, Beaver County lawmen and Pennsylvania State Police conducted the raid at 3 p.m., also confiscating illegal liquor.
Besides the 32 live cocks — valued at $1,000 - taken to City Hall as evidence, the carcasses of 20 others killed in fights were found nearby.
More than 100 other men, including the operator, escaped via the creek and/or the dense woods. Thirty-seven of those arrested posted $10 bonds before Municipal Judge Harry Brokaw. The other three were released on their own recognizance. The defendants were from East Liverpool, Midland, Pittsburgh, Weirton, Youngstown, Aliquippa, Beaver Falls, Washington and elsewhere.
Spectators paid $1 admission for the contests which began about noon in an old orchard area north of what was known as the second county bridge over the creek. At the same time, a smaller group of officers raided Jake Eckert's home hunting for illegal liquor. None was found in the house, but out in the open officers discovered a 5-gallon can and several small bottles of whisky along with a quantity of homebrew. No arrests were made.
Cock fights were also held on Line Island in the Ohio River at the state line, now long dredged away. The island, often used for old bare-knuckle fist fights which drew crowds, was another strategic spot from which to flee if law officers approached.
The father of one East Ender ferried spectators and cock owners to and from the island for a fee. Sometimes a lucky winner would tip him big on the way back. The father, now dead, told his son the story of Baby Face Nelson visited "Hell's Half Acre" was true, and the son said an uncle claimed he had met the gunman.
A leading figure in the neighborhood was Jake's wife Jennie, who had resided at "The Acre" for many years and was known throughout the region.
Jennie was born July 17, 1889, in Washington County, Ohio, a daughter of John Shreves and Margaret Christopher Shreves. She had come to the area in 1913, and was married to Eckert.
He died at 52, at the Veterans Hospital at Aspinwall, Pa., July 20, 1941. In failing health toward the end, he had entered the hospital July 3 with a malignancy of the spine. The immediate cause of death was pneumonia. Burial was in Oak Park Cemetery at New Castle.
His obituary reported he was last employed with the Shenango Valley Steel Co. at New Castle. Survivors included four brothers in New Castle, two stepsons, Alex Miles of East Liverpool and John Verne Miles (later John William Miles) who was then in the service in California. Burial was in New Castle.
Mrs. Eckert had a beer license in later years, the ex-officer related, and sold beer to the residents of the nearby homes. Another area resident said the bar was formally opened once a year to meet a legal requirement for retaining the license.
A former East Ender said when he was 10 or 11, youngsters walked to the Eckert place to buy firecrackers from Jennie. "Even if you had just a penny, she would always have something for sale. Age didn't matter."
Jennie later became a minister of the First Spiritualist Church, and was referred to as "The Rev. Jennie Eckert." One businessman recalls the church was on the west side of Dresden Ave. near West Ninth St., a storeroom with curtains across the front window.
A tall, slender woman, she was familiar figure in the East End and downtown, often wearing long dresses and a broad-brimmed hat. She wore many rings on her fingers, and spoke in a clear, steady voice, one city businessman recalls. Even during her last days in a nursing home, a doctor said, "...she always had to be dressed up, with a proper gown, proper makeup, the whole thing."
A former Erie St. man often saw her visiting a relative, driving up in a large black Cadillac. Another businessman said there were generally two or three women in the car whenever she came to his shop.
Bill Conkle of Pleasant Heights repaired television sets for Jennie who, he said, gave him a juke box and a pinball machine.
He said he enjoyed talking to Jennie who gave spiritual readings in her home. He saw Cadillacs and other luxurious autos with licenses from Pennsylvania and Maryland parked at the house while their owners had their palms read and fortunes told. He was uncertain of the usual fee, but overheard one client advised it cost $3.50.
A nurse with whom Jennie had contact said she offered a tips on horse races and other matters which Jennie said she received from spirits. Jennie went into a partnership in the Spiritualist Church on Dresden Ave. with a woman from Steubenville - Sadie Yokum or Yoakum - Conkle said.
Beer was sold in a concrete block building, the State Line Tavern, down on Harvey Ave. An earlier frame bar building was built along Pennsylvania Ave. just west of the Eckert home, and apparently beer was also sold out of the basement. Conkle said he knows of no illegal whisky sales in the Fifties or later, but had heard of a still operation in earlier years up on the hillside with a garden hose linking it to the bar.
A city physician remembers being called around 3 a.m. one night in the 1950s to the Eckert home when Jennie became ill. At that time, he said, a Cyclone type fence with barbed wire atop was around the building, and he was let in through a gate. He gave her medication to ease what he believed gallbladder pain.
When she asked the fee for the visit, he replied $10. Jennie told one of the men in the room to give him $20. He opened a drawer filled with stacks of currency, and pulled off a $20 bill for the doctor.
Jennie was helpful in the relocation and establishment of the "Point of Beginning" marker on Harvey Ave. at the state line around 1968. She joined with the Youngstown Sheet & Tube Co. in donating sections of property to the Ohio State Historical Society for the monument marking the site where the surveying of the Northwest Territory began in 1785.
In her customary wide-brimmed hat and long dress, she took part in the ceremonies, her tall, slender figure a contrast with a short John Williams, president of the steel firm, one observer remembers.
Jennie was a loquacious landlady, sometimes generous, sometimes calloused, according to a woman who resided at the state line area for several years.
Mrs. Gladys Morehead of Little England came to the area from West Virginia with her late husband, Ed, around 1945.1 spoke with Mrs. Morehead only a few weeks before she died in the spring of 1995. The Moreheads rented a small, two-room house to the rear of the Eckert home for about three years, then moved to another larger house nearby on the Eckert property. They paid only $5 a month for the tiny house, in line with Jennie's practice of providing a cheap living place for newcomers until they got employment.
Jennie had wed Alex Willis Miles, and they resided in New Castle until he died. Jennie and their two boys -- John W. and Alex C., born at New Castle - came to East Liverpool, and she married Jake Eckert who either owned or rented the State Line property.
Bessie Glenn, Mrs. Morehead said, was young Alex's girlfriend whom he met when she was 17. Bessie worked for Jennie, cleaning the house and helping with other tasks. She became the mother of the twins, Janet and Jane Glenn, whom Jennie Eckert helped raise and send to Geneva College at Beaver Falls where they were graduated in 1947.
Court records indicate that Alex fathered the twins to Bessie, and legitimized the births in 1964.
Bessie was granted permission by Jennie in her will to live in the house as long as she wanted. She later resided with one of the daughters in Baden, and then went into a nursing home.
Young Alex later married Jean Millward and moved out of the household. They had two sons, Richard Miles who remained in East Liverpool and John Jacob Miles who attended Geneva for a year, then went into the military. In 1947 he moved to New York, and made his home in Binghamton.
John J. Miles reportedly became a school administrator in Binghamton. When Richard testified in one of the probate court hearings, he was described in the records as an ex-convict.
Alex Miles died Dec. 20, 1964, at age 57 in Rochester (Pa.) General Hospital. His address was Oak St., Vanport, and his occupation was "superintendent." One source told me he was employed at the Correct Foundry in or near Beaver Falls.
Jennie's son, John W. Miles, began work at Crucible Steel at Midland in 1938. He entered the Army in 1941, serving in the Pacific, and returned to Crucible after his discharge in 1945. He left the household in 1956, and married Jean P. who had a daughter, Lynn. They had a daughter, Joni Lee.
He died Dec. 23, 1980, at the Extended Care Center where his mother had succumbed six weeks earlier. John, 71, had been a patient with her since September. Besides his widow and daughter Joni L. Miles, he was survived by his stepdaughter, Mrs. Paul (Lynn) Kaufman of Concord, N. C., and two step-grandchildren.
Miles, a sister, five grandchildren, nine great-grandchildren and four great-great-grandchildren.
MRS. MOREHEAD did not recall of any prostitution on the Eckert grounds, although she believes women came to the bar to pick up men and go elsewhere. She remembers fist fights and cuttings at the bar, with most victims treated at the site rather than taken to a hospital. She said a Don McDole was involved in some fights.
City officers were not often summoned to the State Line when trouble broke out. Mrs Morehead said she once called the police, but was told the site was not in their jurisdiction, and didn't come. She wondered if there was a "payoff" for such protection.
She knew of no shootings while living there, but said someone was shot and killed on the hillside not long before she moved there in 1945.
Jennie, Mrs. Morehead said, liked to talk, and was considerate in providing a little house very cheaply until the renters "got on their feet." Among friends with whom she was often seen was Margaret Duncan who lived on the property.
But Jennie provided beer to many on credit, permitted those short of cash to build up large tabs, according to Mrs. Morehead. She sold to men who couldn't afford it, taking money from needy households, Mrs. Mbrehead claimed, and also illegally sold beer on Sundays.
Jennie "cleaned up" conditions around the site after Jake's death in 1941, but continued beer sales, both from the home's basement and another structure built west of the home close to the roadway.
The Eckert house was not exactly at the state line, Mrs. Morehead believed, but to the west possibly many feet. A small structure ("like a chickenhouse") right on the state line was converted by Jennie into a two-room house. A dispute with a man who owned the property just in Pennsylvania resulted in his tearing down the part on his land, Mrs. Morehead said.
JENNIE ECKERT became ill in 1979, and died Nov. 4, 1980, aged 90, at the Extended Care Center. Survivors included ailing son John Miles, a sister, five grandchildren, nine great-grandchildren and four great-great-grandchildren.
The old house fell into disrepair, and early in 1984 was destroyed in a series of fires of suspicious cause. Since most of building lay north of the Liverpool Township line, the volunteer department answered all the alarms.
The first blaze occurred Feb. 25, 1884, when township firefighters responded at 6:41 a.m. finding the porch, kitchen and living room burning in the "unoccupied" building at 3001 Pennsylvania Ave. Ext. The city department had received a report at 6:21, apparently from a passerby. The building was empty but for a trunk in the attic containing old coats, firemen reported. Ohioville (Pa.) firefighters were also at the site.
On March 17, around 7:59 p.m. the department was again called (apparently by a passerby) when the charred structure ignited -"possible arson." The ruin was wrapped in flames when trucks arrived. Liverpool Township, Brighton Township (Pa.) and Ohioville were on the scene. Fire Chief Everett Vernaccini listed the loss at around $5,000. Firefighters were called back when flames rekindled,
A month later, about 8:13 p.m. the remaining building was heavily damaged when flames swept through the roof and east wall. Liverpool Township fire officials again labeled the cause "suspicious."
The area became an illegal dumping ground, and the Pennsylvania Ave. Ext. approach along with roadways from Harvey Ave. and Calcutta-Smiths Ferry Rd. were blocked by a new owner, the S. H. Bell Co., to prevent intruders from hauling in trash.
The 1981 survey of the area was made by Daniel Baker Associates of Beaver at the request of the Bell Co. The tract on which the house sat had been obtained by Jennie in 1927 from John S. Hamilton. Plat maps showed the township land owned by Thomas Smith in 1870 and 1902, while P. R. Stevenson and J. R. Daughery and D. H. Rhodes owned the city portions rn 1870 and P.H. Stewart and J. C. Hamilton in1902. A long, 3.3-acre triangular tract just west of this and a second tract adjacent to it were obtained from the city in 1940.
A smaller 44 by 50-foot lot on the south side of Harvey Ave. at the state line was obtained by Jennie from the city in 1960. And in 1955, a long, narrow tract on the south side of Harvey, with a one-story brick building, was obtained by Jennie from Chester I. Smith.
The long, concrete block building on the north side of Harvey Ave. at the state line was on a slender triangular tract sold by John S. Hamilton to the city.
Will Generated Dispute
Jennie's death did not end the controversy and dispute which had long marked her life and her neighborhood. Filing of the will for probate soon brought a series of challenges to its terms which continued in 1995.
Under the will's terms beneficiaries were John W. Miles of East Liverpool and Jane Glenn Bennett and Janet Glenn Marshall of Baden. Bessie Glenn was granted permission to live on the property at the state line as long as she wanted. All U.S. Bonds of Jennie and Alex Miles (deceased) were to go to Alex Miles' four children -- Jane Bennett, Janet Marshall, John J. Miles of Binghamton, N.Y., and Richard Miles of East Liverpool.
All jewelry was for Jane and Janet, and her car for her son, John W. Miles of East Liverpool.
Half of the proceeds of the eventual sale of the state line property was for John W. Miles and the other half to the four Miles children -Jane, Janet, John J. and Richard. The will stipulated the property could be sold only to the State of Ohio - "must buy all 11 or 12 acres." If John W. Miles died meanwhile, property was to go to the five grandchildren, including Joni Lee Miles of East Liverpool.
The estate was valued at $78,700 - $75,000 in real estate, $3,600 in rentals and $100 in personal property. Not listed were banked funds which the court later listed as some $280,000 in deposits plus $53,565 U.S. Savings Bonds, all Jennie's or shared with others. These included $20,000 in the Potters Bank & Trust "discovered by the bank" Aug. 6,1982.
Jeannie Miles was named administratrix in probate action filed by Atty. Ben Berman. Within months, the estate filed a $4,000 action against the nearby S. H. Bell Co. for blocking a roadway from Pennsylvania Ave. Ext. to Harvey Ave. The company settled for that sum.
In the next court action, Atty. Mary Sue Lang replaced Berman as agent. Then Janet, Jane, John H. and Richard asked removal of Jeannie Miles as administratrix, and Judge Charles Pike, citing the need for an "impartial" person, appointed Atty. Lang to the post.
The Court records include a post script of a note handwritten by Jennie Eckert Jan. 4, 1975, to John J. Miles:
"P.S. Johnnie Baby, your uncle John is getting older, he may need lots of care like my brother (Wilbert Shreves, a half brother?) did. I have plenty of cash. The rent is to be put in a trust fund for my John. Let's hope he lives to use it all. Look after your five grandchildren.
"(The) most important things I wrote on P.S.
"And my God in His infinite care look over you one and all."
In May 1982 Lang told the Court two properties on Harvey Ave. were sold for $6,000 ("one had termites for a net of $4,567") Two other properties were for sale (two vacant lots) on Harvey Ave. and the house on Erie St. The State Line property was occupied by Alex C. Miles.
In September 1982, Judge Charles Pike had to rule on whether the bank accounts, bonds and three diamond rings given to Joni Miles were truly assets of the estate. The bank accounts shared with John went to him.
Some certificates shared with Jeannie, Joni, John J. Miles and Richard went to them. But since Jennie at the time the rings were given to Joni as a "ward of the court and perhaps incapable of making gifts," the rings belong to the estate.
The court records noted than Bessie Glenn lived in the household until June 1979 -- when Jennie Eckert was hospitalized. In February a guardianship was established for Jennie in need to file a law suit against a third party damaging her property at the State Line.
Jennie was in the Extended Care Center as was John W. Miles later that year, both together there until she died. The "State Line Tavern" closed permanently in 1952. Dr. Edith Gilmore of the Center said that when John became a patient, he did not want his mother to know he was there. He would put on street clothes to visit her room.
In deciding the disposition of the funds, Judge Charles Pike noted "the evidence shows Jennie Eckert was a demanding, determined and dictatorial woman who always took care of her own money, and almost always in possession of her account books until June 25, 1979, when she entered City Hospital at age 89."
Application was made in the summer of 1979 by John W. Miles to have her placed under guardianship. Dr. William Horger testified that she was confused and mentally incompetent, and the court granted the application in February 1980.
Visiting 'Hell's Half Acre' last May, I found only a tangle of trees, brambles, tall weeds and vines and an air of utter isolation, cut off from all road access by barricades, boulders and newly graded grounds.
That segment Pennsylvania Ave. Ext. is merely an overgrown shelf on a steep-sided hill.
Concrete steps which may have led to the Eckert house are hidden beneath wild growth. Nearby a stone foundation with a few heavy old-style timber supports still upright mark some structure, and concrete blocks and scraps of tarpaper, simulated brick (Inselbric), remain from another.
In a few more years, the site will reveal no more relics of yesteryear than does Island Run, that wooded valley a few miles up Beaver Creek where oil well drilling brought saloons, bawdy houses and wild times in the mid-19th Century.
Among the proliferating weeds in "The Half Acre" is Whisky Plant, a tall, luxuriously leafy interloper - so very appropriate to this cemetery of memories of "The Roaring Twenties" and the "Thirsty Thirties."
'Billy The Killer Miller'
Joseph "Alabama Joe" Miller, a notorious stateline figure, was slain by his infamous brother, Willis "Billy the Killer" Miller, near the "Half Acre" in the autumn of 1925 as Jake Eckert looked on.
Young Miller, a partner of Charles "Pretty Boy" Floyd in some of his Midwest escapades, shot and beat to death his older brother, Joe, over a woman who had resided in East Liverpool.
Billy, 22, was living in Midland when both he and Joe, 29 -- known as the "King of the State Line Bootleggers" - apparently became infatuated with Mrs. Hazel Campbell Anthony.
Eckert told police he had met Billy and Louis Campbell of Michigan Ave. near the state line on the evening of Sept. 18. Campbell was the brother of Mrs. Anthony and son of Mrs. Lulu Campbell.
Billy asked Jake if he had seen his girlfriend. Jake replied that Joe Miller and Mrs. Anthony were near a spring up the hill 200 yards east of the Ohio line. Billy and Campbell began walking up abandoned Island Run street car tracks, while Eckert headed toward the spring on a shortcut, arriving before the other two.
According to newspaper accounts, Jake conversed with Joe and the woman, and the three spotted Billy and Campbell coming up the path. Joe started down to meet his brother, Jake said, and when within a few feet, Billy pulled out a revolver began firing without saying a word.
At least one bullet hit Joe in the left chest, passing through his body. Eckert said he jumped behind a tree to avoid being struck by a stray bullet, and did not see what followed. However, police said Joe was apparently beaten severely about the head with the handle of the revolver after he fell and rolled into weeds along the path.
Eckert said he saw Mrs. Anthony run to Billy and throw her arms around his neck. They then started walking down the path toward the streetcar tracks, and Billy warned Jake, who had stepped from behind the tree, to stay where he was.
Jake watched them go down to the old state road, now Harvey Ave. He said he then went down to the state line and told a man headed for Putnam St. to notify police. Campbell, who also saw the shooting Jake said, could not be located by officers.
City officers were alerted around 7 p.m., and found the body on the path, dragged there by William Llewellyn, operator of a stateline refreshment stand, who heard a shot and went up to investigate. The city police along with Pennsylvania law officers combed the area seeking the suspects.
Billy Miller, Mrs. Anthony and Louis Campbell reportedly went to Campbell's home after the shooting, then disappeared.
The Miller brothers, according to police, had arrived in the area about three years prior, and were blamed for a number of offenses connected with "Hell's Half Acre."
Joe Miller had been released from the Allegheny County (Pa.) Workhouse about a month before, serving a year on a liquor charge in Beaver County for which he had been fined $1,000.
Joe had been sought for several months on that offense, making several sensational escapes before he was captured. He had been living at the state line since freed from the workhouse.
His younger brother had earned a bad reputation as a youth around Irontown, Ohio. Billy had returned to the state line area that spring after serving six months in the Allegheny workhouse on a liquor charge. He reportedly had resumed his bootlegging enterprises, and a city illegal liquor charge was filed.
On June 28,1925 , city Patrolmen Hermon Roth and Chester Smith went to the state line looking for Billy, locating him on the Ohio side. When Roth told him he was under arrest, Miller bolted. Roth fired at him, the bullet hitting in the leg, and he surrendered.
He was admitted to City Hospital where, eight days later, he escaped, apparently with the help of outsiders, one a woman. He climbed down from a second story window by way of sheets tied together to form a rope. Police said he was taken to New Castle where he recovered from his wound, and went to Midland where he got a job in the mill and took up residence.
Young Miller had indicated he planned "to go straight," and had made an offer only a week before the murder to make a settlement on the city liquor charge. Through a friend, a proposal to pay his fine in installments was relayed to Police Captain Conley. Conley obtained approval from Mayor Brown, and sent word to Billy just a few days before Sept. 18 that the plan would be accepted if he came to City Hall.
Billy Miller later went to trial in Beaver County on a first deQfee murder charge in connection with his brother's death. He claimed he fired his weapon only after Joe attacked him, and the jury returned a not guilty verdict.
However, the trial judge ordered him held under under an old English law requiring him to post $2,000 as guarantee for future good conduct. Unable to raise the money, he spent a year in jail until the bond was reduced to $500. It was posted by his mother who, it was said, mortgaged her home in Ironton.
Six years later Billy himself was slain in a gun battle he and Pretty Boy waged with police at Bowling Green, Ohio. Floyd escaped, but a cop was fatally wounded, Floyd's girlfriend was hit by a bullet and Billy's girlfriend was captured.
Billy had joined up with Pretty Boy in 1930, not long after Floyd escaped from a train taking him to the Ohio State Prison in Columbus to serve time for a bank holdup in Sylvania. He and his holdup pals had been captured in Akron in an arrest raid in which a policeman was mortally wound.
Fugitive Floyd made his way by back roads to Kansas City, where he and Billy Miller met and joined forces. They were seen together in Kansas City and in small Oklahoma oil towns.
Glendon Floyd, a nephew who visited here in 1994 for the 50th anniversary of his uncle's slaying near Sprucevale, is quoted in Michael Wallis' book about Pretty Boy, that Miller was always rubbing his revolver. He had also refashioned the cylinder of the weapon so the cartridges would not rattle to alert unsuspecting victims.
Miller and Floyd along with George Birdwell, a veteran Oklahoma outlaw, held up the bank at Earlsboro, Okla., March 9, 1931, getting away with some $3,000
At Kansas City, Miller and Floyd went to Sadie Ash's boarding house where Floyd had stayed before. It was there where in the late Twenties he had met Sadie's daughter, Beulah, who, Wallis claims, gave Charles Arthur Floyd the name Pretty Boy. According to the tale, she came in the room to serve beer, saw Floyd with a new haircut and spiffy clothes, and sat down beside him, saying, "Hello, pretty boy, where did you come from?"
In the winter of I930, Floyd again was drawn to Beulah, now 21 and married to Sadie's son, Walter. Miller turned his attention to her sister, Rose, wife of another son, William. The Ash brothers were smalltime hoodlums who were also suspected of being police informants.
Tension developed between the Ash boys and the men who attracted their wives. The two women left their husbands and took their own apartment.
After a near capture by Kansas City police in a bootleg raid, Floyd sensed someone had snitched on him. In March 1931, the brothers were seen racing in a car up a neighborhood street, chased by another holding Pretty Boy and Billy. The bodies of the two Ashes were found two days later in a ditch in nearby Kansas, bullets through the back of their heads - a style more likely Billy's than Floyd who had not previously been tied to a killing.
Floyd with dark-haired Beulah and Billy with Rose left Kansas City for Oklahoma, then through Kentucky and were soon seen in northwest Ohio and southern Michigan. They were suspected of bank jobs in Kentucky and Whitehouse, Ohio, but were not found.
Bowling Green, police became suspicious in April 1931 about a foursome in town spending large sums of money in various stores for a week or so. They left, but when on April 16 they reappeared, police suspected they were casing a bank. Police Chief Carl Galliher and Patrolman Ralph Castner arrived at the site in an auto, and when they got out and approached the two couples, they scattered and the two men began to shoot.
The officers returned fire, and Miller was struck in the stomach by three bullets, falling dead after getting off only one shot of his .45 caliber revolver.
Patrolman Castner was hit in the abdomen by one of Floyd's shots, and fell to the street, but continued to fire. Beulah was hit in the skull by one of Floyd's ricochetting bullets, but Rose was taken into custody unharmed.
Floyd kept firing until his gun was empty, then raced down an alley toward his car, leaped in and drove away. Galliher chased him, but netted only the license plate number. The wound of Patrolman Castner, 28, took his life in a few days. Beulah recovered from her head wound, and Rose was released when nothing could be proven against her.
Billy Miller, a suspect in several robberies and the Ash brothers' murders, had kept his vow never to be taken alive.
Probably the last evidence of his link to East Liverpool came the day three years later when Pretty Boy was shot down near Sprucevale, and his body brought to the Sturgis Funeral Home on Fifth St.
Among the items in Floyd's pockets were his watch with Billy's lucky 50-cent piece attached to it - set aside for next-of-kin.
---