Originally appeared in Scenes of Little Beaver Creek by Gary Winterburn (1992) pp. 66-68
By Tim Brookes
Having been a Civil War history enthusiast since age 5, I have always had a particular interest in the great raid of General John Hunt Morgan which culminated with his capture near West Point on July 26, 1863. Famed as the northern-most incursion by armed Confederates, Morgan's raid is known to even the casual student of local history.
However, beyond that brief geographical significance, the reasons for Morgan's visit and the details of his surrender have wildly divergent explanations and "versions" that are almost comic in their attempts to explain the appearance of Morgan and his raiders.
Morgan's original orders directed him to disrupt Union supply lines in Kentucky so as to delay an expected further Union advance into Tennessee. General Braxton Bragg left the details of the raid to Morgan but stated that he was not to cross the Ohio River under any circumstances.
The raid began on July 2, 1863, when Morgan and two cavalry brigades, with a total strength of 2,500 men, left Sparta, Tennessee, to cross into Kentucky. Six days later, Morgan violated orders by ferrying his command across the Ohio into Indiana. After a week of spreading destruction in the Hoosier state, the marauding band entered Ohio at Harrison and commenced a ninety mile, 36-hour detour around the perimeter defenses of Cincinnati. Attempts to again cross the Ohio and escape an increasingly aggressive pursuit were foiled at Buffington Island and at Reedsville. Casualties which had caused Morgan's force to dwindle throughout the raid were worsened by the capture of over 700 weary troopers at Buffington Island.
Morgan, his escape routes blocked, could do nothing but continue to head farther north into hostile territory, in hope that he could find an unopposed crossing into western Virginia.
When finally cornered between Gavers and West Point, Morgan's exhausted command totalled less than 400 men, most of whom fell asleep while their surrender was being negotiated.
The humor, at least at this point in time, stems from the opinions and theories of county residents who felt compelled to record their personal contacts with a historic event. Many accounts, even some written by professional authors, suggest that Morgan came here because Clement L. Vallandigham, the great anti-war "Copperhead", had been born in New Lisbon. The defect with this theory is that Vallandigham had moved to Dayton, Ohio, years before and a visit to his birthplace, while perhaps pleasant, would not have directly benefitted the Confederate war effort.
Another remarkable phenomenon was the firmly held belief in each village in the county, that Morgan had crossed three states with the express purpose of burning their communities. Near panic reigned in New Lisbon, Wellsville and East Liverpool as each prepared to suffer the indignities of the raider's torch. Here again, other than wholesale thefts of horseflesh, Morgan's men were remarkably respectful of private property and would have hardly taken the time to embark on the type of wanton destruction feared by local civilians.
The written accounts of the local volunteers who reluctantly marched out to face the Rebels are worthy of more attention than previously given. Even discounting the differences in recollection, they provide a wealth of historical detail.
The Lisbon militia had positioned themselves and their cannon near Morgan's expected route on the West Point road and sent out three very reluctant scouts to watch for his approach. Two of the three blundered into the Confederates and were captured, a third galloped back to his waiting comrades with the war-cry, "Morgan is a-comin'. Run for your lives". This, not surprisingly, led to the complete rout of the Lisbon forces without a shot being fired. Morgan later attempted to surrender to one of the captured men with the expectation of receiving better surrender terms than he could expect from the angry Union cavalrymen that had pursued him across three states.
Equally puzzling and seemingly unresolvable are the numerous claims by descendants that Morgan ate his last pre-capture breakfast at their ancestor's farm. In years of Civil War study, this is perhaps the only instance where it is claimed that Confederates were overfed.
Finally, after the capture, the State of Ohio accepted claims for damage done by Morgan's men and their pursuers. Columbiana County is again unique in that the damage done by Union forces was triple that claimed done by the Rebels.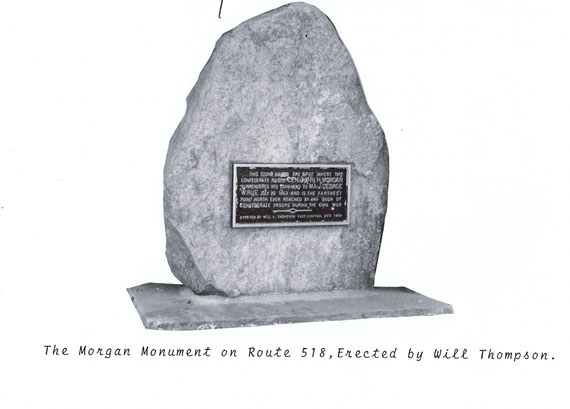 ---