2010- 2011 ELHS Sports Season
We got a late start last year. That resulted in a very sparse recognition of ELHS athletes. We hope to do a better job this year and in future years. Help and cooperation from the student athletes, coaches, and the school is asked for and will be greatly appreciated. Thanks.
To contact us:j.a.alsion@gmail.com
We have noticed that sometimes when you click on the email address above it is a little slow in providing you a email blank to fill in. If that happens to you give it a minute to respond. Thanks, Webmaster-EastLiverpoolHistoricalSociety.
FOOTBALL
The East Liverpool Potters had an exciting and successful 8-2 regular season record. They appeared in the playoffs for the first time in 8 seasons where they lost in the first round.
One Example: Friday September 24, 2010, East Liverpool Potters v. Struthers High School at Struthers. East Liverpool won 28-21 in 2OT. One particular play by QB Marky Thompkins was captured on tape and has become a internet as well as national media hit.
Watch This High School Quarterback Hurdle A Standing Defender (Update)Watch This High School Quarterback Hurdle A Standing Defender (Update) Watch in awe as Marky Thompkins of the East Liverpool (Ohio) Potters shows off his ridiculous athleticism by jumping clear over a defender to get into the end zone. H/T Nic.
Update: It's necessary to add that the play was called back. According to JJHUddle.com, in Ohio high school football, "hurdling a player who has a one or two feet on the ground is a penalty." Injury Concerns.
http://deadspin.com/5649172/watch-this-high-school-quarterback-hurdle-a-standing-defender-update
MrHeavydutyone | September 26, 2010 Hold on to your seats and call your college recruiter, because you are about to witness a rare show of pure athleticism. Marky hurdles a Struthers defender on the way to the end zone!
http://www.youtube.com/watch?feature=youtube_gdata_player&v=JvTwxIZZOkc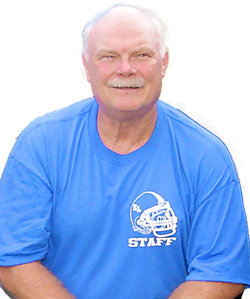 Head Coach Mark Asher was named Eastern District Div. II coach of the year.
The Associated Press listed four Potter players on the first team of its All Eastern District football teams.
Junior Quarterback Marky Thompkins along with senior receiver Andrew English and senior lineman Kody Edwards made first team offense while senior defensive back Willie leavell makes first team defense.
John Thompson and Bob Mackall received second team honors and special mention was given to Doug Tanner, Braxton Savin, Brian Beverly and Kyle Mackey.
The Associated Press Division III high school football team was announced Tuesday Nov. 30, 2010 and four East liverpool Players were recognized. Junior QB Marky Thompkins was named to the second team. That is quite the honor for a junior to achieved Coach Asher stated. Three seniors received honorable mentions: Willie Leavell, Andrew English, Kody Edwards.
The OVAC All Star Football Team first team honors,East Liverpool seniors Willie Leavell and Kody Edwards, Junior Marky Thompkins.
Honorable mention were East Liverpools Alex Morris, John Thompson and Brian Beverly.
Also playing in the 2011 Penn-Ohio game, East Liverpools John Thompson, Alex Morris, Willie Leavell, and Kody Edwards
2010 ELHS Football Banquet
http://www.pottersportsonline.com/hs/football/banquet.htm
Volleyball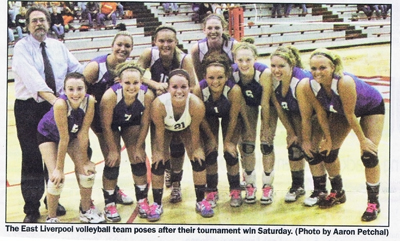 Back Row-Head Coach Bob Shansky, Sarah Guthrie, Whitney Davidson, Kelly Kiger
Front Row-Taylor Ward, Taylar Jordan, Kelsie Wymer, Mallory Waggle, Morgan Campbell, Jordan Adkins, Allison English. Thanks to Assistant Principle Jay Kiger for providing the names of those in the picture.
The ELHS varsity volleyball team went undefeated during the regular season winning all 20 games. They captured the OVAC Class AAAA regular season championship. East Liverpool went on to win an Ohio Division II Eastern District Sectional crown while setting a school record for wins in a season with 23.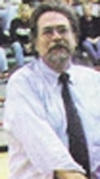 Head Coach Bob Shansky was named Columbiana County Coach of the Year.
Columbiana County First Team All-Stars from ELHS were Jr. Kelly Kiger and Jr. Whittni Davidson.
Second team recognition went to Taylar Jordan and Honorable Mention went to Kelsie Wymer and Allison English.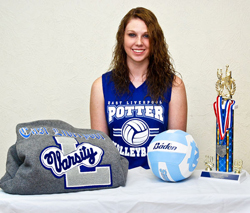 Kelly Kiger has been named The Review Volleyball Player of the Year for the 2010 fall sports season.
BASKETBALL
2010-11 BOYS BASKETBALL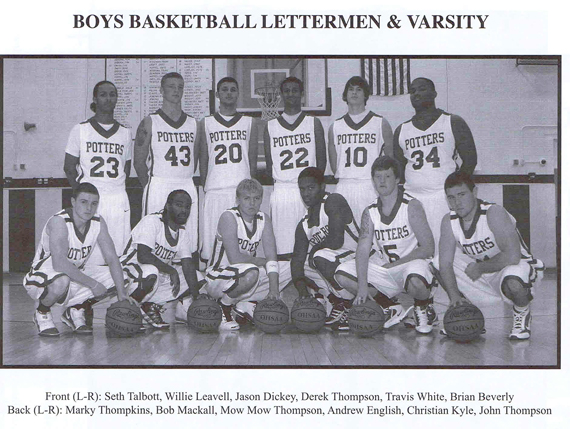 The Potters finished the season at 14-8.
COLUMBIANA COUNTY BASKETBALL COACHES ASSOCIATION ALL-COUNTY TEAM.
FIRST TEAM
Marky Thompkins, Jr.
SECOND TEAM
Jason Dickey, Sr.
ALL-OVAC
CLASS AAAA
FIRST TEAM
Marky Thompkins, Jr.
HONORABLE MENTION
Jason Dickey, Sr.
AP BOYS ALL-OHIO BASKETBALL TEAMS
DIVISION II
SECOND TEAM
Marky Thompkins
Special Mention
Andrew English, East Liverpool
Jason Dickey, East Liverpool
Derek Thompson, East Liverpool
2010-11 GIRLS BASKETBALL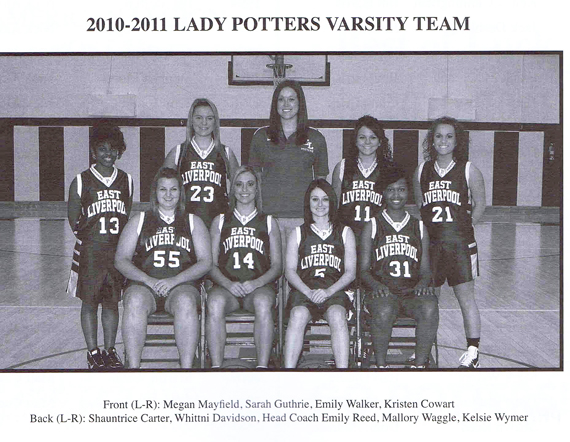 Lady Potters finish season with a 11-10 record.
ALL-REVIEW TEAM
FIRST TEAM
Mallory Waggle, Jr.
SECOND TEAM
Whittni Davidson. Jr.
HONORABLE MENTION
Kelsie Wymer, Kristen Cowart
ALL-OVAC
CLASS AAAA
HONORALBE MENTION
Kristen Cowart, Sr.
Whittni Davidson, Jr.
Mallory Waggle, Jr.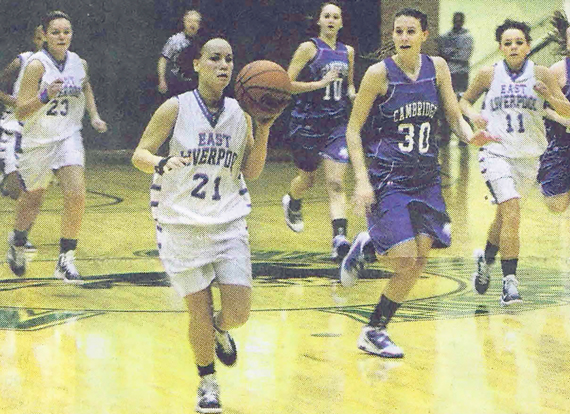 Maggie Mallory(11, Whittni Davidson(23), Kelsie Wymer (21).(Photo by Aaron Petchal -- Review Feb 22, 2011)
EASTERN ALL-DISTRICT BASKETBALL
DIVISION II
SECOND TEAM
Mallory Waggle, 5-4, Jr. 14.2.
Whittni Davidson
Sarah Guthrie
Kelsie Wymer
AP GIRLS ALL-OHIO BASKETBALL TEAMS
DIVISION II
HONORABLE MENTION
Mallory Waggle East Liverpool
2010 WRESTLING
ALL-REVIEW TEAM
FIRST TEAM
Wt. 171 Alex Morris Sr.
SECOND TEAM
Wt. 119 Marcus Beebout Fr.
Wt. 125 Kaleb Riggle Jr.
Wt. 130 Michael Mercer Sr.
Wt. 285 Kody Edwards Sr.
HONORABLE MENTION
Frankie Williams, Jacob Tatgenhorst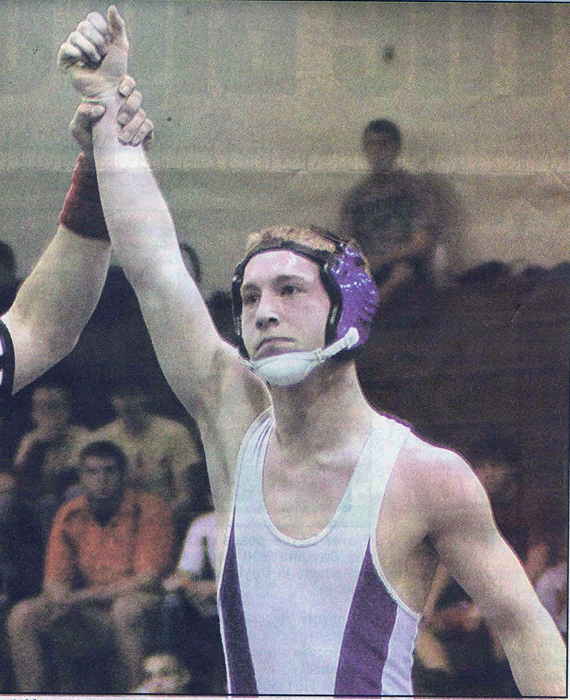 Michael Mercer (Review) (Photo by Aaron Petchal)
Alex Morris (Review) (Photo by Aaron Petchal)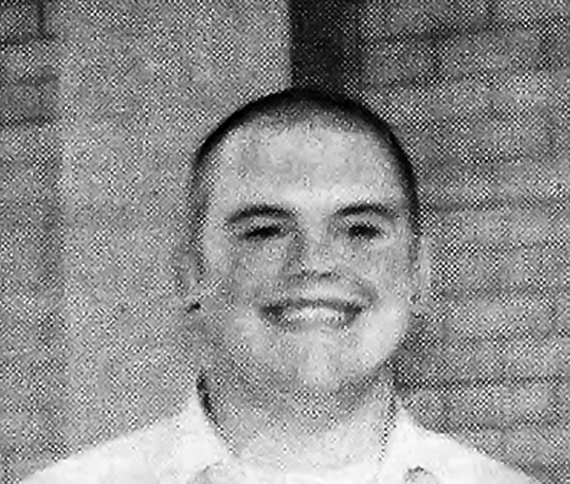 Kody Edwards (Review -- Submitted photo)
---