2013-2014 ELHS Sports Season
FALL SPORTS
FOOTBALL
The East Liverpool Potters ended the 2013 Football Season with a 5-5 record.
They finisned 10th out of 18 area teams in scoring averaging 19.4 points per game.
They finisned 5th out 18 area teams in defense averaging givign up 21.3 points per game.
The Potters will graduate 18 from this years team.
SOME NOTEWORTHY ITEMS
In the final game of the season agaisnt Weirton at Weirton, East Liverpool came out on top 49 -33. The following are from that game:
A 17-yard run by Zach English with just under five minutes remaining in the first quarter put the Potter senior over the 1,000-mark for the season.
English's 274 yards rushing is the third highest total in Potter history behind Robert Jackson (1998 vs. St. Clairsville) and Willie Leavell (2008 vs. Salem). Jackson rushed for 373 and Leavell 332.
Potter Kicker Justin Barr was a perferct 7-7 in PATs.
Barr's seven-for-seven tied him for second most placement kicks in a game. Jared Zirillo connected on nine versus Cleveland East in 2002. Brian Miller was good on 7 PAT's versus Youngstown East in 1996.
---
DIVISION IV
All-EASTERN DISTRICT
FIRST TEAM OFFENSE
RUNNING BACK
Zack English, EL, 6-1, 161, sr.

Zack English
SECOND TEAM DEFENSE
LINEBACKER
John Miscuk, EL, 6-1, 218, sr.

John Miscuk
SPECIAL MENTION
John Rickerd, EL.

John Rickerd
Jacob Michael, EL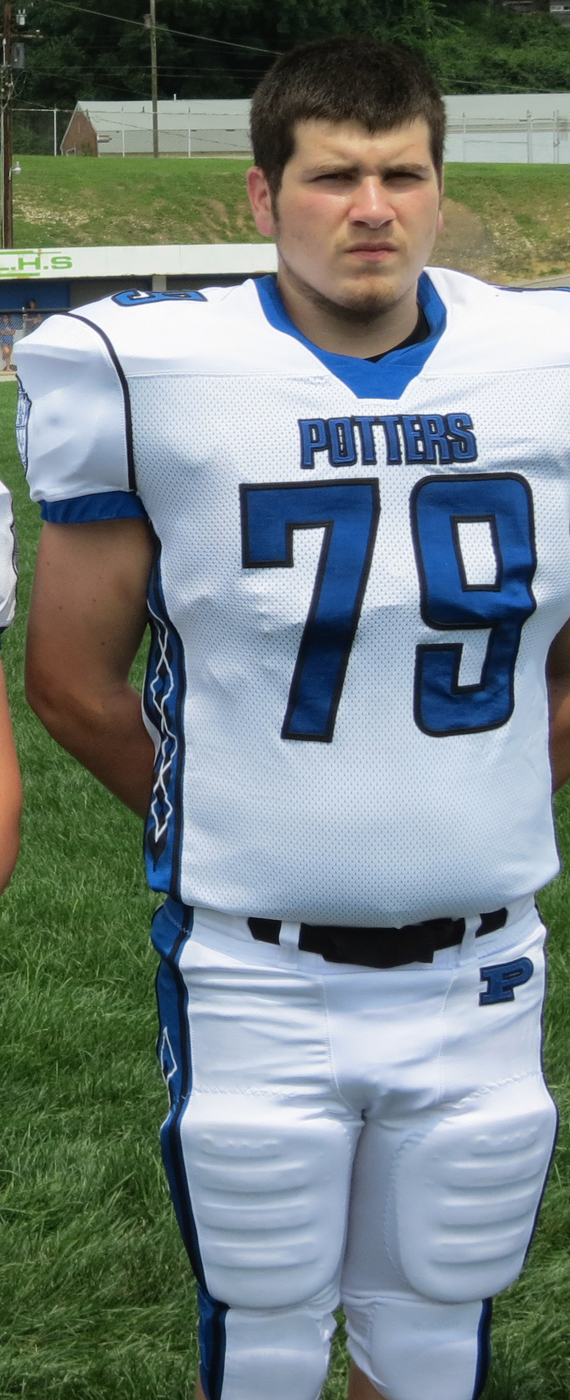 Jacob Michael
---
ASSOCIATEED PRESS DIVISION IV ALL-OHIO
SPECIAL MENTION
Zack English, East Liverpool.
---
Quad County Coaches Association Football All-Stars
John Miscuk
John Rickerd
Jacob Michael
Zack English
Honorable Mention
D. J. Austin
Chad Reed
---
2011 ELHS FOOTBALL BANQUET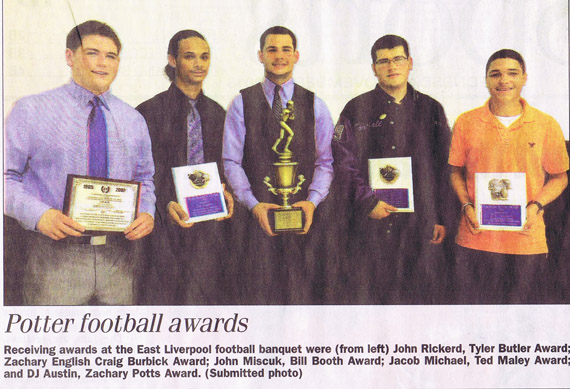 ---
VOLLEYBALL
2013 COLUMBIANA COUNTY ALL-STAR VOLLEYBALL TEAM
(As chosen by coaches)
FIRST TEAM
Taylor Ward, #5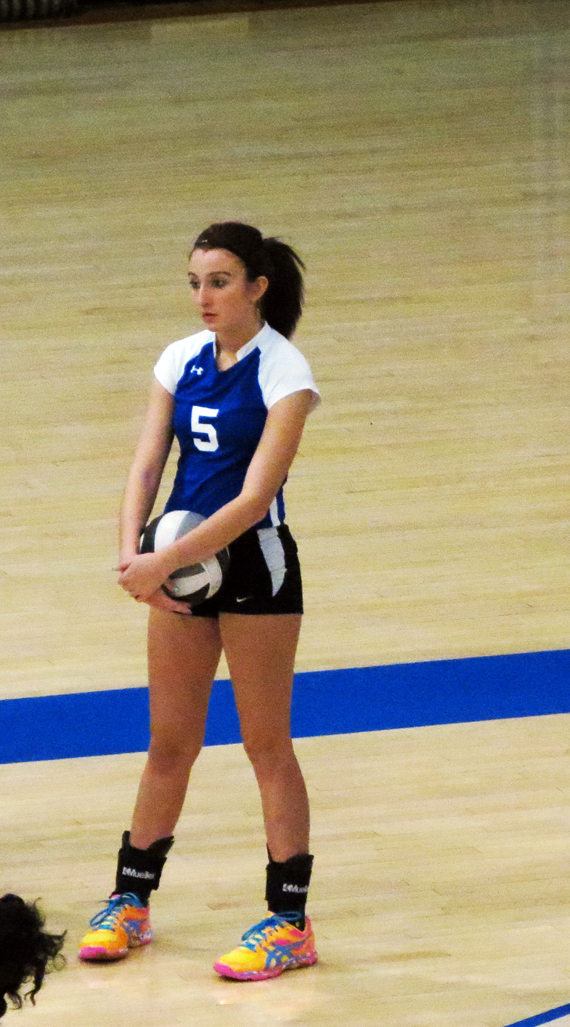 SECOND TEAM
Caitlyn Davis, #10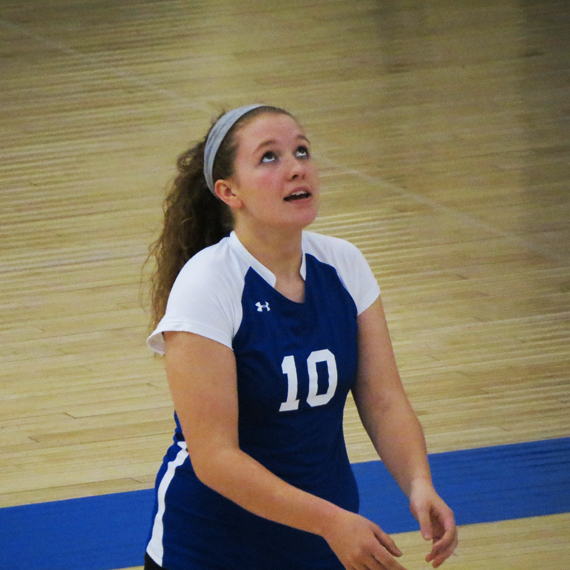 HONORABLE MENTION
Kiara Cowart, #18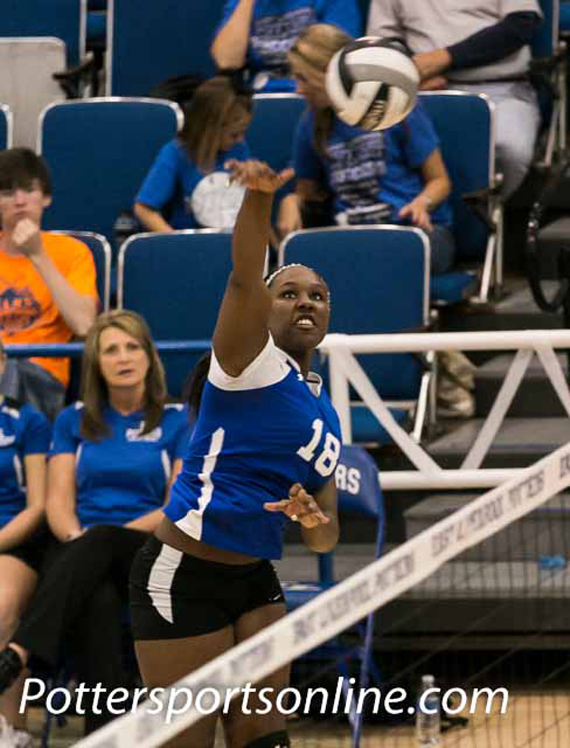 Courtesy of Jimmy Savage.
Kylie Golden, #3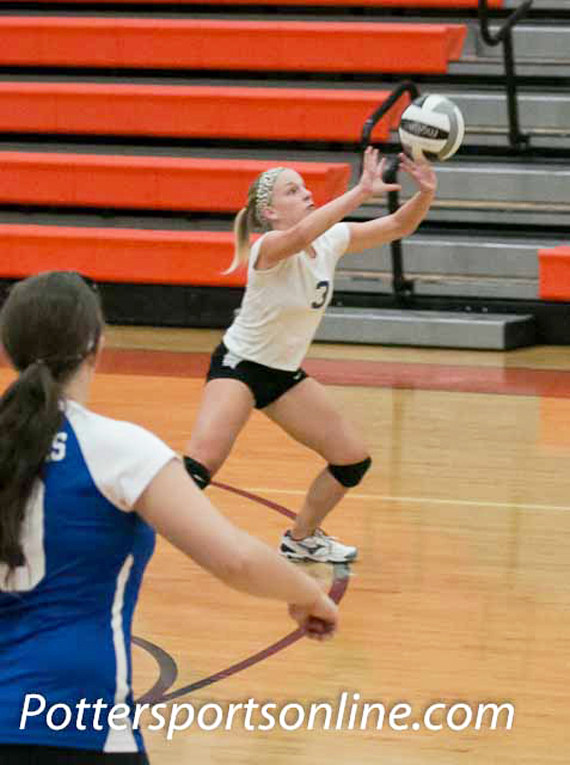 Courtesy of Jimmy Savage.
The Potters 2013 VolleyBall Team finished the season with a 13-11 record. Courtesy of AARON PETCHAL - Correspondent , The Review
The East Liverpool volleyball team won the final two games of the match to rally from two one-game deficits to defeat Beaver Local, 21-25, 25-14, 14-25, 25-22, 15-8 in Div. II sectional opener action on John Jenkins Court at St. Clairsville High School. Courtesy of AARON PETCHAL - Correspondent , The Review
ELHS Athletics ?@ELHSAthletics 10 Nov. Congratulations to Kiara Cowart today playing in the OHSAA Distrcit 1 VB All star game and Caitlyn Davis receiving 1st team all district 1.
---
GOLF
FIRST TEAM
The ELHS GOlf Team finished the regular season 15-0.
.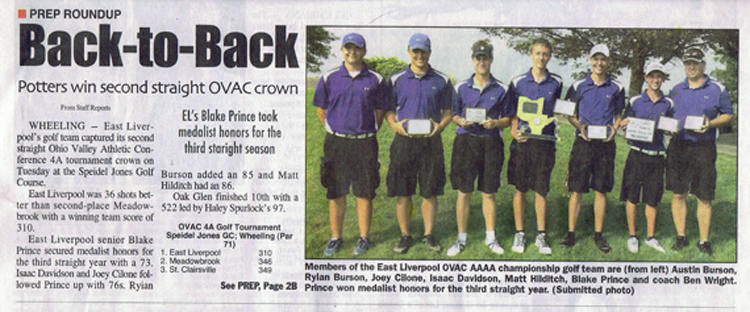 ELHS Athletics ?@ELHSAthletics 12 Oct. CONGRATULATIONS TO THE ELHS GOLF TEAM....2ND PLACE IN THE STATE!! YOUR SCHOOL AND CITY ARE VERY PROUD OF YOU AND YOUR COACH WRIGHT!!
---
CROSS COUNTRY
Since there weren't enough girls out for a girls cross country team the girls participated as part of the boys Team.
East Liverpool came in sencond in the Coumbiana County Cross County Meet. United was first with 34 points, East Liverpool was second with 40.
Notiable EL finishers and Time:
BOYS
#4, Jake Densmore, 19:00
#5, Shae Long, 19:18
#6, Quinn Lyle,19:20
#10, Chase Mahon, 19:44
#17 Tyler Adkins, 20:32
#26. Rob Davis, 21:17
#27, Ian Smith. 21:25
#35, Ryan Geisse, 22:29
#36, Zech Harris, 22:52
#38, Grant Owens,22:54
GIRLS
#27, Ashley Eikenbary, 28:03
#29, Hayley Lucas, 28:09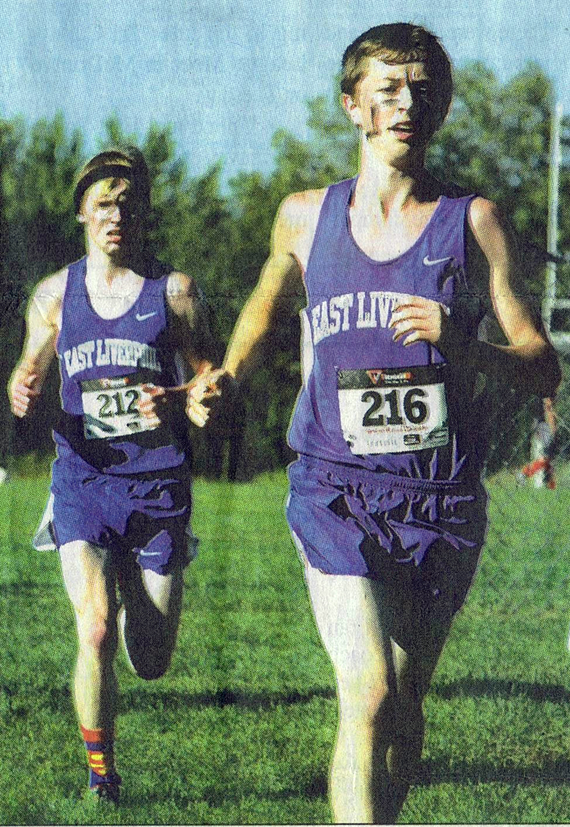 East Liverpool's Jake Densmore and Quinn Lyle navigate the course. (Photo by Ron Firth) Courtesy of The Review.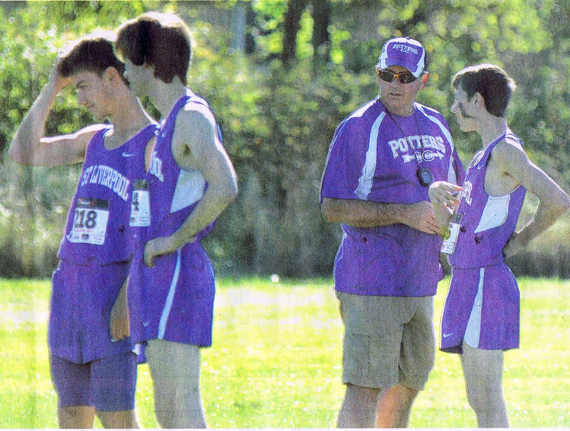 East Liverpool coach Scott Thornberry talks to Quinn Lyle befoere the start of the Columbiana County Cross Country Meet at Columbiana High School. Also Shown are Grant Owen and Zech Harris.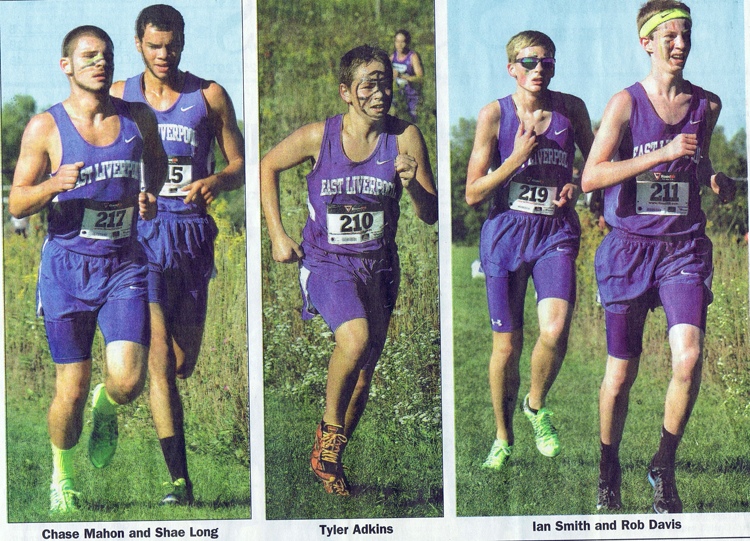 This was Coach Thornberry's 34th season and maybe last season with the Potters. The East Liverpool boys have won nine county titles during his tenure.
The Potters finished 6th at District and did not advance.
For the East Liverpool boys, junior Jake Densmore was 20th (18:06), sophomore Quinn Lyle 25th (18:30), senior Shae Long 35th (18:56), junior Chase Mahon 38th (19:09), sophomore Ian Smith 43rd (19:29) and freshman Rob Davis 47th (19:52).
For the East Liverpool girls, junior Hayley Lucas was 55th (27:04) and senior I Ashley Eikenbary was 63rd (29:44).
MVP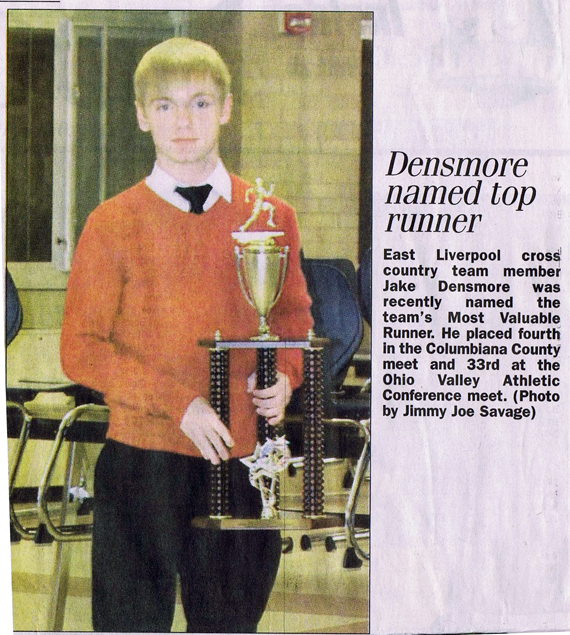 ---
BOYS SOCCER
---
GIRLS SOCCER
The Girls Soccer Team ended the seaon with a 5-5-1 record.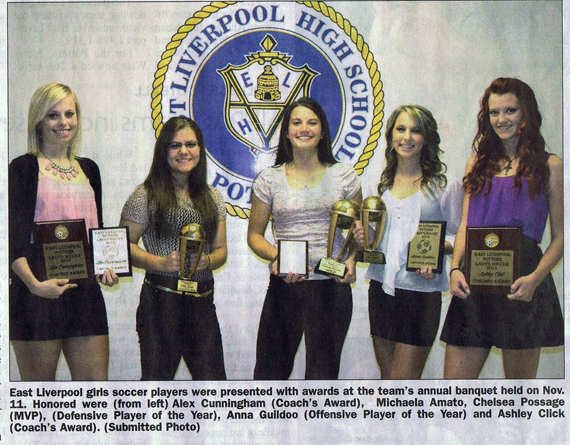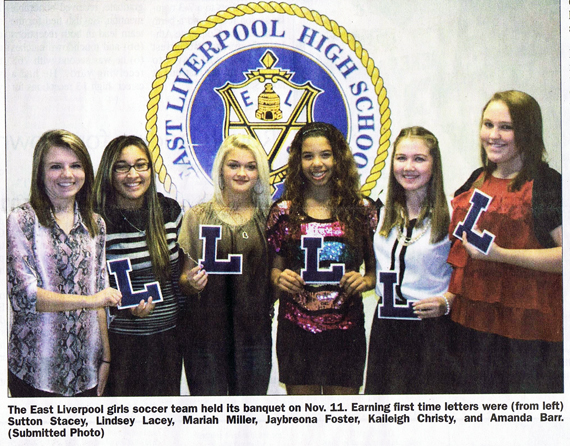 ---
GIRLS TENNIS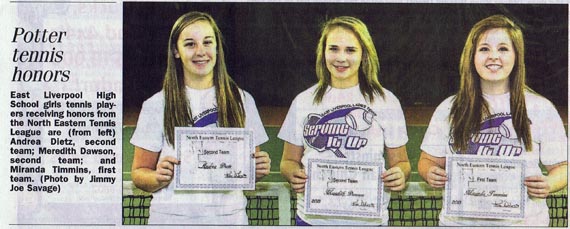 ---
CONTINUE TO Current Potter Stars 14
---