History of Cheerleading at ELHS
This section is going to be a work in progress since it is going to require talking to former cheerleading coaches and cheerleaders. In addition, finding information in old yearbooks, etc. That being said we can still move forward with information that we do have on hand already.
---
Cheerleading is not a Title IX Sport
Court upholds cheerleading decision
Associated Press
August 7, 2012
HARTFORD, Conn. -- A federal appeals court has ruled that colleges cannot count competitive cheerleading as a sport when trying to comply with gender-equity requirements, upholding a U.S. District Court decision against Quinnipiac University.
In a decision released Tuesday, the 2nd U.S. Circuit Court of Appeals found that competitive cheerleading does not yet meet the standards of a varsity sport under Title IX, the 1972 federal law that mandates equal opportunities for men and women in education and athletics.
The ruling comes on an appeal filed by Quinnipiac, a school with about 8,000 students in Hamden, which had been successfully sued by its volleyball coach after it tried to eliminate the women's volleyball program in favor of competitive cheering.
"Like the district court, we acknowledge record evidence showing that competitive cheerleading can be physically challenging, requiring competitors to possess 'strength, agility, and grace,'" the court wrote. "Similarly, we do not foreclose the possibility that the activity, with better organization and defined rules, might someday warrant recognition as a varsity sport. But, like the district court, we conclude that the record evidence shows that 'that time has not yet arrived.'"
The appeals court agreed with U.S. District Judge Stefan Underhill, who found in 2010 that competitive cheerleading did not have the organization, post-season structure or standardized rules required to be considered a varsity sport.
An activity can be considered a sport under Title IX if it has coaches, practices, competitions during a defined season and a governing organization. The activity also must have competition as its primary goal -- not merely the support of other athletic teams.
Several volleyball players and their coach had sued Quinnipiac University after it announced in March 2009 that it would eliminate the team for budgetary reasons and replace it with a competitive cheer squad.
Underhill ordered the school to keep volleyball and after his ruling, Quinnipiac decided to keep both teams.
"This year marks the 40th anniversary of Title IX, and it's fitting that this decision underscores its importance," said Jonathan Orleans, who represented the plaintiffs. "This is a great victory for Quinnipiac's female student athletes and for women's collegiate sports."
The school's competitive cheerleading team has since renamed "acrobatics & tumbling," and joined the National Collegiate Acrobatics and Tumbling Association, which was formed in part to help develop the activity into a recognized sport, and distance itself from traditional sideline cheering.
The full court ruling:
http://www.aclu.org/files/assets/2dcirdecision08072012.pdf
---
Another side to the discussion:
Cheerleaders sport more than school spirit
http://www.news-herald.com/articles/2010/09/07/news/nh2937693.txt
---
There were times at ELHS when cheerleading did involve pryamid building, etc. The following pictures are from the 1983 Keramos Yearbook: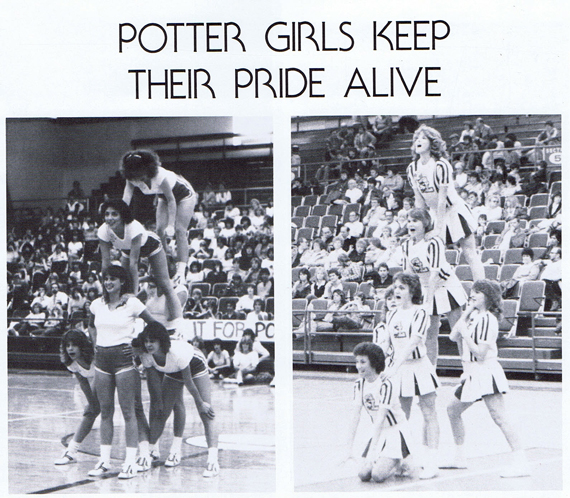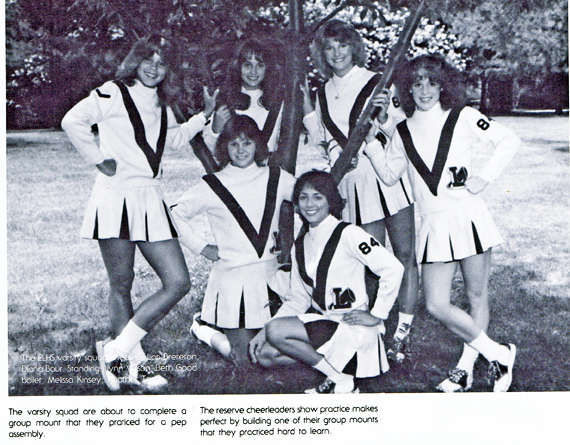 ---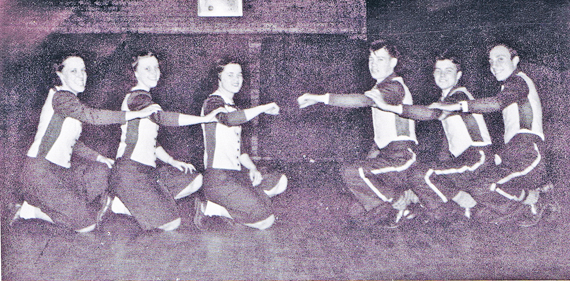 ---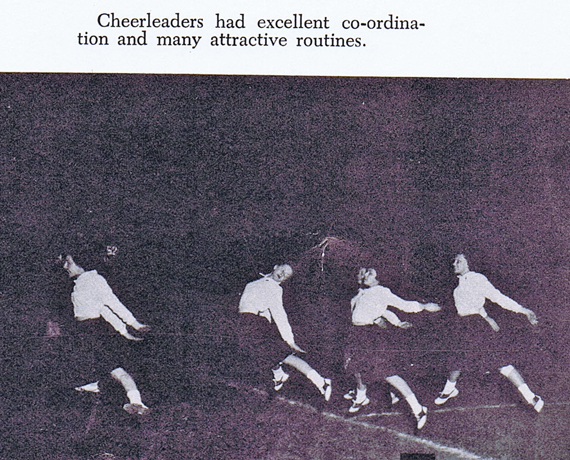 More Pictures will be added.
---