East Liverpool Historical Society
"Potter Peal Power"
This article originally appeared in the 8th Annual Tri-State Pottery Festival Souvenir Booklet, June 19, 20, 21, 1975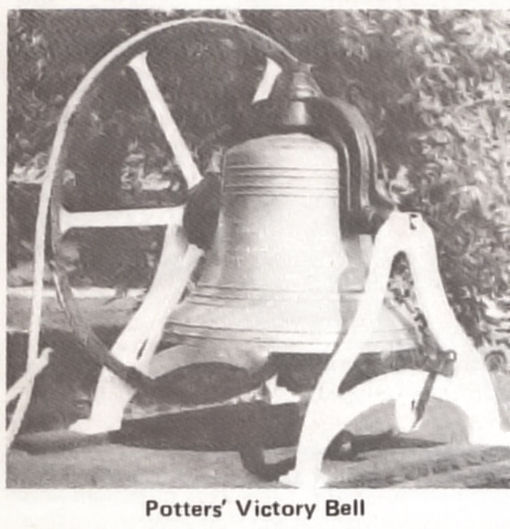 The past year at each of the home football games we have seen a brass bell, mounted on a trailer, wheeled onto the field. Before the game each of the members of the team touch the bell as they come onto the field. When the game ends, the bell is near the exit. As each player goes by he gives a ring to the bell. Behind the team comes the band to ring the bell also. For a few minutes Patterson Field is filled with the sound of a bygone year. The school bell is ringing! It's a good sound to hear and a delight to watch. All of this really began with the installation of this bell in the Neville School Building in East End in 1921. The bell was purchased for the school by the Neville Institute Klondyke PTA and Former Pupils. It is made of solid brass. In 1974 Hall China Company donated the bell to the Potters Booster Club with the provision that it never be sold or given away; never taken out of town. If the Boosters no longer use it, the bell reverts to the school or the former owners. The Booster Club has had the bell sand blasted and cleaned. They decided to hold a contest to find a name for the bell. Ann Volino of Wellsville was the winner with "Potter Peal Power".
ELHS football coach Don Charlton, originated the "touching" and "ringing" of the bell. Perhaps it isn't a big thing in life, but it certainly adds to our lives and revives happy memories. "A bell isn't a bell 'till you've rung it."
The inscription on the bell is simple and direct:
"Purchased by Neville Institute,
Klondyke PTA and
Former Pupils of "Old Neville" Building
November 11, 1921
Made by M.C. Shane Bell Foundry
Baltimore, Maryland, 1921
A bell doesn't have lyrics . . . But the melody is there . . . GO POTTERS!!!
Continue to ELHS Football Team, 1903
---