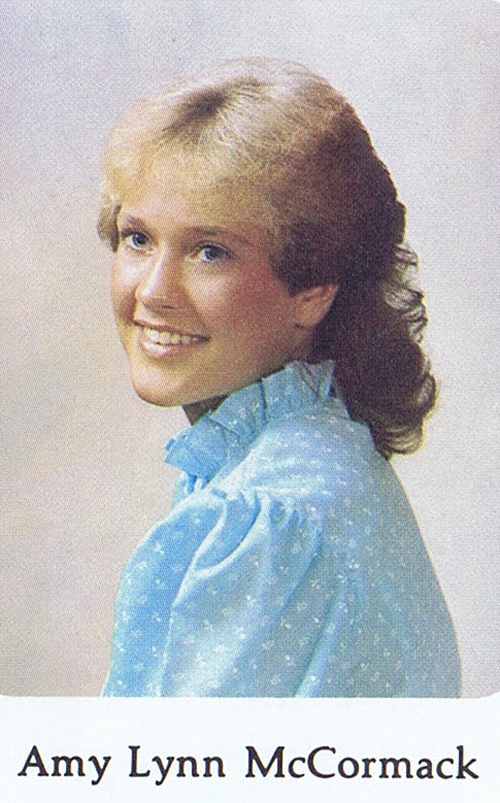 ---
Web: We will start with the Potter Pete Story:
Amy: yes, my dad. My dad designed Potter Pete.
Web: Is that the drawing, or the name or both?
Amy: Everything. I even have the original picture here.
Amy: When my brother was in high school, which was in the 80's, the school newspaper did a whole story on my dad about Potter Pete. I cannot find anybody that has that copy. So that can be a research project for you because I have tried, even at the high school and I couldn't find it.
Web: You're talking about the Keramos Echo, the school newspaper?
Amy: Yes, It would probably be the year 82 or 83 when they did the whole story on my dad. My brother Christopher was in it. I was told, after my dad had passed away, from Pat Chema, that it was his brother, Dick or Tom (they are my dad's cousins) that had something to do with getting my dad to design the mascot. The story is in the Keramos Echo with a picture of my brother and my dad (Joseph McCormack). I heard as a kid that my dad designed Potter Pete but I didn't know all the history behind it and to this day I still don't. Let me find the picture for you while we are talking.
Amy: He designed it and it was on a wooden frame. This is the picture and on the back of the picture it says 1963 because that was the year my sister Molly was born and she is the baby in that picture.
Web: Do you mind if I photograph this later?
---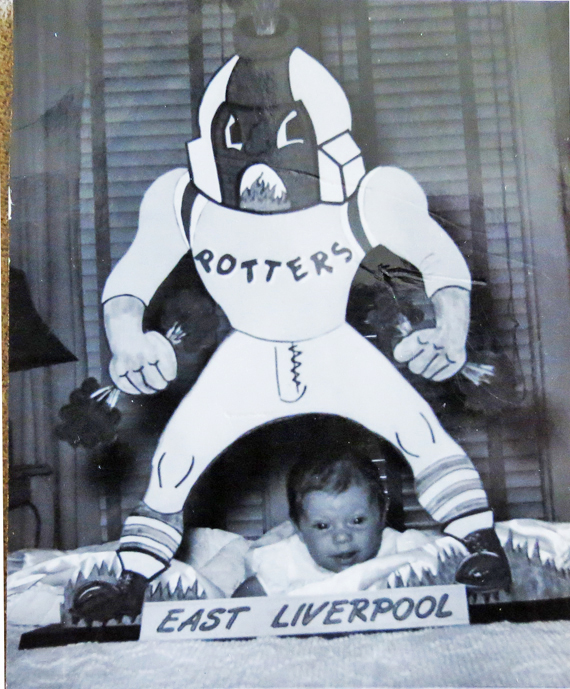 ---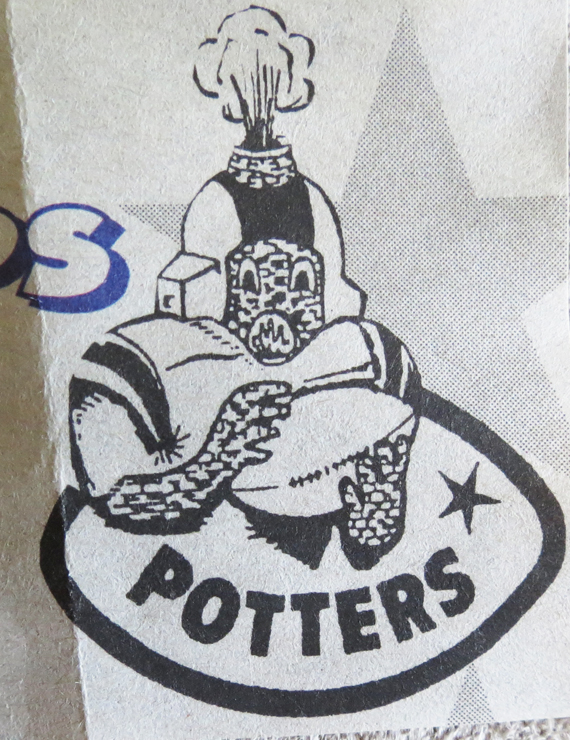 ---
Amy: No, not at all. I used to have extra copies but I have given them all out. That is the original picture. We have been trying to find that statue. I was told that maybe Dick Wolf had it at one time. I would like to be able to find it. I don't know if he has access to it or where it is. My dad and Dick were actually good friends. They both loved sports and they both loved East Liverpool Potters and they had that in common. I don't really know that much about their friendship. I just know they had that in common and my dad was a big fan of the wrestling team and he used to help Nick Trombetta and go as a chaperone. My dad just loved sports and East Liverpool Potters.
How many sports did you play in High School?
Amy: I played every single one they had except cross-country; volleyball, basketball, track and softball. I would have probably cheered but at that time you had to make a choice. In seventh, eighth and ninth grade I was allowed to cheer and play sports but after that I couldn't. I think those were all the sports at that time.
My senior year I played softball instead or running track.
Web: How many letters?
Amy: I don't know, I never counted them. I have no idea. Let's see, I think I lettered as a freshman in track. There was one year I didn't run. I had shin splints so bad. I forget what year. I probably lettered two years in track. Volleyball, I lettered as a sophomore, junior and senior. Back in that time freshmen weren't even at the high school. Basketball, I only lettered probably my junior year because my senior year I was in the school play. Softball, they only had it my senior year.
---
SOME BACKGROUND
---
Web: You have been credited with being the driving force behind bringing softball to East Liverpool High School. What motivated you to want to play softball in School?
Amy: Well, I played softball in the summer. It was an adult women's league and my neighbor was playing and they needed more women. I was a teenager and all the other women were older. We used to play at Thompson Park. So, my neighbor got me involved. I loved it.
I would think why can't we have softball in High School? So if you want to know I started that whole thing it was basically I just needed to go to the Athletic Director, which at the time was Don Rogers.
Every year I would ask him if we were going to have a softball team. He would say no, not this year, we don't have any money for a softball team.
I would say all right. Then the next year that would be repeated. I just took that as an answer. Then my senior year at the high school my government teacher, Bill Price, started talking about Title 9 and a light bulb just went on in my head. I said to him, you mean to tell me, if I understand this Title 9 correctly, if they have boys baseball then we have to have girls softball?
He said yes. I said oh, ok, they can't tell me no? They can't tell me we can't have it?
We talked about it in class and he explained the proper procedure if I really wanted to get this to happen. First, I had to petition, go around and get all the girls names of those who wanted to play softball. Then I had to call all the Board of Education members and talk to them. Last, I went to the Board of Education meeting and did a presentation. I had all the signatures and I went around and tried to find a coach and Randy Calhoun said he would do it. So we had the interest, we had the coach and the Title 9 so they didn't deny it. So it was like, here we go.
---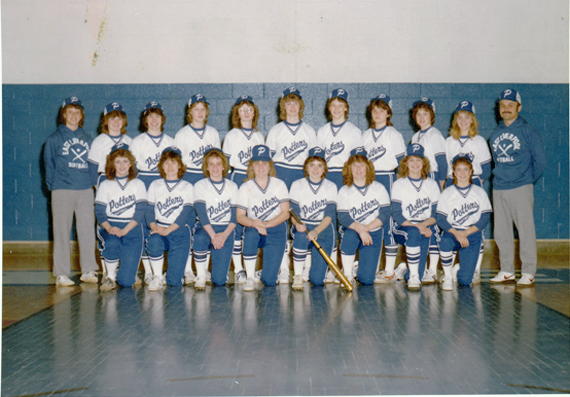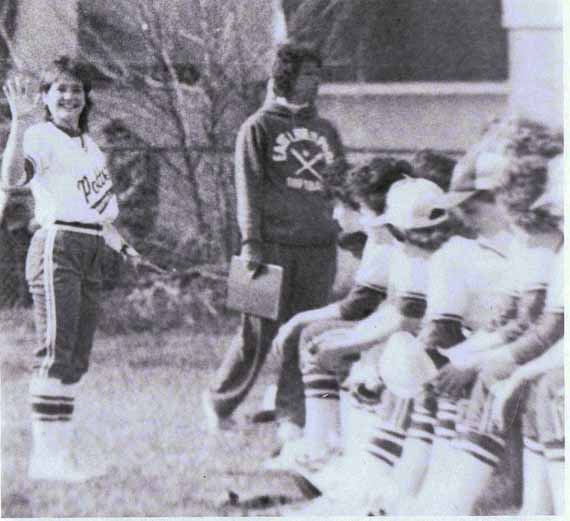 ---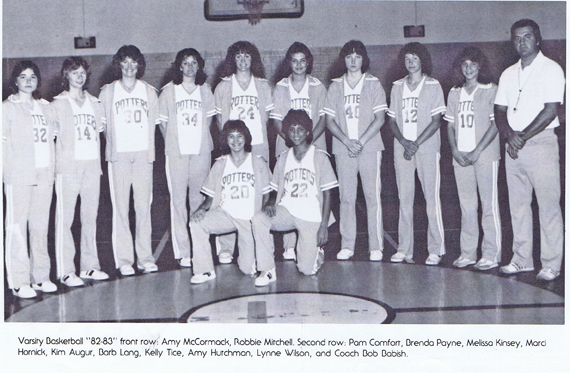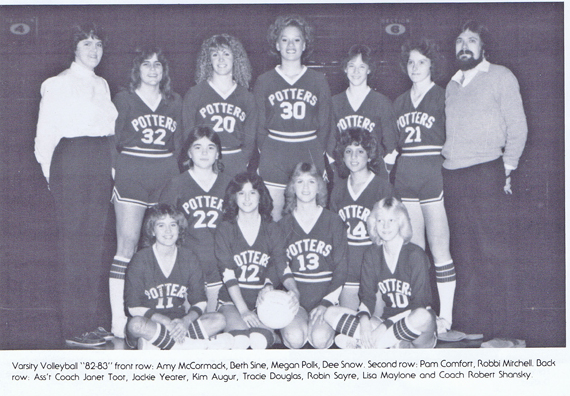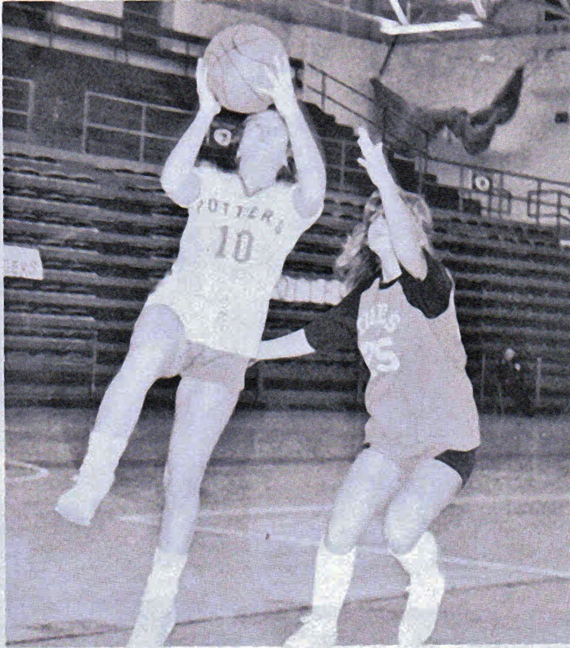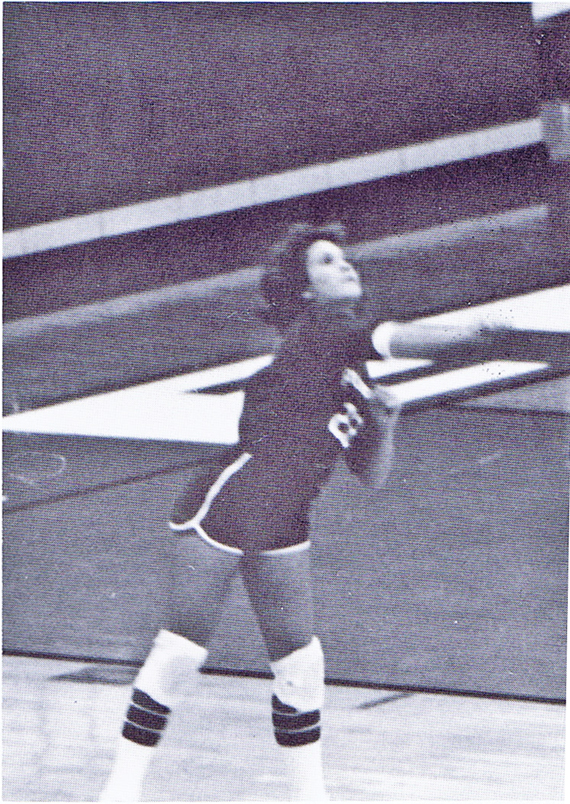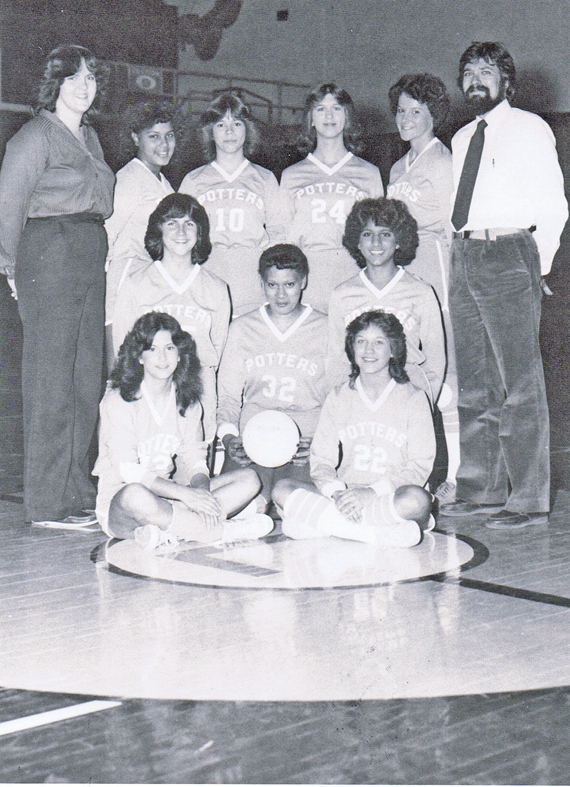 Web: They started a new sport this year
Amy: Ahhh, the bowling. Yea, which I think is great.
Web: The girls bowling team did quite good, the boys not so good.
Amy: Yea. I watched the swimming come about. It's been a couple years now since they started the swimming.
Web: It's recent?
Amy: The swim team? I would say it's within the last 10 years. I don't know, maybe the last 5 or 6 years, something like that. I think Pam Dawson was instrumental in starting that. I think one of the reasons was because her kids swam on the Dolphin Swim Team and they were so good. You would have to talk to her.
Web: You played sports in college?
Amy: Yes. I went to Mount Union College specifically to play volleyball.
---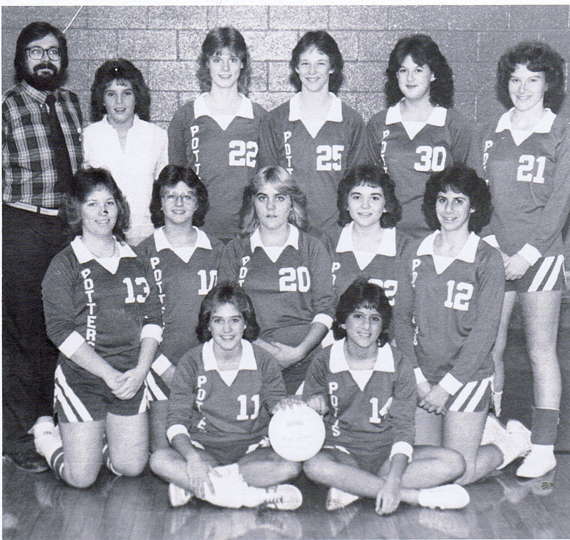 ---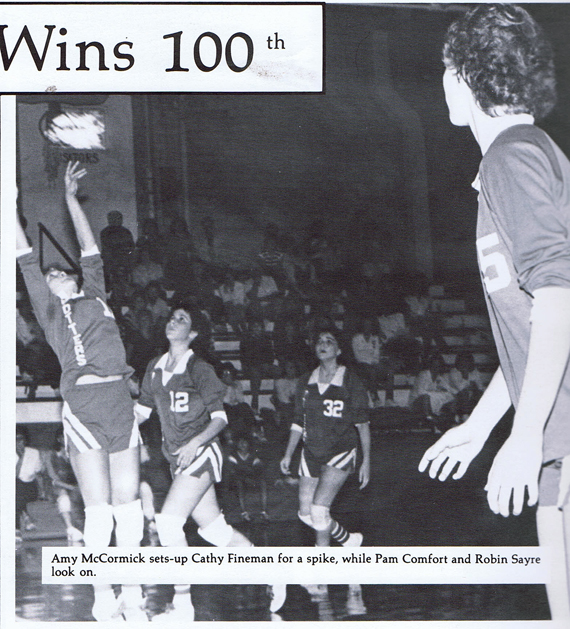 ---
Amy: Robin Henderson was there too.
---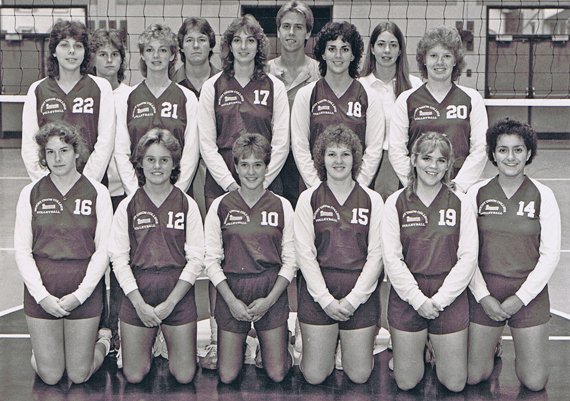 ---
I chose to quit my sophomore year because my shin splints got so bad and developed into stress fractures. It became too much. I had to arrive an hour before practice to get treatment for my legs and then stay an hour after practice for more treatment. It just became not worth it.
Web: So it was just your freshmen year?
Amy: yes.
Web: Just Volleyball?
Amy: Just the volleyball. Then I went on to cheerleading. (laughter) . So I ended up cheering. My original sport when I was a little girl was gymnastics. I was a big tumbler and did trampoline. A lot of the girls who were athletes in the high school participated in the original gymnastics team that was the Olympic Village of Margaret Monte's. She put out a lot of gymnasts.
---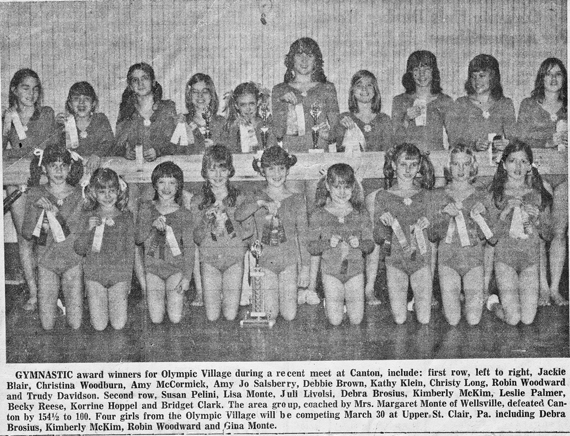 ---
That was my original love in sports. So being a cheerleader allowed me to do my tumbling and that kind of thing. My dream was to go to Ohio State and be a cheerleader. My mother said that college was too big. (laughter)
Web: I ran across a Keramos Yearbook recently at the ELHS Alumni Association and it showed what I understood to be a gymnastics team at the high school and it mentioned that the boys made it to state. I don't recall the year the yearbook was for and maybe I misunderstood.
Amy: Really? I don't know a thing about that. I just know that in gym class they used to do gymnastics and as a matter of fact when I was in 9th grade, Jan (McHenry) Price and Joe Chontos, held a performance night and I actually performed on the trampoline, the floor and the uneven bars. We did like a presentation for the parents and the community. I remember doing those routines.
Web: Are you competitive?
Amy: I used to be. I'm not anymore. I probably still have a little bit of spark in me. It wasn't so much about being competitive as it was a feeling like you were excelling at your best.
Web: What motivated you in sports?
Amy: I think I just liked the feeling in my body. Some people are more thinkers, some people are more musically inclined. I was just more kinesthetic and I like the feeling of moving in my body, the feeling of excelling in your body and that connection. I love team sports, I love the feeling of different people coming together and working as a team successfully, I love that.
Web: When you were growing up here in East Liverpool, how did you develop your skills sports wise?
Amy: I used to work a lot by myself. I can remember with the volleyball just practicing up against the garages or walls or anywhere and with the basketball over at my neighbors basketball court. I spent a lot of time by myself practicing. Running by myself. Back in that time you didn't start sports when you were 5 and play volleyball all year long. We didn't do that. There was some pick up sports at the YMCA. They did have some coed volleyball. There were church leagues. It was primarily boys. I don't remember any girl's church league sports. So basically it was either in gym class or on your own. That's it. My dad was a huge sports lover and he was always encouraging me that way but it wasn't like he was out there teaching me, just a lot of encouragement.
Web: When did you start sports in school?
Web: When did you actually start competitive team sports then?
Amy: Seventh grade.
Web: Westgate?
Amy: Yes, Westgate. I would have to say that Jan (McHenry) Price was very instrumental. I loved her to coach. She was a positive influence in my life. She was my volleyball coach in 7th, 8th and 9th grade. She went to East Junior campus when I was in 9th grade. The whole Price family coached me. Bill Price and his wife Jane were instrumental with the track teams. Willard Adkins coached the basketball. Those were my jr. high coaches. Then you had all your friends playing sports. So, it was part of being around all of your friends and playing sports with them.
It was a great group of girls. They were pretty athletic and I think East Liverpool was successful with its sports teams. I specifically remember our track teams.
I felt like every track meet we ever ran we ended up winning and we were always in the county meet and I just remember always being very successful and having a very big track team. That was my memory.
---
BACKGROUND
---
---
Web: Ever look back at the records?
Amy: I remember a lot of our relay teams. We broke the school records, we broke the county meet records. Monica Hoschar was on our team, Kim Auger was on our team, Lynne Wilson was on our team. We had some pretty big winners there. And then all of our relay teams were strong. I think even our field events were strong. Back from the 1980's to my year of graduation, 1984, I remember track being very successful. Of course, by the time I was a junior, Robin Sayre was in there too. There was a girl named Kim Washington, she was very good too.
Amy: With Alicia and Robin Sayre and Jackie and Jodie Andrason, Melissa Kinsey, Lori Freeman, Carrie Tice, everybody… If they weren't winning individually, they were strong in the relays. We had a lot of depth.
Web: You got the Merrill Hall Award your senior year.
Amy: That was kind of big but that was based on all around athleticism, grades, community service, different things like that. That particular award didn't necessarily mean you were the most outstanding athlete.
Amy: It's more like you're the most all around athlete. The criteria are that you have to have good grades and you have to have this, that and the other. For example, you could be an All-State athlete, only have a 1.5 grade point average and you're not going to win the award.
Web: Dick Wolf said that he created it and he sent me an email with all of the qualifications. He said that he had recently discovered there had been an athletic director that decided on his own a girl had to play two or more sports to qualify. Dick said that that was not the way it was designed and he wasn't very happy about it. He told the current AD Mr. Shansky that that was not the way it had originally been set up. Dick said a lot of very qualified girls where short changed because of that former AD and his decision.
Amy: That might very well be true, but I know there have been people who were disappointed they didn't get it but they didn't qualify because they didn't have the grade point average.
Web: That's probably true too. Because there were about four different things to qualify. However, the number of sports she played wasn't one of them.
Amy: I don't know.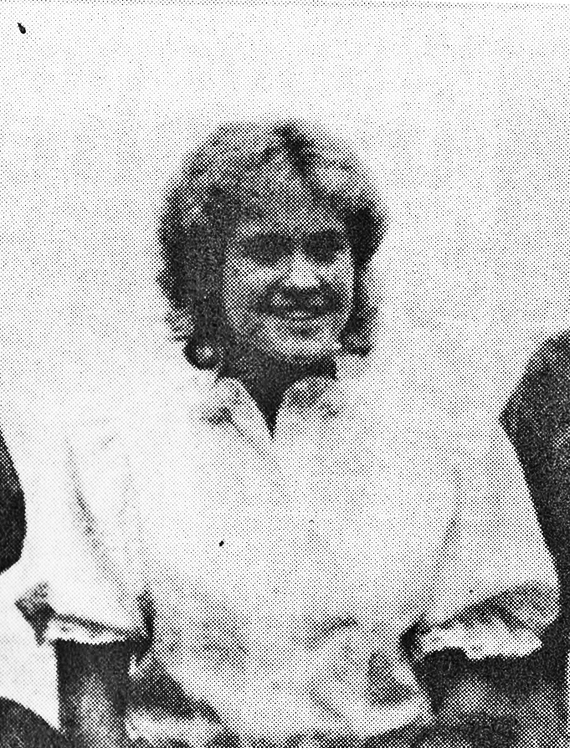 Web: How did you learn to dribble? I ask everybody that because I can't dribble at all.
Amy: The answer to that question is I still don't think that I can dribble.
Amy: I could always run faster than I could dribble the ball. I used to practice but I would have to say that no one ever really taught me. I really think it takes a balance of the right and left side of the brain. I think that you need to work on skills that would strengthen that. I was so right hand dominant that my left was weak. Also, I could run fast and I couldn't get the rhythm. I would have to say that I am not a successful dribbler. I just practiced on my own.
Web: How were girl athletes accepted when you were in school? It was probably better than the ones in '73.
Amy: What do you mean by that? Who accepted them?
Web: Other players, boys, teachers, coaches
Amy: I think it was very acceptable. I think other students, teachers, coaches. It was very much accepted but just as it still is today the football team carries the energy of the community.
Amy: I think that's a big community sport. I think that the women athletes may not have been completely equal to the boys, but I don't think it was far off.
Web: That's one reason why I want to talk to somebody who started out in '73. Because there probably were some being made fun of and so on initially because they were starting a whole new thing.
Amy: Right. I taught school with Candy Nicholson and I know that she was one of the athletes who got in the Hall of Fame. She might be someone that you would want to talk to. She would definitely have that memory.
Web: I definitely need some people in the early seventies. I talked to Molly (Klink) Patterson. I didn't know at the time she was . . .
Amy: She's Mr.Shansky's step-daughter.
Web: Yes. Although he gave me the phone number to call. Unfortunately, she was expecting a baby within a week or so. She said she probably would do an interview, but it would be awhile before she did.
Amy: She is much younger than me.
Web: She was in the 2000's. What I want to do, is a couple from the 70's, a couple from the 80's, a couple from the 90's, and all the way through. Things have changed. Interests have probably changed and there are more sports. So I would get a different perspective then from just concentrating on just one group.
Amy: Absolutely. Another all-around athlete would be Robin Henderson.
Web: Is she around here somewhere?
Amy: Yes, her last name is Theiss, she's married to Bob Theiss. She went on to Mount Union College and played volleyball all four years. She was not only athletic, she was a leader in every sport. She excelled in everything. She may not have been the person who went to state or anything, but she led the way, she was always the leader and just an all-around athlete.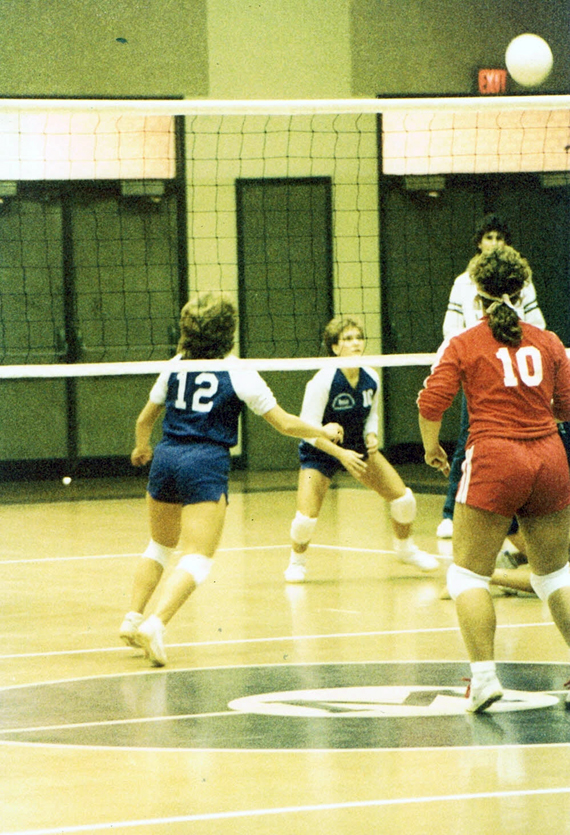 Amy: I remember Brenda Payne too, playing on the boy's tennis team. She was also another good athlete, playing basketball and tennis. I don't think she played volleyball, I don't remember her there. I think she ran track.
Web: Is she a lawyer?
Web: I asked Frank Dawson. He said the only Payne he knows is a lawyer and works downtown.
Amy: No, I know who he's talking about and that's not her. If you look in the yearbook Brenda might have run cross-country and track but she definitely played basketball and she was a very good tennis player. She had to play on the boy's tennis team until they started a girl's team which I don't know that they ever did while she was in school. She graduated, I think, a year ahead of me so she would have been '83.
---
BACKGROUND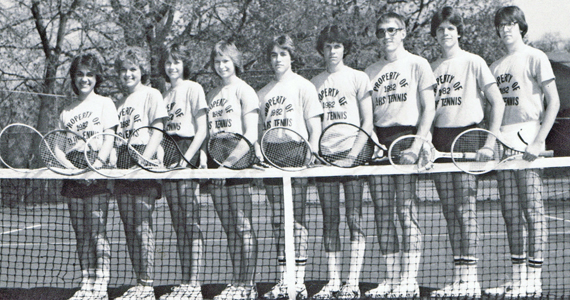 Brenda is listed on the Varsity Basketball and Tennis team in the 1982 Keramos Yearbook.
---
WEB: What was your best sport?
Amy: Volleyball, by far! I always gave one hundred per cent and I was always very dedicated and I always looked to the coach and paid attention. I gave that in every sport, but I would have to say that I was the most useful in volleyball - even though I was part of the relay teams and I did the long jump in track, and played softball my senior year… I think I was strongest in volleyball. Basketball was probably my weakest sport.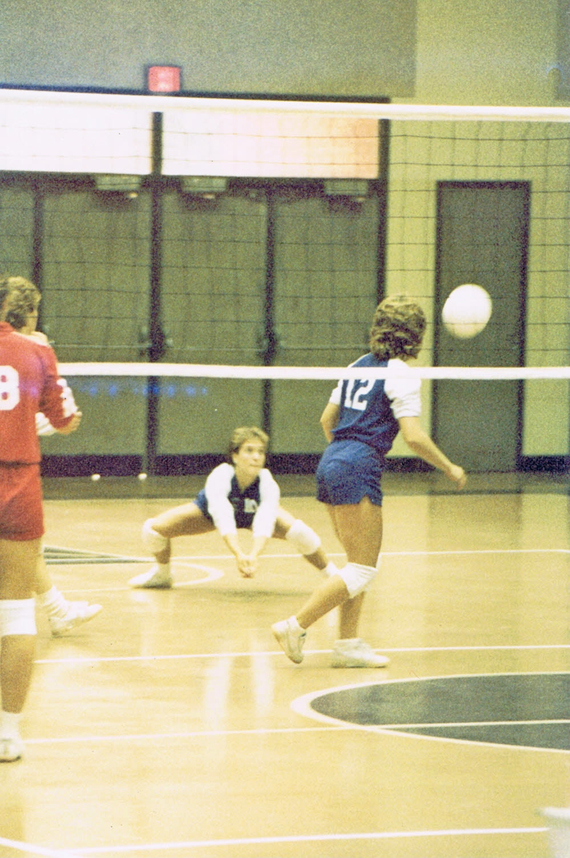 WEB: What position did you play in softball.
Amy: Second base.
WEB: Didn't Robin played second base too?
Amy: She was a short stop. I don't think she ever played second base. She had too good of an arm to play second base.
WEB: She was catcher one year, or at least there was a picture in the yearbook showing her as a catcher.
Amy: Yeah I could see her maybe being a catcher, but she had an outstanding arm, so she was very, very good at short stop.
Amy: The coach always used to bat me, I think, first because I could always steal. So, he'd get me on first base and I would always steal to second because I was very quick. That was always fun.
WEB: Ever get nervous before games?
Amy: Uhhh, I'm sure I got nervous, yeah I'm sure. I equally got excited. I was nervous and excited and just wanting to win and just do well.
WEB: Do you have a game face?
Amy: Yes, I do. I think my game face was just to be focused and concentrate. I think that was my game face. I never had a mean streak or viciousness, so I think mine was just like focus and stay focused.
WEB: Since Marky Thompkins lived across the street, I started going to the basketball games. Then I got curious about the girl's basketball games so I started going to them, but I noticed that the girls, oftentimes, before the games, like when the JVs were playing, they'd be just …, didn't seem to have any game face at all, didn't seem at all focused, just visiting with people in the stands. . . .
Amy: Well, I can specifically remember one basketball game at the high school. This was back in the 80's, when you could take your collar like you have on your shirt right now and you'd raise it up. That was like the style. Like right there, and that was like Cool, OK? So we took our warm-up jackets, you know you're in the locker room and your teams going to run out, and do the loop around, and start doing your lay-ups and all that. We took our collars and put them up and we came running out onto the court with our collars up, like we were really cool! That was our game face or whatever. I remember our coach, Bob Babish, yelling and freaking out on us. [Laughter]
Web: The local rivalries probably meant more I would guess?
Amy: I specifically remember the girls who went to Beaver Local. I was in church, Sunday school and gymnastics with them. You knew them. There was this huge rivalry and there were good athletes at both Beaver Local and Wellsville. So definitely, if you talk about getting nervous or game face, of course.
But I also remember looking up in the stands: Who's up there? Where are my friends? Is my boyfriend watching? Kind of thing. So when you say "people socializing", I was definitely noticing that too. And I was wondering, is my dad up there mad at me because I messed up or something.
Amy: But interestingly enough … I think this is kind of a cute story. There was a boy I dated all through high school. His name is Greg Wycoff. At our sports banquet our senior year he got the Bill Booth award and I got the Merrill D. Hall award. We both also won the athletic scholarship, I can't remember the name off the top of my head right now. Usually one person gets it but they split it, shared it, between the two of us. I think that is kind of an interesting story.
WEB: Were most of your friends athletes?
Amy: Yes
WEB: So it was kind of clichéish?
Amy: Um, yeah, I think you spend so much time together at practice that you just continue that. But I wouldn't say that all of them were, because I also had other interests. I was in the play, I was in the musicals. There were some people that were involved in those that didn't play sports. I had friends who were cheerleaders so I was friends with everyone. But I have to say there was that stigma in high school that if you were in the band, you were a band geek. (laughter)
WEB: Interestingly enough, last year, one of the football players was in the band and at half-time, he'd be in the band in his football uniform.
Amy: That's awesome, That's awesome!
Web: And of course, Bernie Allen started out in the band, then went on to be one of the best quarterbacks here and in college at Purdue, and went on to play professional baseball for a number of years. Some see cheerleading as a sport and some don't.
Amy: Well, I think for me, like I said, I was a gymnast first. There was no other sport in high school that you could do your gymnastics except for cheerleading. Unfortunately around here … they didn't treat cheerleading like a sport. It was more like a club or whatever. Some of the other schools, you look at what they do and it's very much athleticism.
Amy: And part of that too is because they don't let them do the mounts and the tricks and all that stuff.
Web: It's against the rules in Ohio I read someplace. Those routines that you see some high school cheerleading squads do and some college cheerleading squads do in competitions shown on TV, I thinks its illegal here in Ohio.
Amy: Right.
Web: Of course here you can do both, cheer part of the year and do a sport half the year.
Amy: Yes and that is good.
Web: Did/do you work out any?
Amy: Yes, I have exercised my whole life.
Web: What kind of exercise did you do when you were in high school? Was it a team workout as such or were you on your own?
Amy: I never remember as a team working out. I would always do it on my own. I can remember being a member of the YMCA all through high school and going down and doing the nautilus. Back then, they didn't have group exercise classes. Ann Culler was very instrumental in starting that at the YMCA. Now athletes are able to do aerobics and Zumba and stuff like that. For the most part, I did it myself but I have to tell you, I talked earlier about Jan (McHenry) Price . . . she used to lead aerobics at churches. I used to go to some of her aerobic classes as a young girl in high school. But a lot of times, it was just me, running, jump roping, push-ups, sit-ups that kind of stuff. There were no group workouts that I remember.
Web: Do you have any college pictures of you playing sports?
Amy: Yes, I do.
Web: I would like to scan them if possible.
Amy: Ok, if I can find them.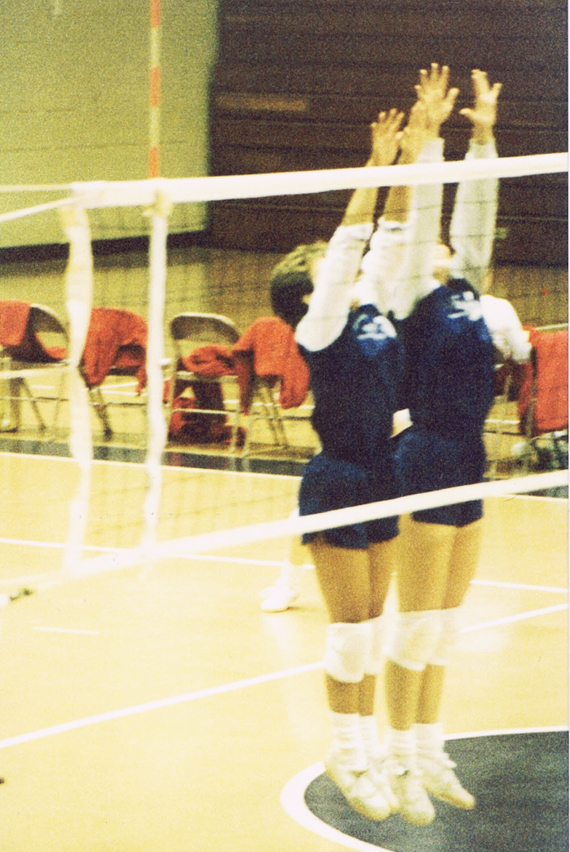 Amy: Randy Calhoun said to me, why don't you go out for softball at Mount Union? Once I got to college, none of my friends there played sports. The people I was on the sports team with really didn't blend with me so much. And with my shin splits and everything. . . that's why I went on to cheerleading. Two reasons, one, I couldn't maintain with the stress fractures in my legs, so, cheerleading was something to keep me active and then my friends were doing it too. And as a plus I got to relive that passion that I had for the gymnastics.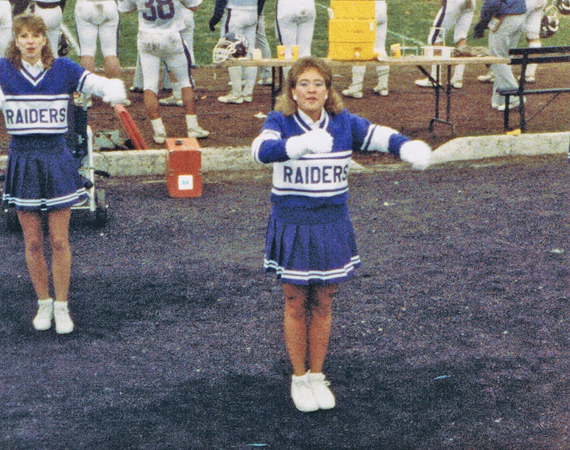 Web: So you're talking about the tumbling, that sort of thing.
Amy: Right.
Web: Do you do that in college?
Amy: No they didn't have that at Mount Union. It was just my way of doing it through cheerleading.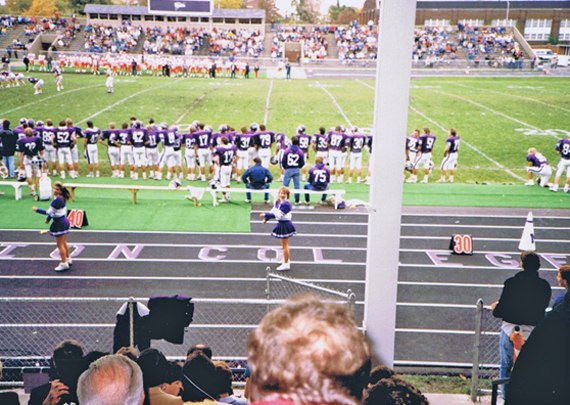 Web: The cheerleaders where you were in college must have been a whole lot more active than the ones here. By active I mean being allowed to do more things.
Amy: In college, you were allowed to do the mounts and the tumbling and all that kind of stuff.
Web: Volleyball was your favorite one, or was it the one that you were really the best at.
Amy: Yeah, I think. I don't know if I can say that I was the best at it. I probably won more awards and broke more individual records than in any other sport that I did. I actually felt like I could eat, breath and sleep volleyball. I remember in those days thinking, I could do this all day long the rest of my life. I loved it. I didn't feel that way about basketball. I just got so much pleasure out of playing volleyball.
Web: I have gone to some Potter volleyball games. I don't really know a lot about the sport. I don't know how they score it.
Amy: It's changed since I was in high school.
Web: In what ways?
Amy: The way they score it is different now. You used to have to be the team that was serving the ball to get the point, but now you don't have to be. And they also have a player called the Libero that wears a different colored shirt.
Web: I've noticed that but I have no idea why. So what does that person do?
Amy: They play the back row. They don't spike. So usually you'll find that that person is shorter. They are probably not the setter. They're the one that can retrieve the ball well. They're usually pretty quick and a pretty good passer. But I was never on a volleyball team after they made that change. So I am just learning from watching myself. When I was on the volleyball team, I used to be the setter the whole time so even if I was in the back row I went to the front row.
Web: When I wrote down the records, you're entered in there.
Amy: For setting. I think Robin Henderson had the record, then I broke it, then somebody else broke it after me, I can't remember who it was.
---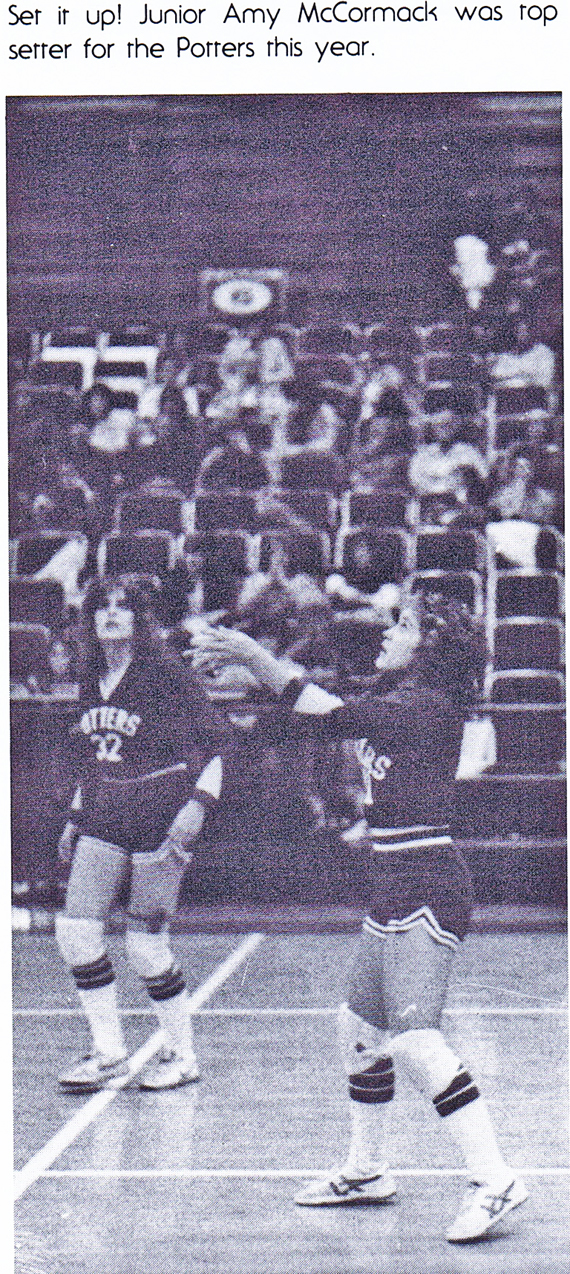 ---
Amy: Maybe at the time I was in high school all those records and letters and different things probably meant something to me, but more than that was just getting to play the sport, feel good in the sport and be with my teammates and my friends. So, I can't even say that I remember what my stats. were or anything like that.
Web: I recently had the thought, that all those varsity jackets that were so important, so recently, as the seniors move on to College they put those jackets into storage and probably will never wear them again.
Amy: Yes, right, I mean really it's very much a high school thing.
Yes, but an important high school thing at the time, just as class rings and yearbooks were and are at the time.
Web: But as you get older high school becomes more and more important to many people, reunions and so on and reflecting back.
Amy: But I don't think it's thinking about what your records were, what your stats were in sports. I think it's remembering the good times …
Web: Quite true, unless, I'm going to inject a little humor here, Unless you were male, played football and grew up in a small town in Texas. Then it is life long importance. (laughter)
Web: And the games, the people you played with, the people you beat or lost to.
Amy: The memories, the fun. Yes absolutely.
Web: The long jump.
Amy: Yes I did the long jump.
Web: You're not very tall.
Amy: No, and in the seventh and eighth grade I ran the 100 and the 200 and the relays. Then in high school, I ran the relays and did the long jump. We had Kim Auger and Kim Washington to do the 100 and the 200 and win 1st and 2nd there. They were both faster than me. Then we had a strong relay team to win the sprint relays.
Web: You enjoyed the running?
Amy: Well I ran the sprints which is like the distance of the 100 or the 200. Then when you get into the relays it is the same two. You either ran the 4X100 or the 4X200. So it was running 100 or 200 meters. When I was in 7th and 8th grade they didn't use the metric system, they used yards. Yes, I loved running the sprints.
Web: Since you mentioned yards, Bob Mackall holds the record for the 100 and it will never be broken since it was 100 yards and they don't run that race anymore.
Amy: Oh, yea, yea, that's right.
Amy: As good as our women's track team was our men's track team was just as successful in those days. The two teams just fed off each others' energies and accomplishments.
Web: Did you ever consider coaching at all?
Amy: Yes, Absolutely. When I graduated college and knew I was coming back here to teach in the East Liverpool School System I wanted to coach the volleyball team, but Coach Shansky was still there and I have given up that dream. (Laughter)
Amy: I did coach the varsity cheerleaders for one year. It wasn't anything that I wanted it to be.
Web: What did you teach?
Amy: I taught at LaCroft Elementary school. I taught special education, 1st grade, 2nd grade and 4th grade. I stopped teaching elementary school after 13 yrs. Now I teach Yoga. I like teaching.
Web: I think that covers everything. I want to thank you for taking the time to do this interview. I enjoyed it and I think others will as well.
Amy: Thank you.
---
---